KLEVV CRAS 3000MHz 16GB DDR4 Memory Kit Review
---
---
---
Rikki Wright / 8 years ago
Introduction
---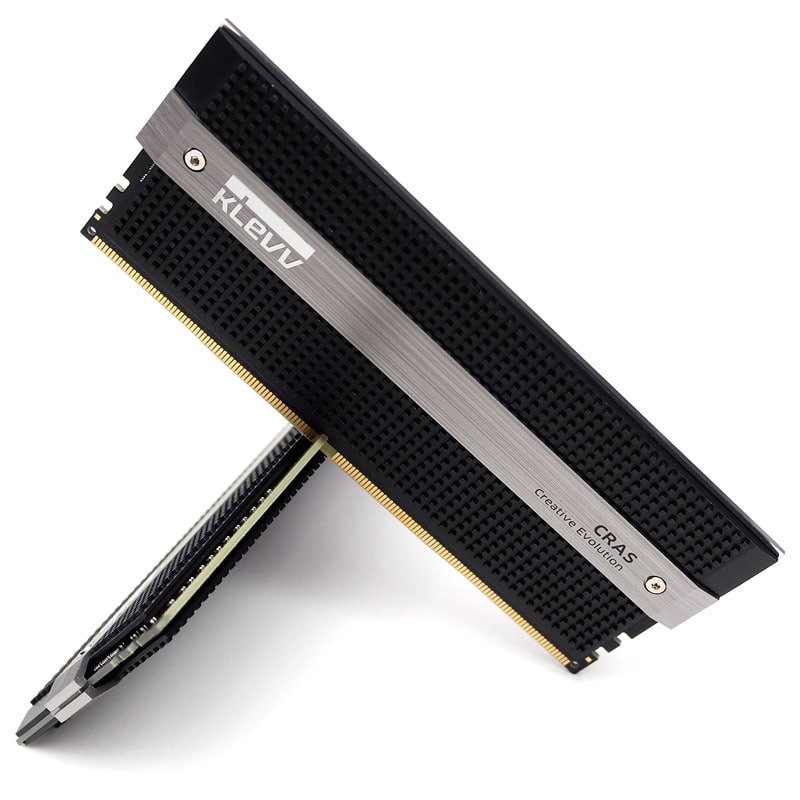 Memory, the most vital part of any computer that gets overlooked the most. There's not a lot to say about RAM apart from its expensive and very confusing. DDR4, the newest iteration of RAM is currently the fastest version of the consumer RAM, with speeds exceeding 3333MHz. RAM kits now come in a variety of shapes with the basic bare modules, right up to the simply stunning Ripjaws series.
Today we will be looking at the newly introduced KLEVV CRAS memory kit. This has already been released in other parts of the world and consumers are adoring the high-end finish and amazing performance on offer.
KLEVV was established in just 2014 by the parent company Essencore Limited (or just Essencore), but having close ties within the memory community has allowed the company to quickly gain traction and is quickly rising to contend for the top spot. The CRAS memory modules are an extremely high-end, they are fitted with huge solid metal heat sinks that not only keep these extremely cool, but also provide excellent aesthetics and strengthening properties. This particular memory kit comes out of the box with a speed rating of 2133MHz, however, a simple BIOS tweak to enable the XMP profile brings the modules up to the rated 3000 MHz advertised speed; which is something that you have to remember when buying high speed memory kits.
"Employing the most current and high-level IT developments, KLEVV, the vanguard of technological advance, brings PC enthusiasts the highly advanced KLEVV Cras DDR4 Memory. Ready to Beat'em Up? Your adventure is just beginning."
That's enough talking, let's jump into testing.
Specifications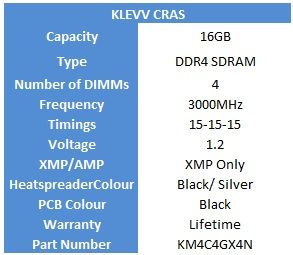 Packaging and Accessories
The packaging on these is top class, solid outer casing with individual pockets for each module ensures the product gets to you in working order; well in most normal cases anyway.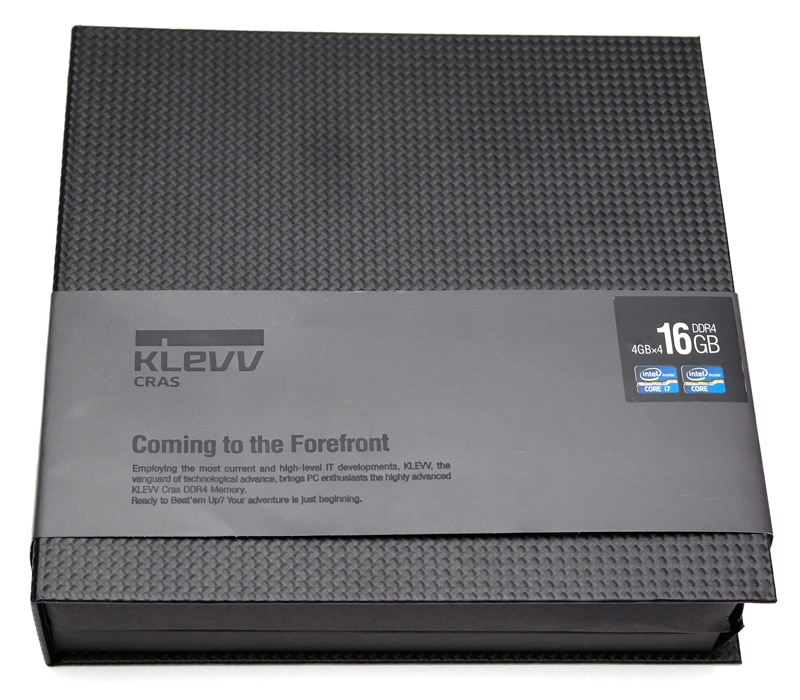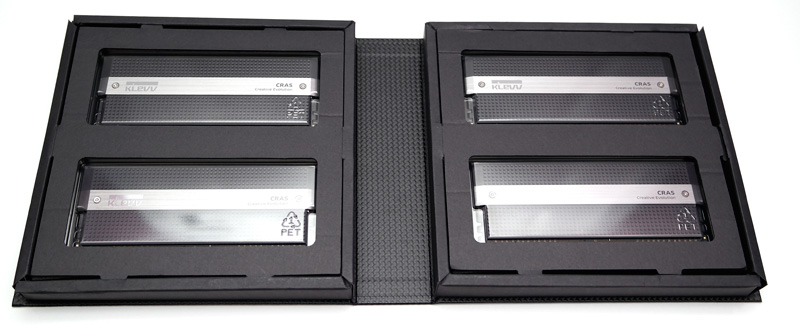 A Closer Look
These are some seriously stunning modules, a black PCB wrapped in solid metal heatsinks with a brushed metal band sealing everything together.