KLEVV Introduces NEO N600 M.2 SSD to Their Line-Up
---
---
---
Bohs Hansen / 6 years ago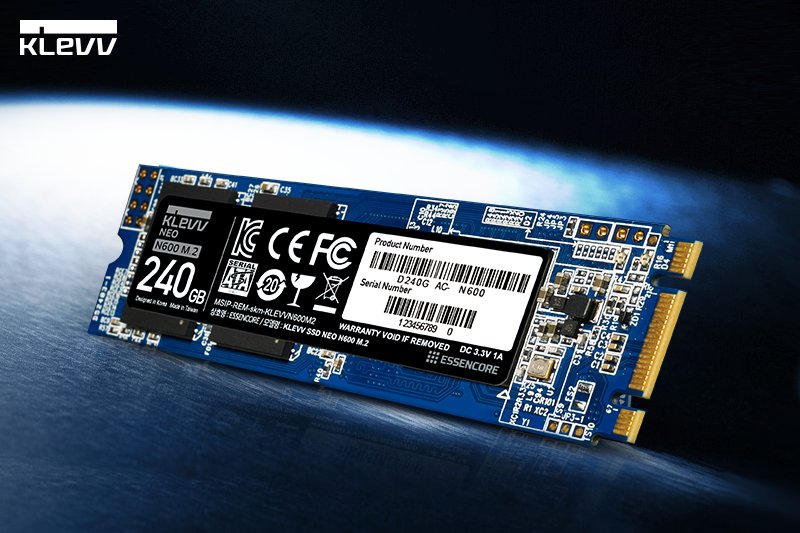 KLEVV isn't one of the best-known names in the industry, but they do make premium memory products for enthusiasts. Mostly they do memory modules, but they also got solid state drives in their line-up and that's where the new announcement was made. The NEO N600 SSDs already exists in a standard 2.5-inch form factor and now the company announced a new M.2 version to join the family.
The announcement was made via KLEVV's Facebook page and there isn't an official listing or press release on it yet. That does somewhat limit the information, but since we know the 2.5-inch version already, it's fairly easy to guess that the M.2 version will be the same drive in a different shape. M.2 drives are lighter and consume slightly less power, so notebook users will welcome this addition.
If you were hoping for an NVMe drive, then you'll be disappointed. The NEO N600 M.2 SSD is an SATA3-based drive with a performance up to 560MB/s reading and 510MB/s writing. The Total bytes written endurance rating is set to 150TB while the power consumption is less than 7.5W. All these figures are based on the 2.5-inch version with a 480GB capacity. Other size choices include 120GB, 240GB, and 960GB for the 2.5-inch models, so we can expect the same for the new M.2 version.
The drives are built with Global Wear Leveling, bad block management, and over-provision and also come with the basic SMART and TRIM functions. The drives feature SLC cache mode for performance improvement and Low-Density Parity Check Error Correction Code. The controller is a Silicon Motion SMI SM2256 and the NAND is SK Hynix 16nm TLC.
As a bonus, the drives come with an included copy of Acronis True Image cloning and backup software. As for the price, expect the M.2 version to come at near-identical prices to the 2.5-inch version.