KODI Gets a Facelift in Version 17.0
---
---
---
Bohs Hansen / 6 years ago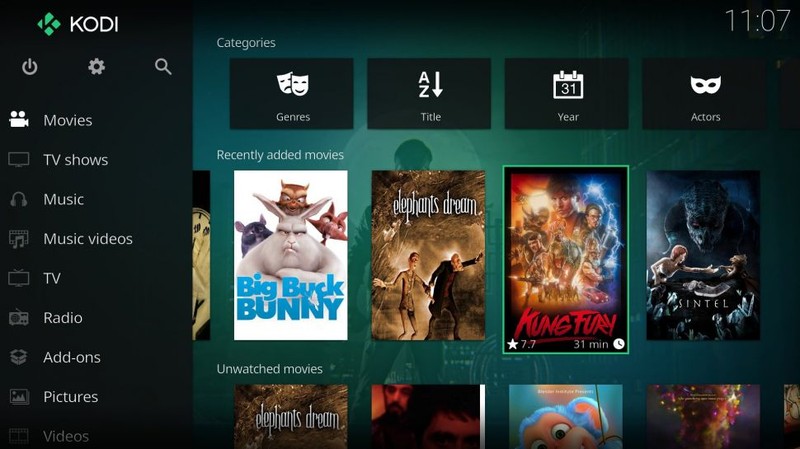 KODI is one of the most popular media playing and streaming apps around, but it hasn't had the most beautiful nor most user-friendly interface. It has kept the same look it has had for years and while that can be great, it does make it more difficult for new users to get into. That's about to change with version 17.0, also known as the Krypton update. The new update for the open-source media player is about to change that and bring along a fresher and easier user interface for all situations – and that without the need for users to install custom skins.
KODI is available for a lot of devices, from mobile devices to TVs, NAS devices to media players, and there are even dedicated system built specifically for the use with KODI. Not all these devices are controlled the same way, but up until now, they've had the same default interface. However, usage from the comfort of the couch, usage with a touchscreen, and usage with keyboard and mouse requires differently designed interfaces to be user-friendly.
The new Krypton update addresses this too with three different interfaces, allowing you to pick one that has been optimised for use with the kind of device that you're using. The above-pictured UI is the new Estuary UI which is a clean interface perfect to be used while couch surfing your media libraries and streaming sources. On top of that, there is the Estoucchy skin which is a user interface that has been built with touchscreen input in mind and that makes it perfect for use on your mobile devices. The last new default interface is called the Chorus2 UI and that's the one you'll want to pick if you use keyboard and mouse to control your media player.
In addition to the new interfaces, there are new features too. KODI Krypton adds support for the streaming formats MPED-DASH and RTMP too.
With the new additions, there's also a new limitation – but one that probably won't affect a lot of people. the lowest version of Google's Android that will run the new version of KODI will be Android 5.0 (Lollipop). On the other hand, it will bring along support for DTS-HD, DTS-X, Dolby TrueHD, and Dolby Atmos formats. Oh yea, KODI also makes it first-time appearance in the Windows Store.