Kojima Reveals Death Stranding Details
---
---
---
Ashley Allen / 7 years ago
Following his exodus from Konami, gaming auteur Hideo Kojima unveiled his new project at E3 2016 earlier this year – the mysterious Death Stranding, starring former Silent Hills collaborator Norman Reedus – with a rather abstract teaser, which withheld any information pertaining to what the game is or what it is about.
During Sony's appearance at the Tokyo Games Show, though, Kojima revealed what kind of game Death Stranding is set to be. The term "Stranding" refers not only to the beaching of dead whales and dolphins but also to the "strands" that thematically connect the game's elements.
"This title refers to something from another world stranded in our world," Kojima told the Tokyo Games Show audience. "[I]n Death Stranding, there is story, game, and world view, all connected by strands."
With Death Stranding, Kojima proclaims that he and his team "want to prove that indie studios can produce AAA world class masterpieces." Regarding the gameplay itself, he says the game will be an "open world with a degree of freedom" which features "online elements." The game will be in 4K and support HDR.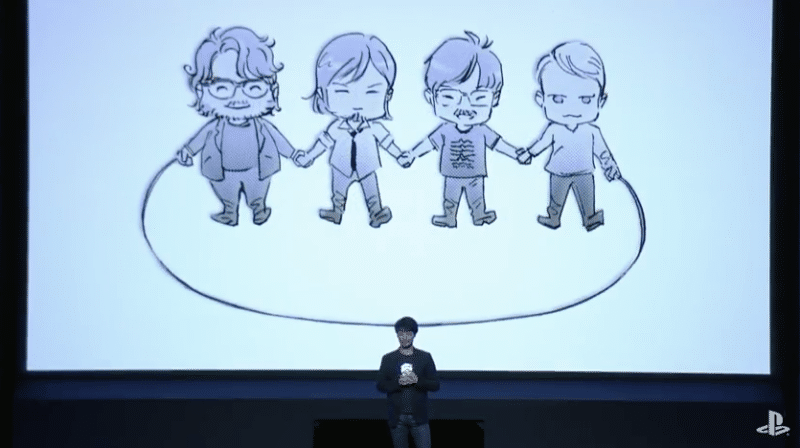 Kojima also showed a cute chibi drawing of himself (pictured above, third from left) and his collaborators, Guillermo del Toro (left) and Reedus (second left). The figure on the far right is as-yet unidentified, but rumours suggest it is Hannibal star Mads Mikkelsen, who is believed to feature in Death Stranding, though those reports have not been confirmed.
https://www.youtube.com/watch?v=I5o6hZiksHc&feature=youtu.be&t=3850