Kryonaut Thermal Grizzly Comparison Review
---
---
---
Peter Donnell / 8 years ago
Introduction
---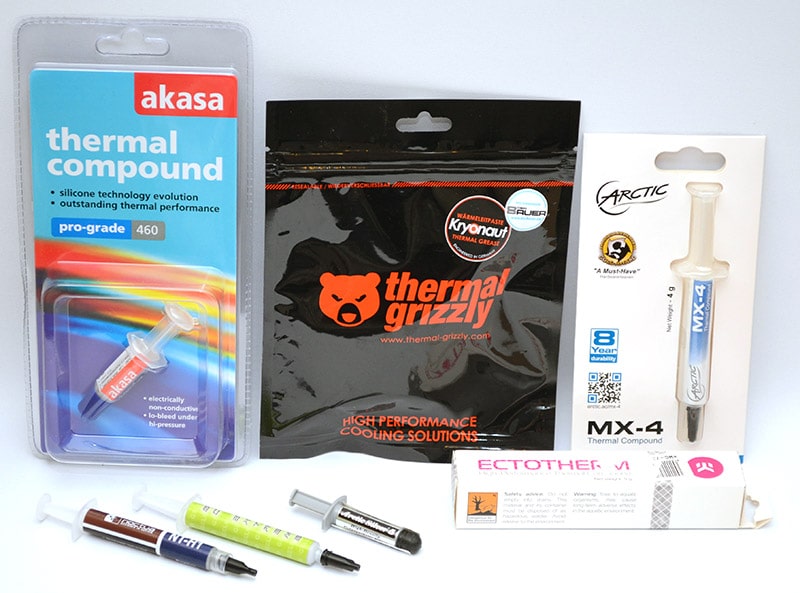 Finding the Right Thermal Paste
Finding the right thermal paste for your system is no easy task. There are quite a lot of brands out there and from my experience, one person says "X is better than Y." The other says "Y is better than X." In all honesty, pretty much any thermal paste on the market will likely be "enough" or give you reasonable performance. Of course, that's not what we're looking to find out today. When it comes to squeezing every drop of performance out of your system, a few degrees can be the difference between a failed or a successful overclock. It can also be the difference between your PWM fans running in low or high RPM mode. Of course, there may be a whole host of other factors.
Thermal Grizzly?
We've been told that Thermal Grizzly was the up and coming King of the thermal paste market. I've been a loyal user of the mighty Gelid GC EGC-Extreme a long time now, so I'm eager to see if this new kid on the block can really perform better. Although, if it's just as good as Gelid, I will not be disappointed. Putting one thermal paste head to head with another wouldn't make for an interesting review. So I've picked up some other popular favourites. These range from the budget friendly to the premium; let's find out which one is king!
Thermal Grizzly Kryonaugt
The newest thermal paste brand on our list and also one of the most expensive, clocking in at £15.95 for 11.1g. This brand is targeted at the enthusiast/overclocking crowd.
Akasa Pro-Grade 460
Akasa is a common choice for a lot of system builders and with just 3.5g in the tube and an average price of £6, it's still expensive, but appeals to those building a few systems or for maintaining their own.
Noctua NT-H1
Notcua is known for their high-end engineering. Their NT-H1 thermal paste has proven many times before that I can offer exceptional performance. It's obviously targeted at the high-end and enthusiast market and will cost you around £7-10 for a small 3.5g tube.
Gelid GC Extreme
The popular choice for enthusiast overclockers around the world, Gelid is highly regarded for being able to deliver lower temps with their GC Extreme. You can pick up a smaller 3,5g tube for around £8 and a 10g mini-tub for about £22, making it noticeably more expensive than Thermal Grizzly.
Arctic Silver 5
This is one of the go-to brands of thermal paste for many system builders, it's not "the best" but it's still very good and has been on the market for many years. More often than not, you can pick up a 3,5g tube of this for just £5, making it very appealing to a lot of people.
EK Ectotherm
This one is new to me, I have heard of it, but I've never used it. It's surprisingly affordable at £5 for a 5g tub. That's a a very attractive option and EK has a rock solid reputation in the cooling industry already.
Artic MX-4
Another budget friendly option from the legendary Arctic, costing just £6 for a 4G tube and much like Arctic Silver, it has long been a popular choice for system builders.
So there's the competitors, a nice range of budget friendly options from a wide range of manufacturers, some new, some old, some that have been around longer than time its self. There's going to be some interesting competition here in terms of performance and prices, so there's only one thing left to do, let's fire this up on our eTeknix test bench and see who takes first place!