Lexar JumpDrive C20i 64GB USB 3.0 and Lightning Flash Drive Review
---
---
---
Bohs Hansen / 7 years ago
Introduction
---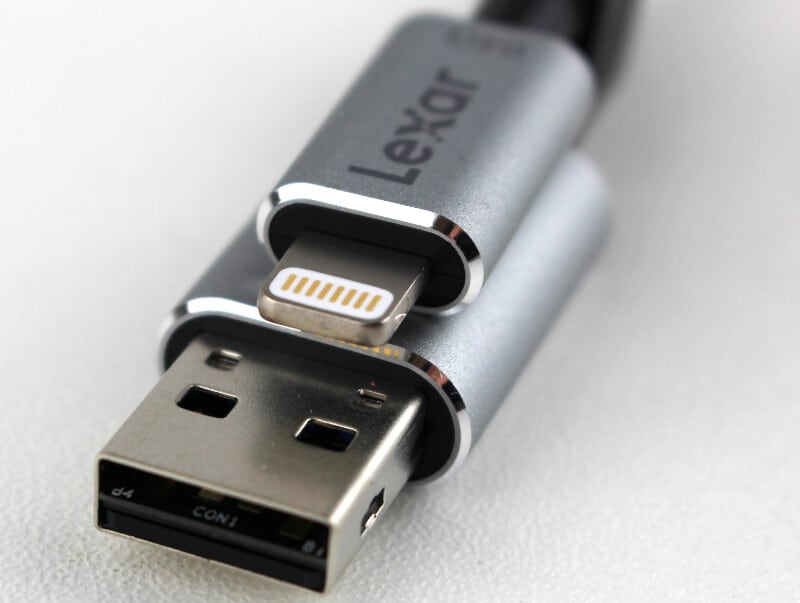 A flash drive doesn't equal a flash drive, there are a lot of different drives on the market for different purposes and with different connectors. Today I'm taking a closer look at Lexar's JumpDrive C20i with 64GB capacity. The JumpDrive C20i isn't just an ordinary flash drive, it is a two-in-one that works as a normal USB 3.0 flash drive as well as an Apple Lightning flash drive at the same time.

A triple usage flash drive such as the JumpDrive C20i can come in very handy in many situations. First, there is the normal USB 3.0 connector that allows us to use this flash drive as any other one on our Windows and Mac OS powered systems. On the other end of the cable is an Apple Lightning connector that allows you to use the flash drive directly into your iOS-powered devices such as iPhone or iPad. Especially Apple-based mobile devices have one fatal flaw, you can't upgrade the built-in memory by the use of SD cards or similar devices and that is where something like the JumpDrive C20i comes into play. Connect it to your iPhone and you have up to 128GB further storage capacity at your disposal.

The third option of this flash drive is to use it as charging and connection cable too. There is no need to unplug it in order to supply your mobile device with power as the flash drive can be used for this too. It is more or less a natural function by design and it adds another use over small 2-in-1 devices with a plug on each side.
You don't need any extra power supply or battery for this to work either and you don't need any network connection, yet you still get a versatile method to backup files from your iPhone or iPad.

The drive with its USB 3.0 interface is rated for a performance of up to 95MB/s when reading and 20MB/s when writing. On your iOS device, you can easily access all the files through the free file management app from Lexar that is found in the App Store. You can manually manage the files or you can let the software handle automatic and secure file synchronization.
You don't have to offload your files tho, you can also play your music and movies as well as browse your photos directly from the flash drive storage when connected.
The cable clip located on the cable allows you to fold the drive up, making it easier to stow away and carry around. A portable drive has to take up as little space as possible while keeping up its usefulness. The Lexar JumpDrive C20i surely does that.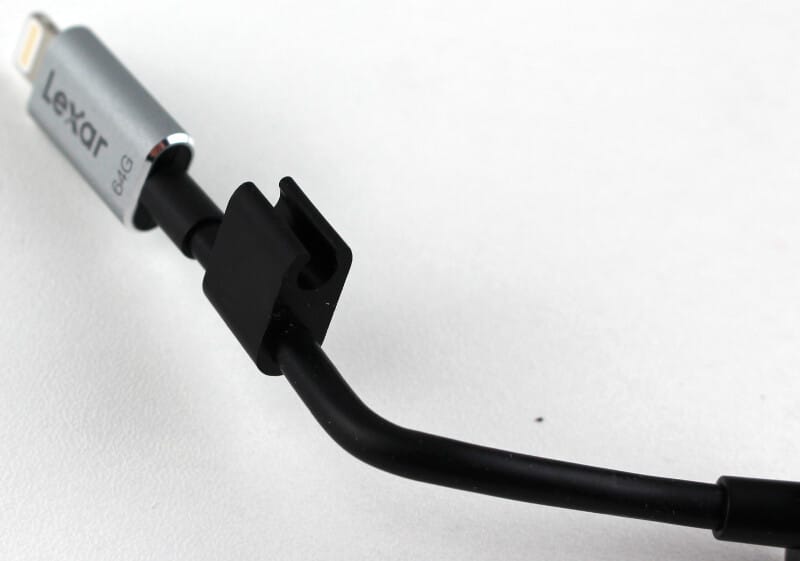 When it comes to compatibility, then you're covered on almost any device – as long as it has either of the two ports available. The JumpDrive C20i is officially compatible with iOS 7 and 8, Mac OS X or higher, and Windows 7, 8, and 10. For the best possible results, it is recommended that use a system that supports UASP.
I personally don't have any Apple devices, but I have friends who do. I visited on of them and tried the drive on his iPhone – and it worked like a charm and just as you would expect it to. The lightning connector is long enough that it will fit through most cases and still have a good fit – that is if the cases adhere to Apple's standards.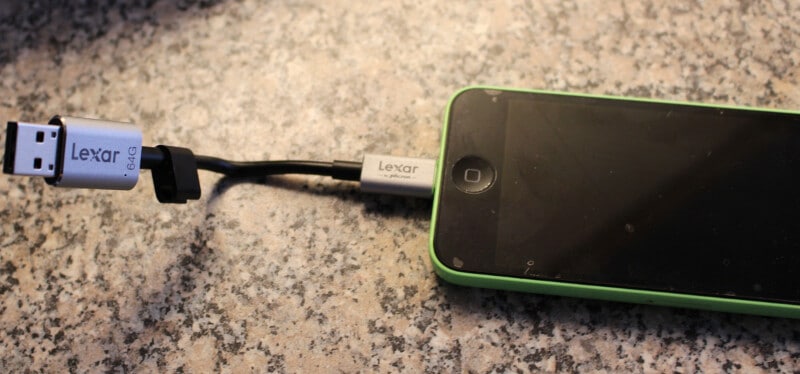 Specifications & Highlights
Expands the memory of your iPhone or iPad
3-in-1 solution: Lightning and USB 3.0 connectors in a convenient charging cable design
USB 3.0 performance (up to 95MB/s read and 20MB/s write)
Works with use of free file management app (App Store)
Automatically and securely sync files
No battery needed and no network required
Compatible with both PC and Mac systems
Backward compatible with USB 2.0 devices
Three-year limited warranty
Capacities:
16GB (up to 95MB/s read and 10MB/s write)
32GB(up to 95MB/s read and 20MB/s write)
64GB(up to 95MB/s read and 20MB/s write)
128GB (up to 95MB/s read and 20MB/s write)
Packaging
The JumpDrive C20i comes in a simple package as it is usual for a flash drive. The actual drive itself is visible through the transparent part while all the relevant information is shown around it.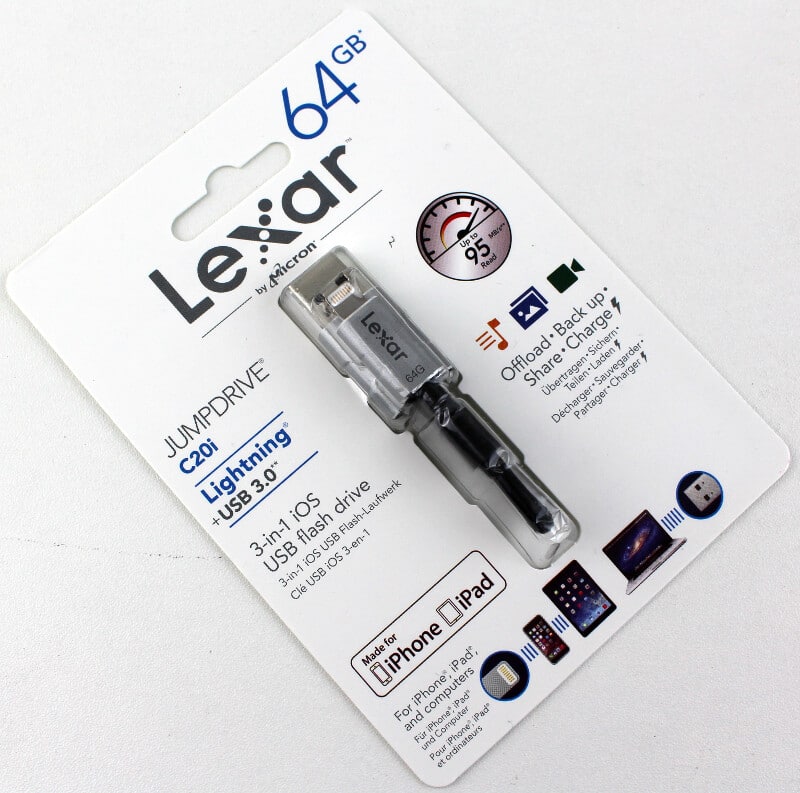 On the rear of the package are all the details and fine print in several languages.