Lexar Releases A Bunch of New Flash Products
---
---
---
Bohs Hansen / 7 years ago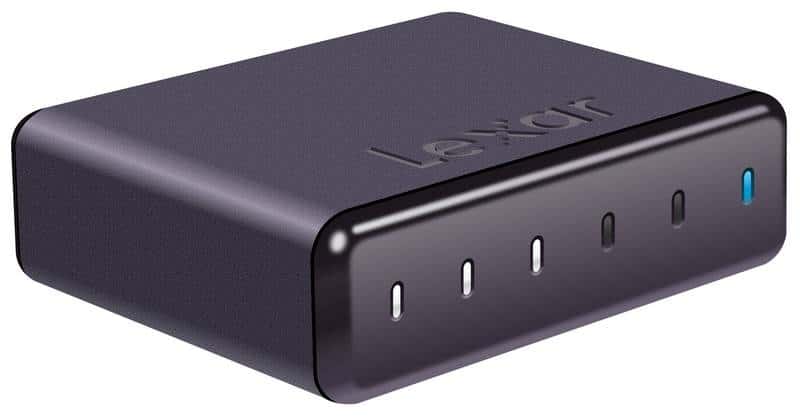 Lexar released a bunch of new flash-based products and we naturally also want to update you on these. While HDDs are the go-to medium for NAS and SSDs for the PC systems, we shouldn't forget about our portable storage and mobile devices.
The drive pictured above is the first of Lexar's new flash drives and it is actually an SSD, just an external one. We have previously reviewed Lexar's Professional Workflow SSD in the same form factor and that is compatible with the Workflow drive dock system, and this new Lexar Portable SSD is compatible to that system too despite not being from the Professional Workflow series.
The compact and durable drive reads with up to 450MB/s and writes with up to 245MB/s, making it quick and easy to take your files on the go. The LEDs on the front work as capacity meter and the drive is available as 256GB and 512GB models. Since it's a full-fledged SSD, the drive supports NTFS, FAT, and exxFAT without any trouble. The Lexar Portable SSD will be available in Q1 2016 with MSRPs of £120.99 (256GB) and £200.99 (512GB), a more than fair price.
The second new Lexar product is the 1800x microSD card with impressive speeds that hold up to even the most demanding tasks. The Lexar 1800x is available as 32GB, 64GB, and 128GB models and it leverages Ultra High Speed II (U3 technology) to provide you with the best experience. The card is capable of speeds up to 270MB/s read speeds and is designed for high-speed capture of extended lengths of 4K, 3D, and 1080p full-HD video and high-quality images.
Lexar's Professional 1800x microSD UHS-II cards are already available with an MSRP of £65.99 (32GB), £109.99 (64GB), and £219.99 (128GB).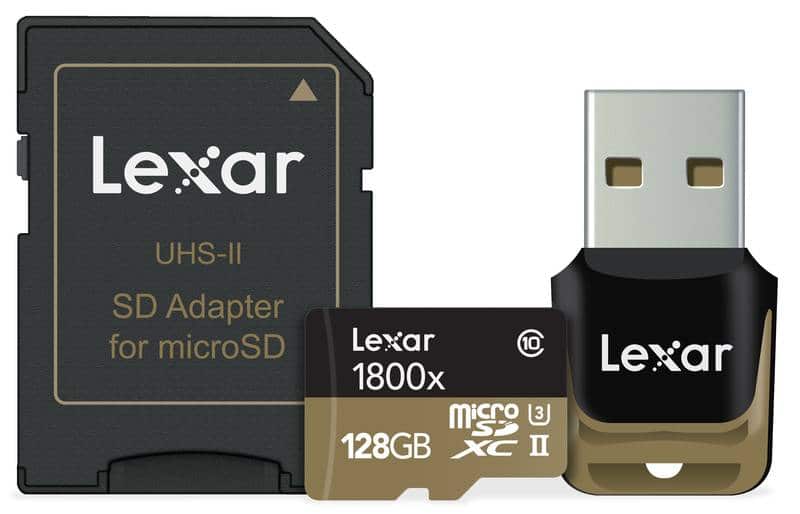 The next new Lexar product is quite ingenious. Whether you'll want to call it a 3-in-1 drive or an Apple Lightning charging cable with built-in flash storage, you'd be right. The JumpDrive C20i is all that and also a USB 3.0 flash drive at the same time, completing the 3-in-1 scenario. The drive can read with up to 95 MB/s and write with up to 20 MB/s for easy expansion of your iPhone or iPad memory. The new JumpDrive C20i flash drive will be available in Q1 of 2016 and have MSRPs of £28.99 (16GB), £39.99 (32GB), £56.99 (64GB), and £79.99 (128GB).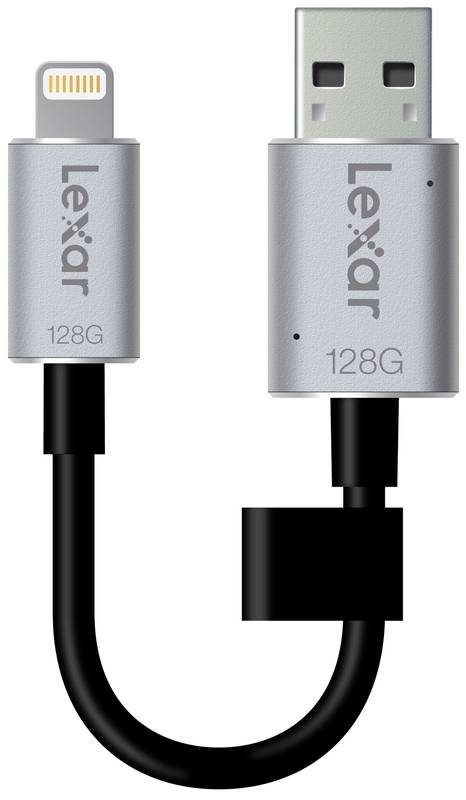 The last new Lexar drive is a little more traditional and it is called the JumpDrive S45. The tiny nano-styled drive is designed for a plug-and-stay setup with its low profile. It is capable of speeds up to 150MB/s reading and 45MB/s writing and be available in capacities up to 128GB. An impressive capacity for a nano-drive. Depending on the capacity, the JumpDrive S45 comes in different colours: Orange, Blue, Teal, and black. Along with the JumpDrive S45, you also get the EncryptStick Lite software for 256-bit AES encryption of your content. The flash drive has MSRPs of £7.99 (16GB), £10.99 (32GB), £18.99 (64GB), and £28.99 (128GB) and will be available in Q1 2016.