Logitech G910 Orion Spark Keyboard Review
---
---
---
Peter Donnell / 8 years ago
Introduction
---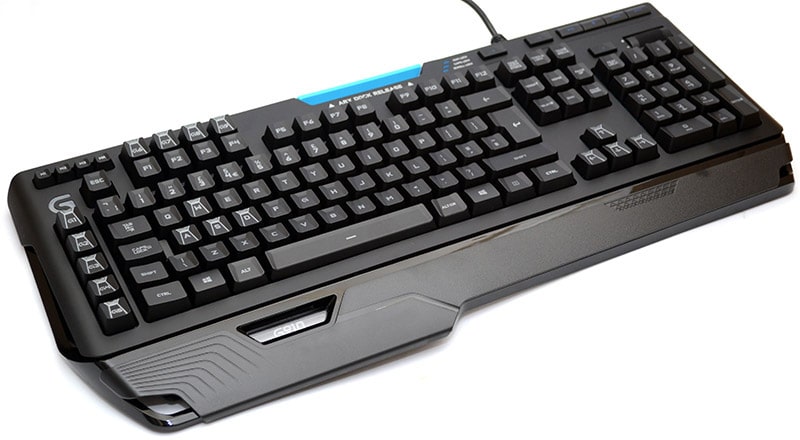 We're back again with our latest Logitech review, and following on from the stunning Logitech G502 Proteus Core gaming mouse, we now have the G910 Orion Spark, the big brother of the also recently reviewed Logitech Atlas Spectrum G410 TKL Keyboard. The G410 was certainly unique, offering a lot of cool features that put it on a lot of people's wish list. The G910 keeps pretty much every feature we loved about the G410, but it's bigger and better, with even more cool features and, of course, a full-size keyboard design with a number pad.
With the G410 review behind us, I'm expecting equal performance from the G910 and hopefully even better performance courtesy of the added features. Equipped with the fantastic Romer-G mechanical switches, which are exclusive to Logitech, the Orion Spark is finely tuned for competitive gaming. Romer-G have a shorter actuation than most mechanical keys, meaning response times are lower and you can use less effort to deploy rapid commands.
"Exclusive new Romer-G mechanical switches with up 25 percent faster actuation for an edge in matches where every millisecond matters. Improved durability allows Romer-G switches to weather the wear and tear of intense gaming for years to come."
The keyboard is also compatible with the cool ARX Control system, a mobile app that allows you to track stats of your gaming, system and more. Even better, the keyboard has a built-in phone dock to help keep that information at your fingertips.
Equipped with LED RGB 16.8 million colours lighting, you can tune every single key on a per-key basis, allowing for endless combinations that make it great to zone out your favourite gaming profiles, or just give it some cool visual flair.
Clocking in at just 1.5KG the G910 is fairly lightweight, especially given that it's quite large, so best measure your available desk space if you're rocking a smaller desk.
The packaging is really nicely designed, showing off the RGB lighting effects, as well as some details of the exclusive Romer-G switches.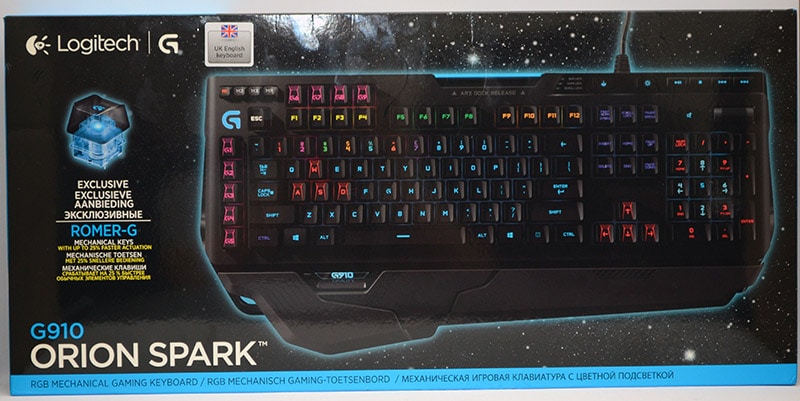 Around the back, a little more detail on the same, so perhaps it's best we just open the box and take a closer look ourselves.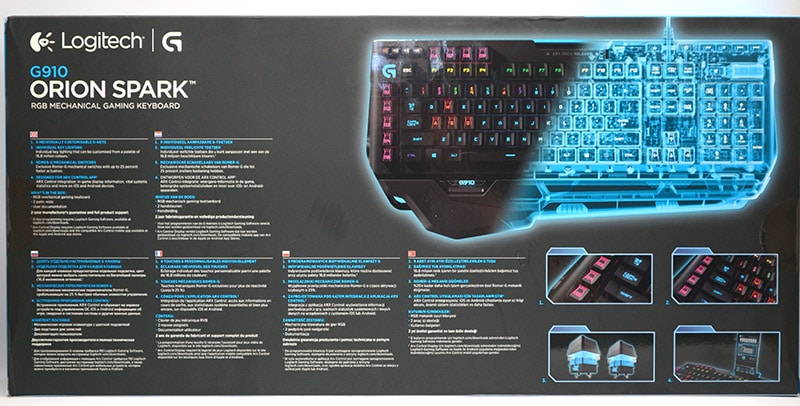 Take the slip cover off the box, there's a very durable inner box with a cool G logo cut into it; doesn't make the keyboard any better, but I thought it looked cool.