MadCatz M.O.U.S.9 Bluetooth Mouse Review
---
---
---
Peter Donnell / 11 years ago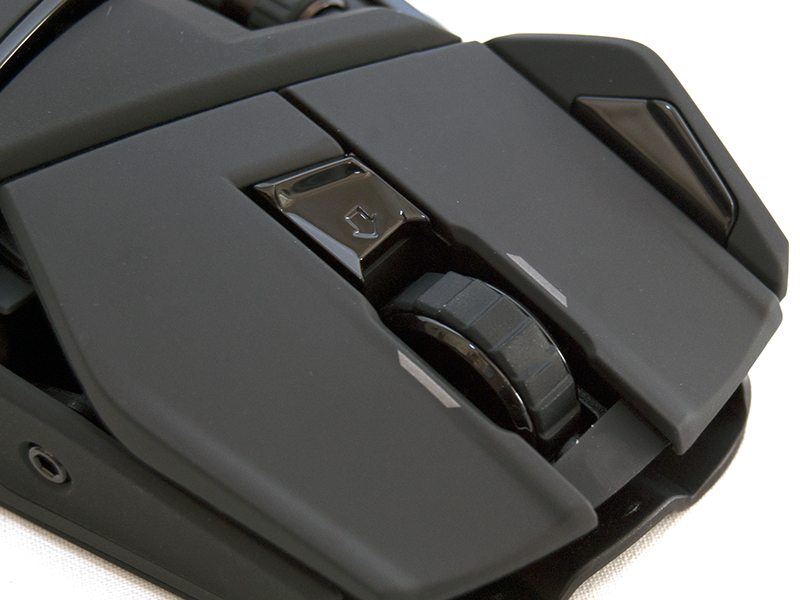 Today we'll be taking a look at the latest mouse from Mad Catz, the Bluetooth enabled M.O.U.S.9 that is set to take the highly respected world of Mad Catz peripherals into the world of wireless tech.
Mad Catz are well regarded for making some of the finest gaming mice on the market, especially with their MMO and RAT ranges, and while they may not be to every ones taste in terms of design there is no doubt in my mind that they are unique, cool and pack some serious performance, but one does not normally associate such things with Bluetooth and a wireless mouse, so where does the MOUS9 fit into all this?
There has always been demand for wireless technology when it comes to PC's and keyboards and mice are no different, but there is rarely anything exciting about them as gamers tend to shy away from wireless technology due to risk of input lag, so manufacturers generally don't invest into much research on the tech and just put out (for the most part) fairly boring wireless peripherals, just look at the world of wireless keyboards to see what I mean.
Mad Catz have taken the unique styling of their gaming mice and no doubt some of the technology behind them too and fitted it our with Bluetooth technology, although before we get too ahead of ourselves, this isn't designed to be a hardcore gaming mouse, the specs below tell us that much and I'm going to be looking for robust all round performance, not eSports grade accuracy, can't judge something for not being something it wasn't made to be.
DPI: 990
Acceleration: Up to 8g
Polling Rate: 125 Hz
Tracking Speed: Up to 0.8m/sec
Programmable Buttons: 10
Connectivity: USB Nano Dongle
Wireless Range: Up to 330ft / 10m
Power: 1x AA Battery (included)
The Mous9 comes in a compact perspex box that gives us a great view of the mouse its self but it's also  very compact and presentable. As you can see on the front it tells us the mouse is both Mac and PC compatible via it's Bluetooth Smart technology, it's worth pointing out that there are no wired options for this mouse.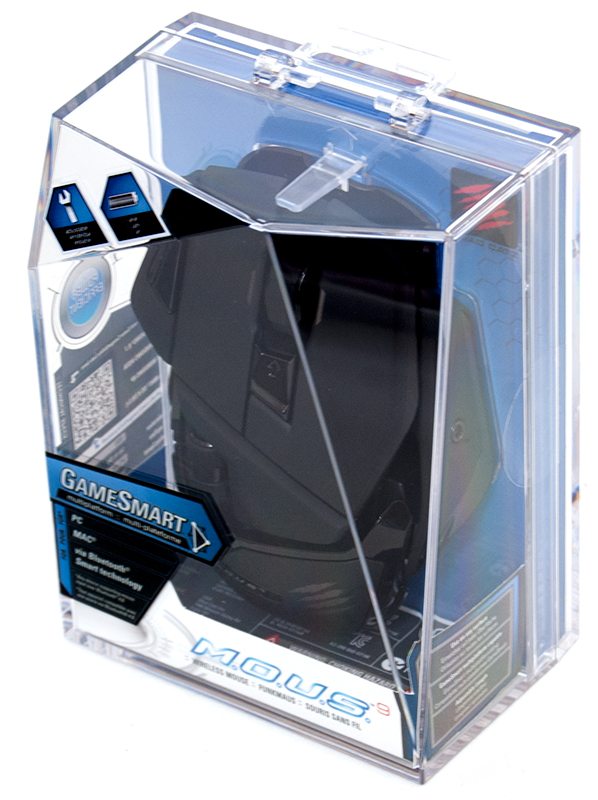 The box breaks open and you can see the mouse is secured on the case with a pull tab and clip, behind that we have a blue box that houses a few extra items.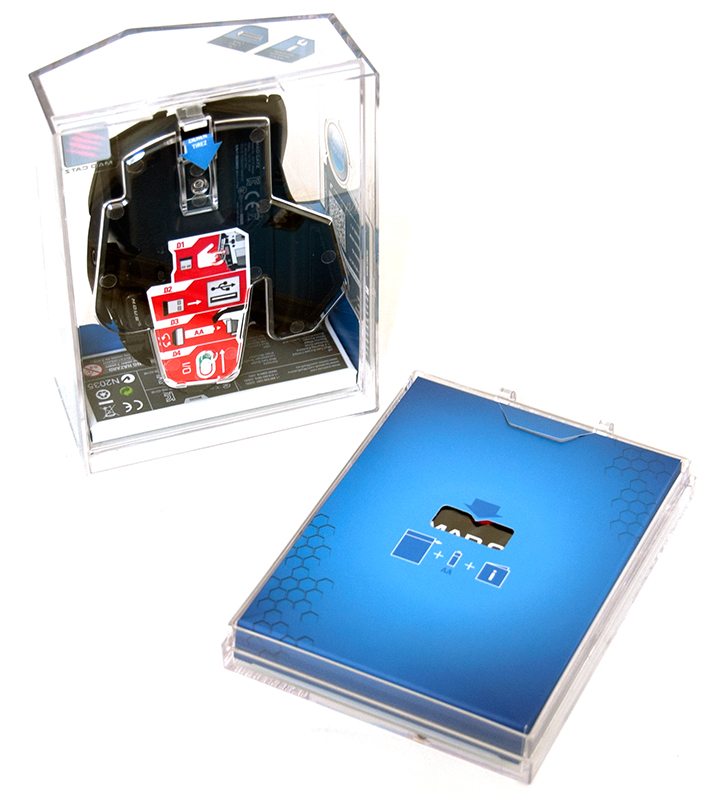 Ok a few was an understatement and this little box hides several leaflets, instruction manuals, warrant information, some cool stickers, a cool little carry pouch and a battery, more than I expect and certainly everything you need to get you started.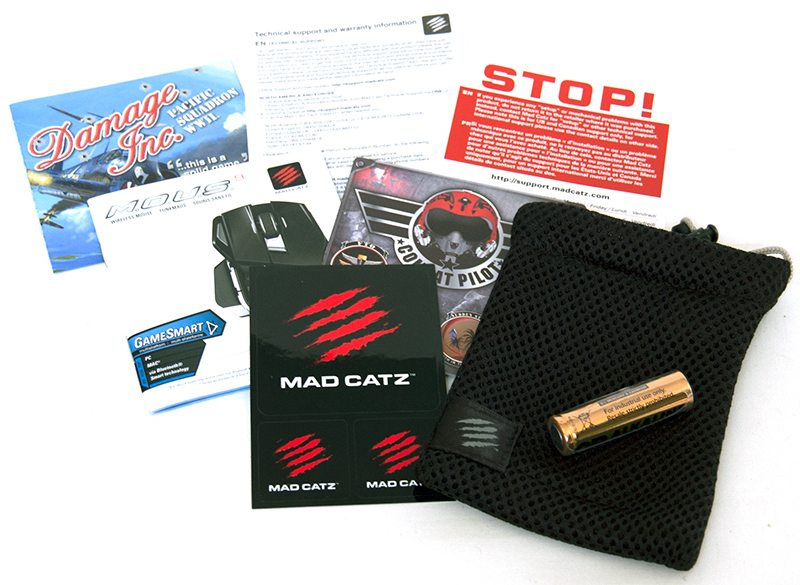 Starting on the left side we see the Mous9 keeps many of the RAT / MMO mouse traits that Mad Catz are known for. the back palm rest can be extended out to provide a better fit for your hand, behind that we have a soft rubber coated horizontal scroll wheel and below that you have your standard back / forward switches and finally a button that drops your DPI to a configurable setting when held, a nice feature for FPS gaming or tricky Photoshop work.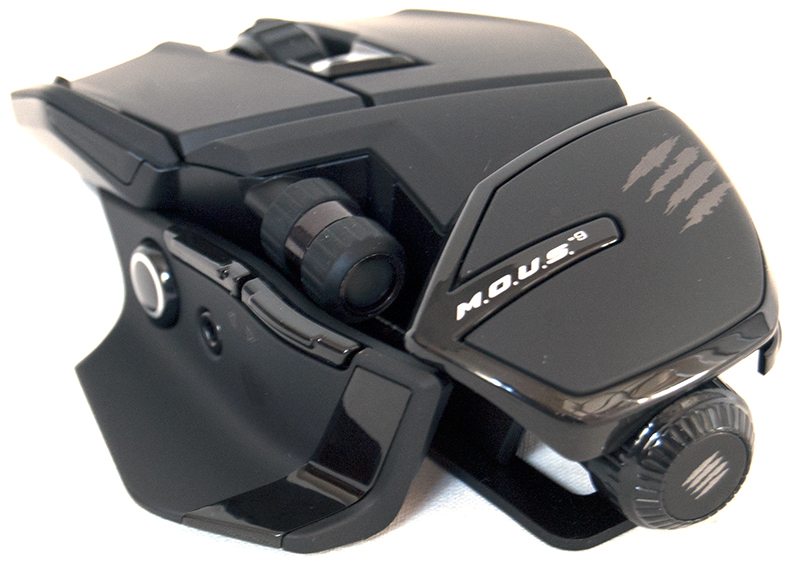 Toward the front of the mouse we see that Mad Catz have fitted the mouse with what looks like the diffuser off the front of a race car, which looks very cool in my opinion. The main controls are made up of the left and right mouse buttons, a toggle switch in the middle and a really nice feeling, rubber coated and notched scroll wheel, there is also an extra button on the left wing, but we'll see that better in a moment.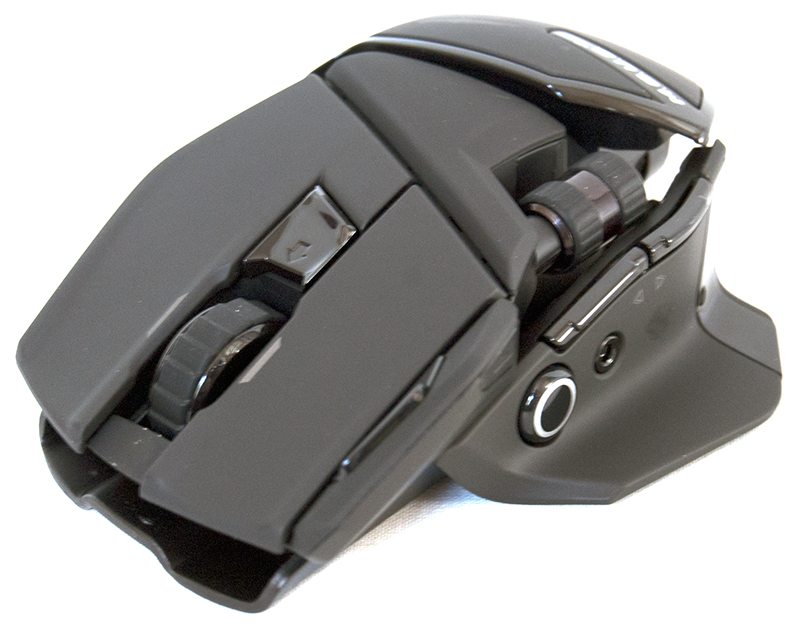 At the rear of the mouse there is a cylinder shaped chamber that houses the battery, this can be accessed via the round cap at the rear of the mouse and while it is out of the way when using the mouse, changing the battery feels awful, the cover is made from really cheap feeling plastic and I fear that cover may be susceptible to damage if you're not careful with it.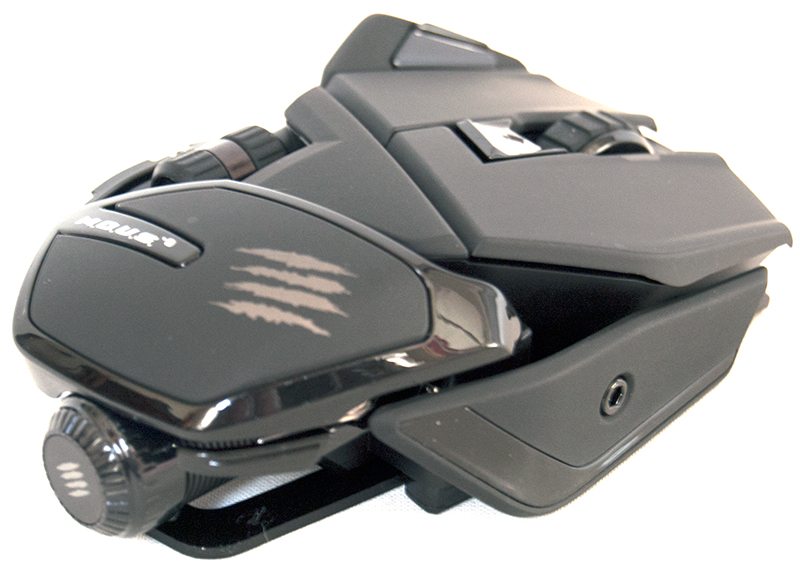 A wing sticks out to the left of the LMB and this provides you with a third mouse button that is easily accessed yet still out of the way enough to prevent accidental clicks, the right side of the mouse features an ergonomic panel that gives you a good gripping point and while this does provide a good resting position for your hand, it also allows for easy lifting of the mouse as you can really get a hold of it thanks to its unique shape.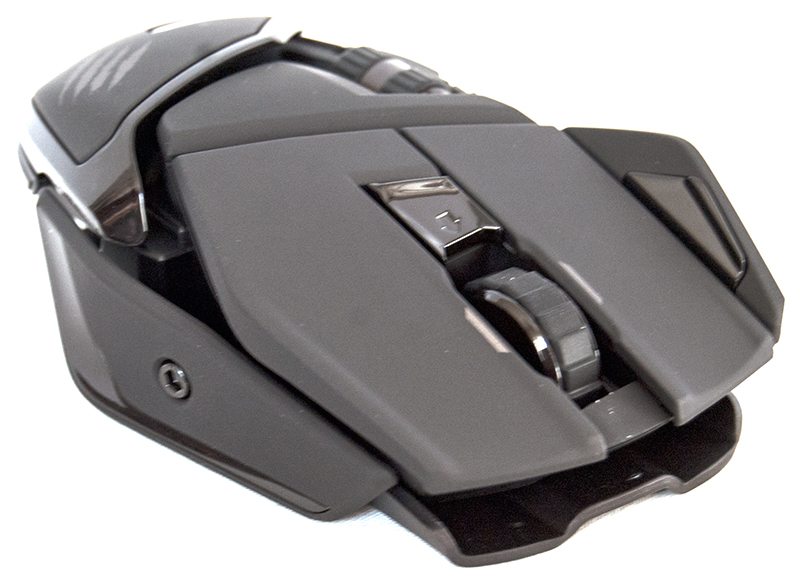 The bolted on panel look of the Mous9 looks fantastic and it's one of the trademarks of Mad Catz mice and you can literally see through the mouse panel gaps in certain places.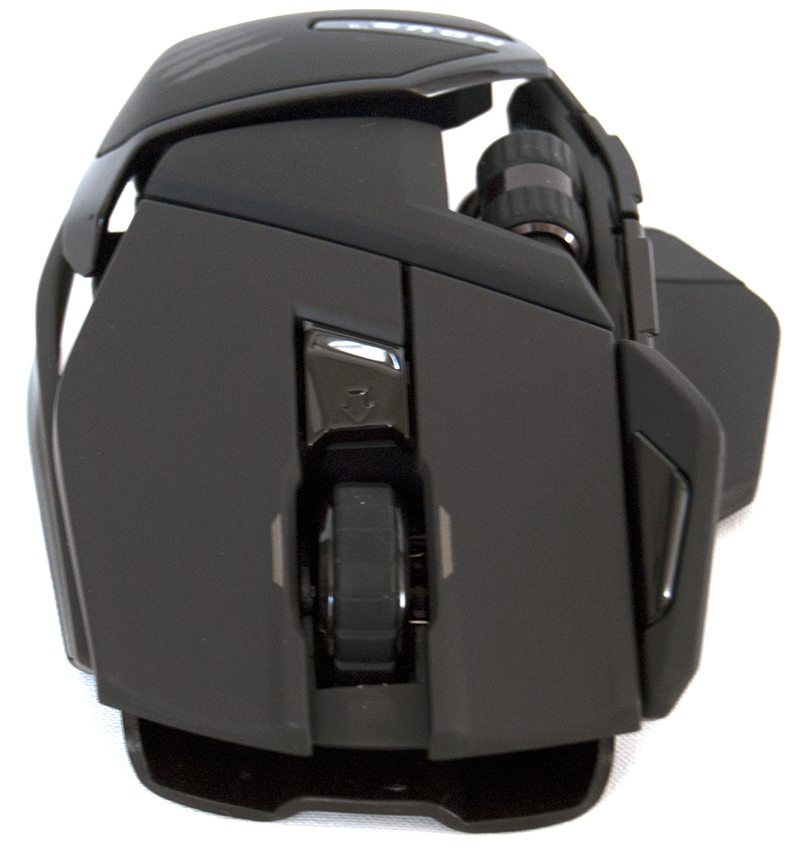 The logo on the back adds some nice style and there are a soft touch and slightly gripped feel the mouse panels that help you keep a firm and comfortable hold on it.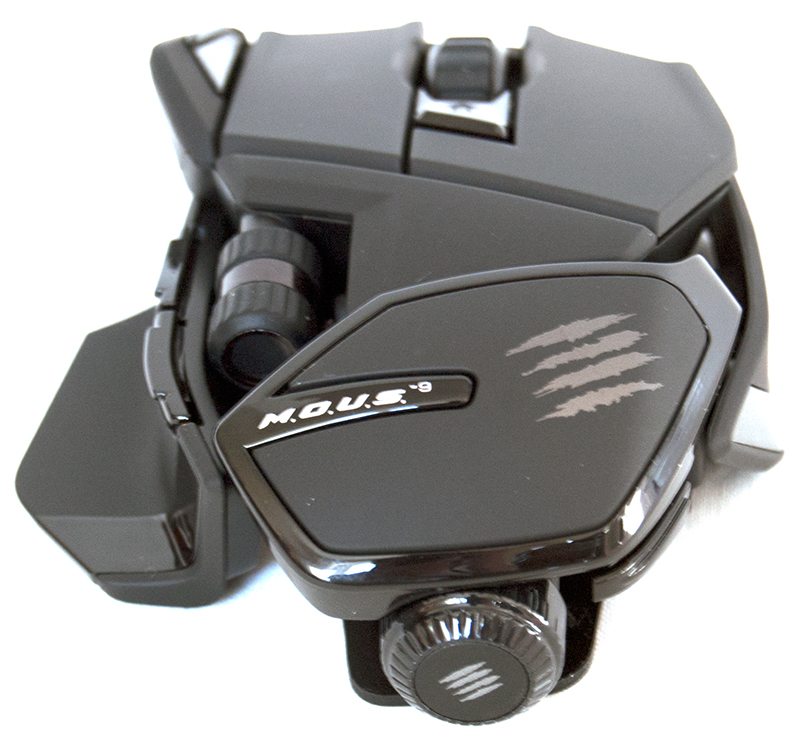 The underside looks pretty awesome too and is divided up by 6 small Teflon slip mats, a metal chassis, the laser sensor, a power on/off switch and a nicely hidden USB dongle.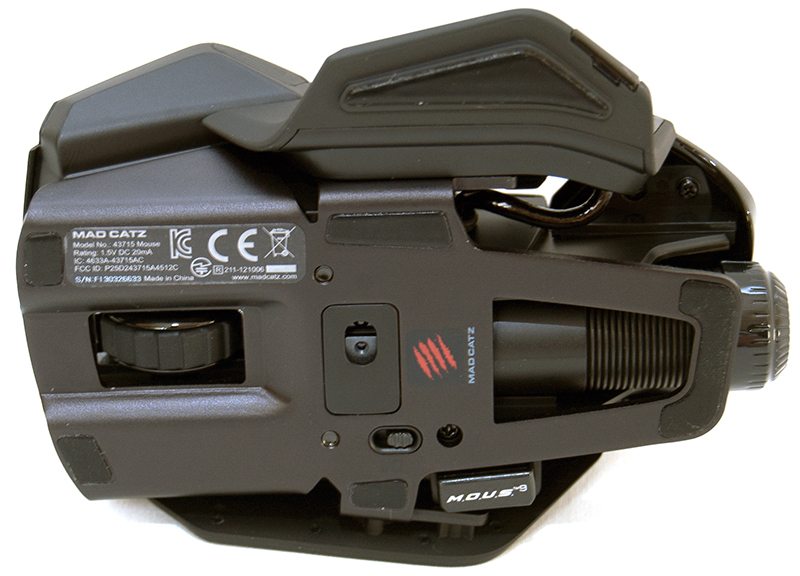 A perfect sneaky storage place for the Bluetooth dongle that uses a push/click push/pop mechanism to keep it safely in place.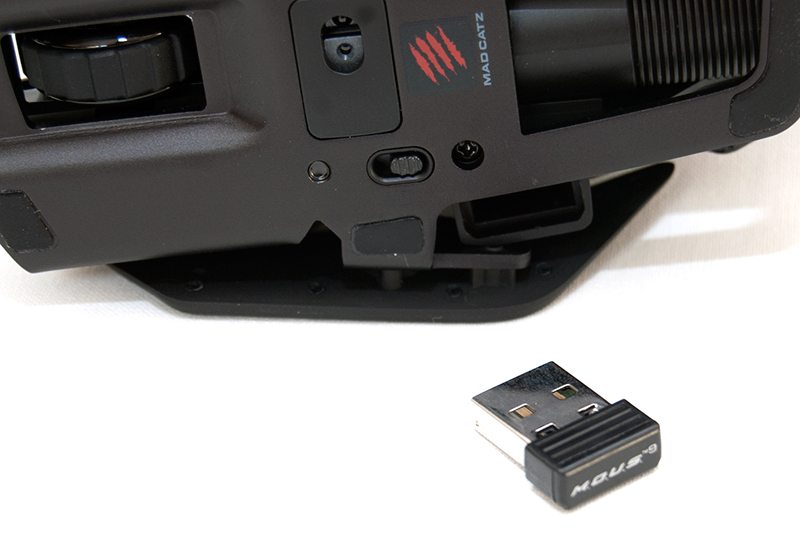 Setup & installation
Setup was plug and play, but the real good stuff requires you to download two small files from the Mad Catz website, the Mous9 driver and the Mous9 software, having both of these installed allows you to fully customise the mouse settings and configurations.
A simple drag and drop system allows you to tailor each button to your liking, it couldn't be much easier to set up the basic functions but you can also create custom buttons should you need them.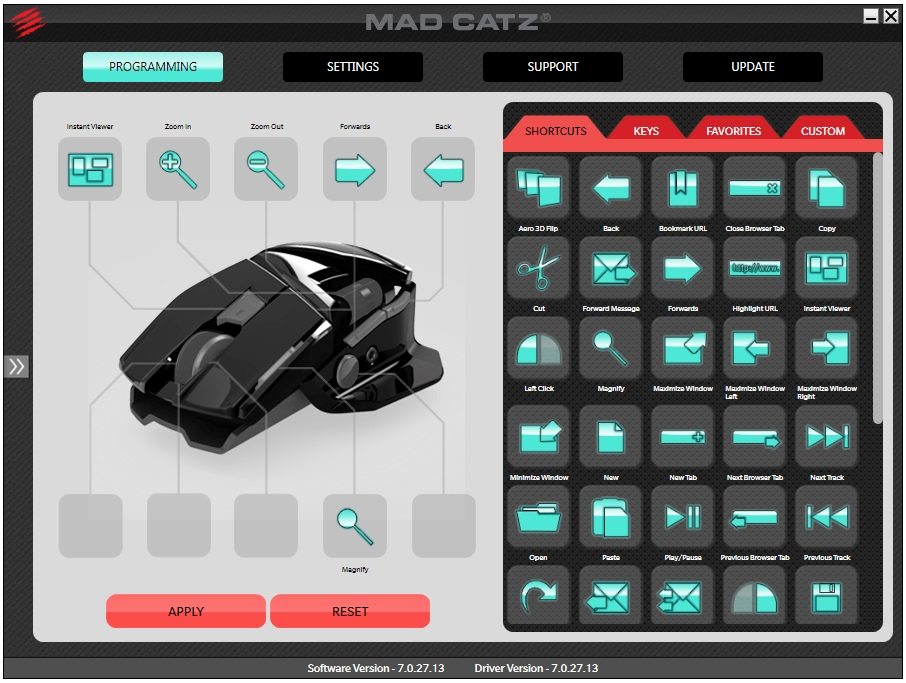 The battery life indication is at an enthusiastic 1 year! I don't really have time to test this of course, that would be crazy but since the mouse only features a single LED indication and it's not especially high in terms of performance, I have to assume it's not wasting much power.
On this page you can adjust how much the sniper button slows the mouse when the button is held, as well as configure what button the horizontal scroll wheel controls, but surprisingly you cannot change DPI and this is locked at 990DPI, there is however a shortcut that takes you to Windows Mouse Control Panel to change the pointer speed and for more people, that is more than enough configuration.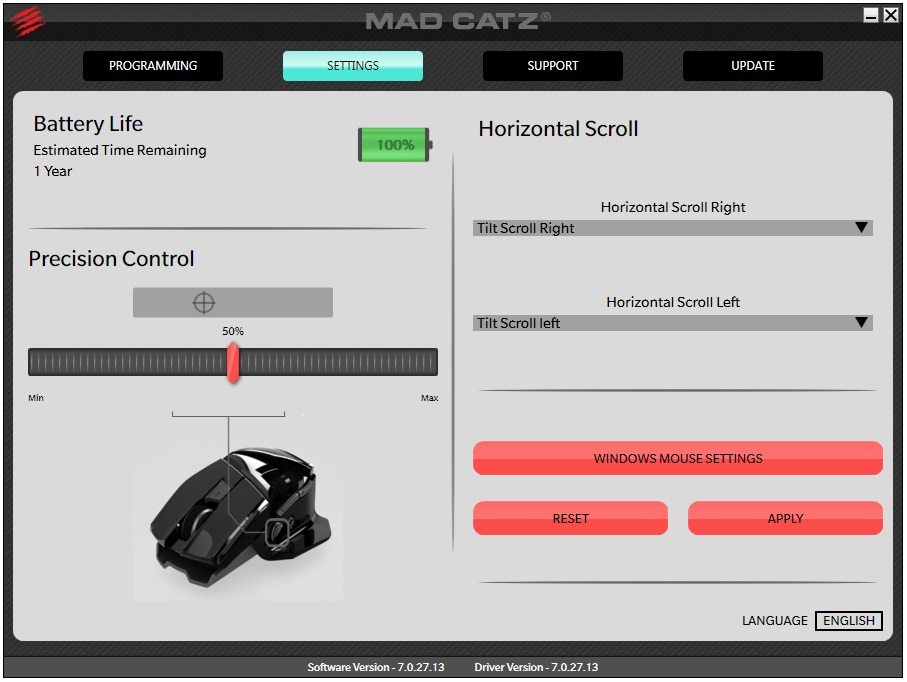 Performance
The first issue with wireless tech is input lag and after a few tests I found the Mous9 has 20ms lag compared to a wired solution, with the Roccat Kone XTD scoring 254.2 average.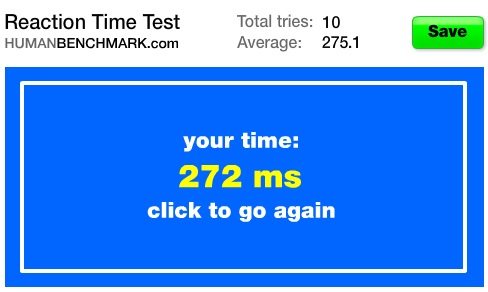 I performed a prediction test and couldn't find any issues here, but the same could no be said about acceleration. Regardless of pointer speed settings I found quite considerable acceleration when turning in any FPS, things are ok at slow movement speeds, but if you make any sudden jolts in direction you may over shoot your turning, unless of course you like acceleration. This is typically something that will bother enthusiast FPS players more than it would an MMO player. Liftoff height wasn't adjustable either but it's set at a tidy area that appears to be just over 1mm and that's pretty good in my opinion.
The mouse may not be equipped like the MMO7 or RAT7 to take on gaming at an enthusiast level, but it's still an absolute joy to use none the less and it's perfectly competent for playing League of Legends, The Witcher II and Battlefield 3 (my personal gaming choices for the week) and I can't say it's let me down, because it just hasn't. The sniper button is nice, but I did miss the lack of DPI settings in Battlefield 3.
The real joy for this mouse is in day-to-day tasks, from browsing the web, doing work in Photoshop and other applications where the ergonomics of the mouse really make for a pleasurable experience. I often find my desk can become very busy very quickly when reviewing and having a wireless mouse that never lost signal once, not even at a range of 21ft, became a nice advantage as I often use my PC via a 15m HDMI cable so I can throw things up on the big screen.
Final Thoughts
It's not the best mouse I've ever used, not by a long shot as I still personally prefer a wired solution over wireless and that's fine, because that is my personal taste and it's what works best for my system and my personal requirements, but that will not be true for everyone.
There is a large part of the market that isn't bothered about eSports, or about high DPI mouse settings, in fact some people will never want to care about DPI settings, polling rates, or anything technical, they just want a brand they like, offering the features they understand and they want the build quality to be the best they can afford, something Mad Catz are clearly aware of.
This mouse could have been so much more but then we run into technical limitations of Bluetooth and batteries, sure you can have higher DPI but that would put the price of the sensor up, make transmitting the data quick enough more difficult, use more battery and you still wouldn't address the issue with extra lag, so for this mouse 990 DPI is somewhat of a sweet spot between performance and power usage and for a large portion of the market this isn't nothing to be ashamed off because the mouse feels snappy and precise, more so that any other wireless mouse I've used.
The build quality is 2nd to none and Mad Catz have used a mixture of high quality plastics and metals for the chassis and casing, plus the unique style that the Mad Catz brand has become known for not only looks great, but it also offers some very nice ergonomics and customisation options that make it very easy to use.
Little features such as the extending palm rest, the snug little hide for the USB dongle, plug and play compatibility, easy to use software with a drag and drop interface, a handy carry pouch are just some of the features I love about this mouse and while it's gaming performance isn't incredible it's certainly better than most and it's nothing to worry about when you consider that this mouse is a solid performer in day-to-day tasks too, as some extreme mice can be a nightmare to live with outside of a gaming environment, that simply isn't the case here.
I still feel it's worthy of our editors choice award, I would happily buy one of these today had I the need for a wireless mouse, it really is a joy to work with. Yet I must admit that Mad Catz need to improve the battery compartment cover in a future revision as for this price range there should be nothing that feels "cheap" about the build.