MadCatz R.A.T.M (Mobile) Bluetooth Mouse Review
---
---
---
Peter Donnell / 9 years ago

Mad Catz are one of the hottest peripheral brands on the market, they've already built themselves a fantastic reputation for doing things just that little bit differently to some of the other big names and when it comes to their range of mice, nothing looks quite like a Mad Catz mouse. The distinctive look set them apart quickly and as we've seen in countless reviews of their products, not just on eTeknix but on multiple review media, Mad Catz back their looks up with exceptional build quality, pack their product full of high end features and of course they're getting pretty cool too.
So when Mad Catz announced that they would be launching a mouse for the mobile market, or should I say a mouse that is more mobile that they usually are, a more compact solution that packs wireless tech, good ergonomics and hopefully still plenty of the features we've come to love about the Mad Catz range, the only downside is that this mouse would cost in the region of £85! Which is to say the least, pretty damn expensive for a small mouse, so it's either overpriced or it's packing some neat surprises to justify the cost, well if the specification sheet is to be believed, it looks more like the latter.
High DPI, good acceleration and tracking speed, loads of programmable buttons, powerful wireless range, this is certainly no cut down mobile product, this is a mini gaming monster!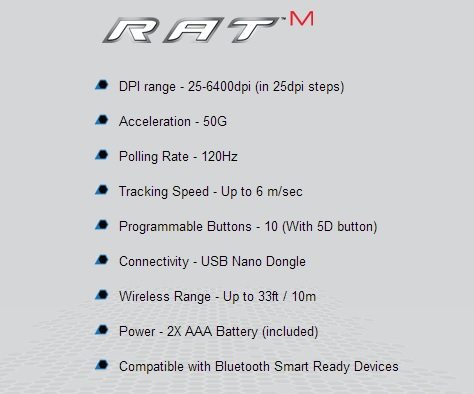 As with the new M.O.U.S.9 Wireless mouse from Mad Catz the R.A.T.M comes neatly packed in a perspex box, which not only gives us a great view of the mouse, but also a rundown of some of the major features, such as the pc and mac compatibility, as well as its Bluetooth support.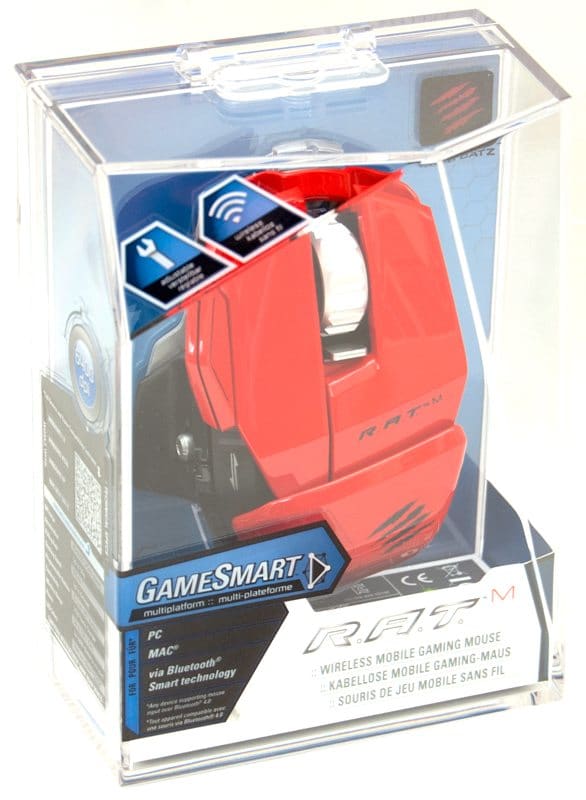 Around the back we have a more in-depth look at the feature list, but we'll take a closer look at these features ourselves in just a moment.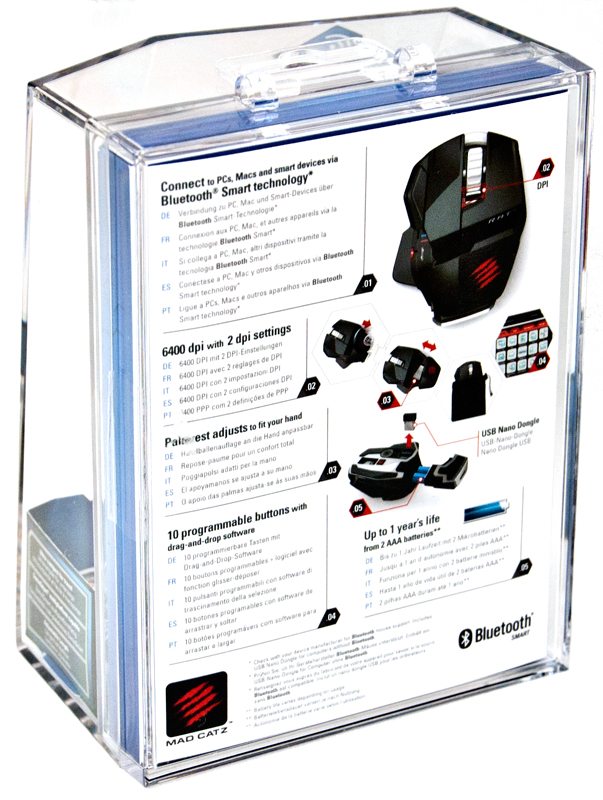 Tucked away in behind the mouse I found a neat little carry pouch which should help keep it scratch free when in storage or being transported in your backpack, a pair of AAA batteries and a handy user guide.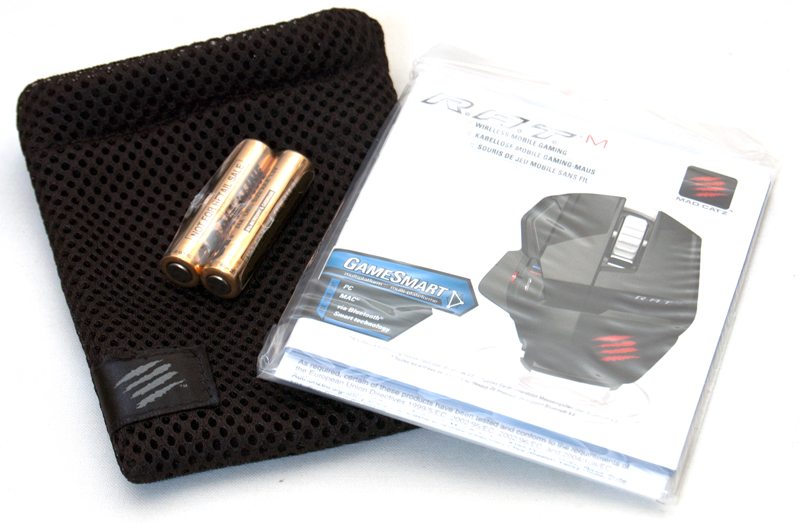 It's hard to know where to start on this mouse, it packs that many features! Down the left side we can see that there is a large wing shape, this provides a nice resting spot for your thumb, above that we have the "5D" button, effectively a mini joystick/d-pad that allows for multiple buttons to be applied in a single control, which of course helps save space on this tiny mouse.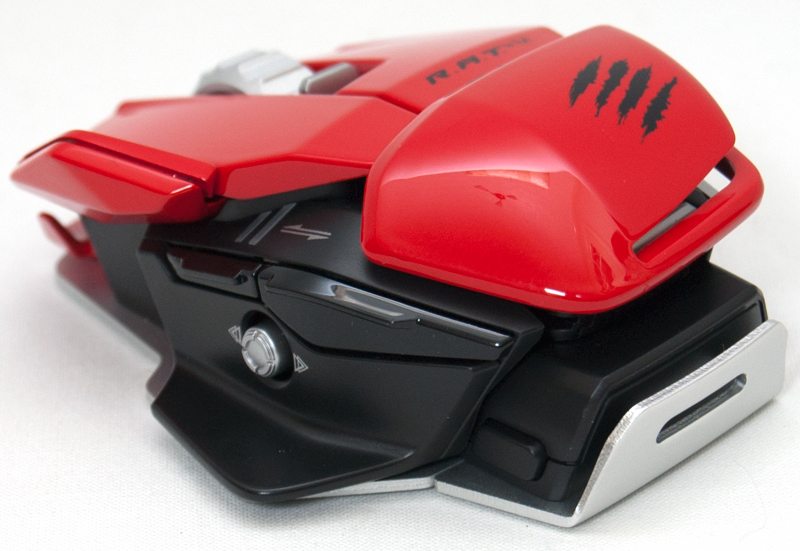 Above the 5D button we have the usual forward and backward toggle switches and a pair of LED indicators for the 2 DPI settings, although you can configure what DPI each setting is in the software.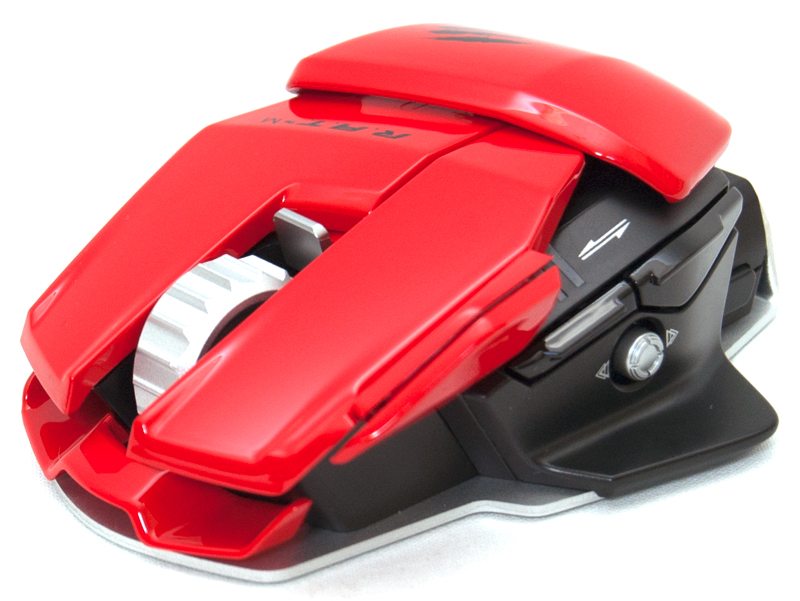 The right side of the mouse features a nice ergonomic shape and this gives a nice gripping angle for those who like to use claw and lift-off gaming techniques.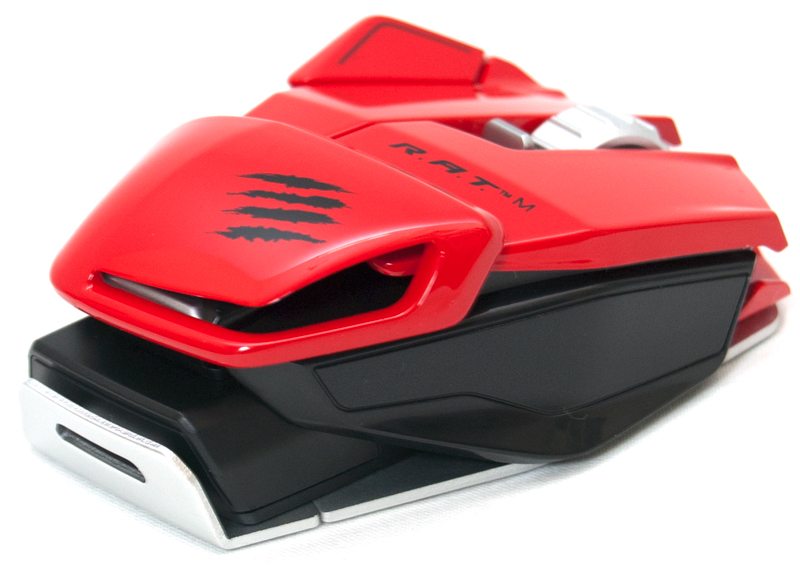 The front of the mouse features the left and right mouse buttons (obviously) but also features a nice recessed scroll wheel and a forward/back toggle switch in the centre, and an extra switch to the left of the LMB which is highlighted by a black line decal on its left side (seen on the far right of this image).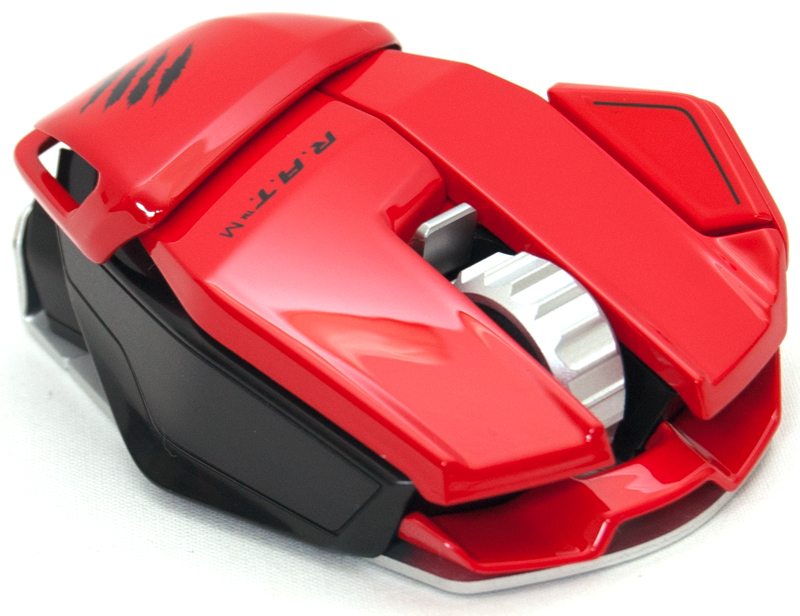 The mouse features the typical hardcore Mad Catz styling that crosses the angles of your average super car with a gaming peripheral, this includes the metal chassis and what looks like the front diffuser off of a race car.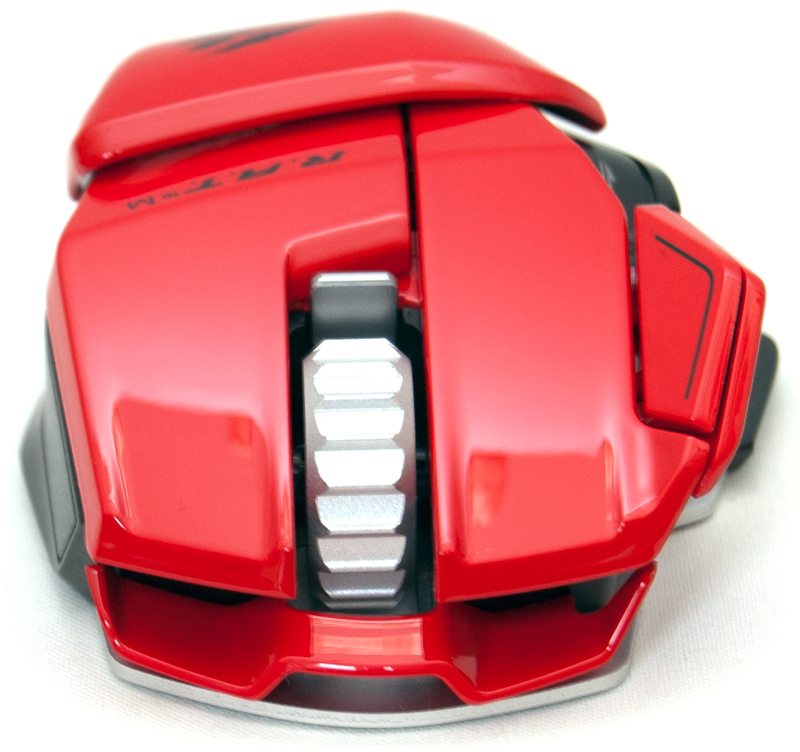 The metal chassis extends right to the back of the mouse and this gives it improved durability and it looks cool too.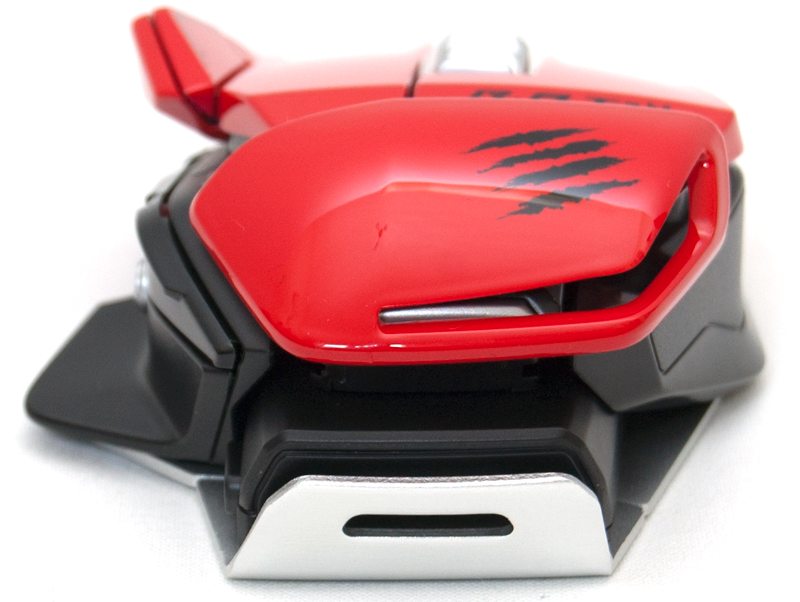 At the back of the mouse you will find a small push-release clip that you can use to load the two AAA batteries into the rear of the mouse.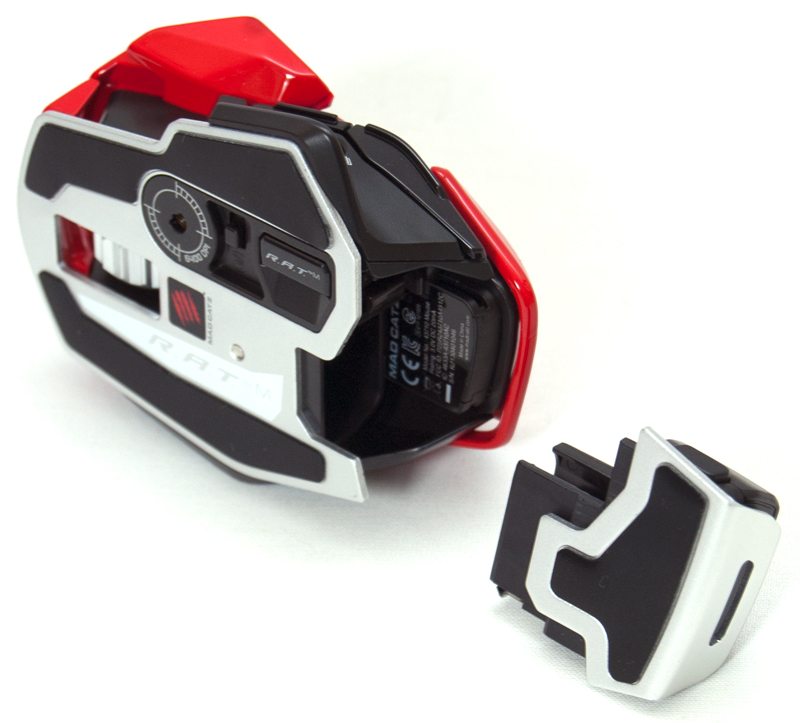 Yet the absolute best feature of this mouse is the one that took me by surprise, this mouse is for all intents and purposes a little too small for my liking, but Mad Catz have a solution for that (see next image).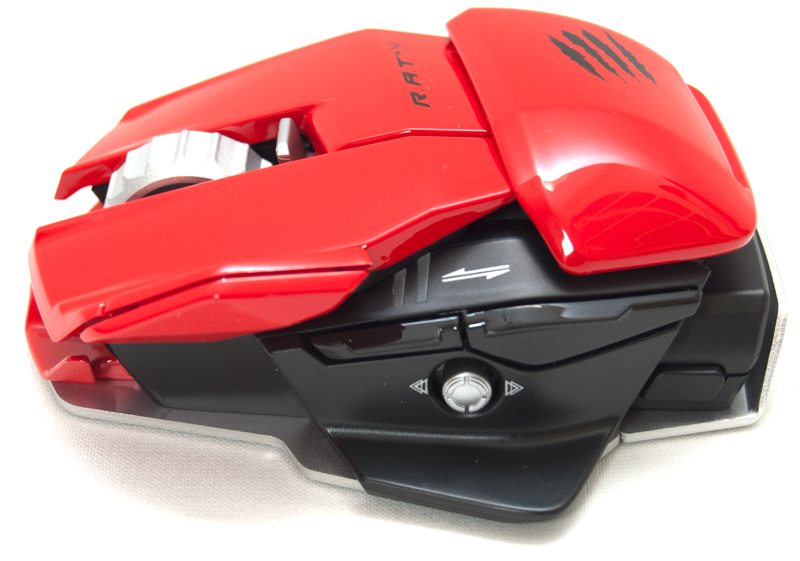 The top panel of the mouse can be extended outwards and this provides a much better hand resting position for people with large hands (like myself).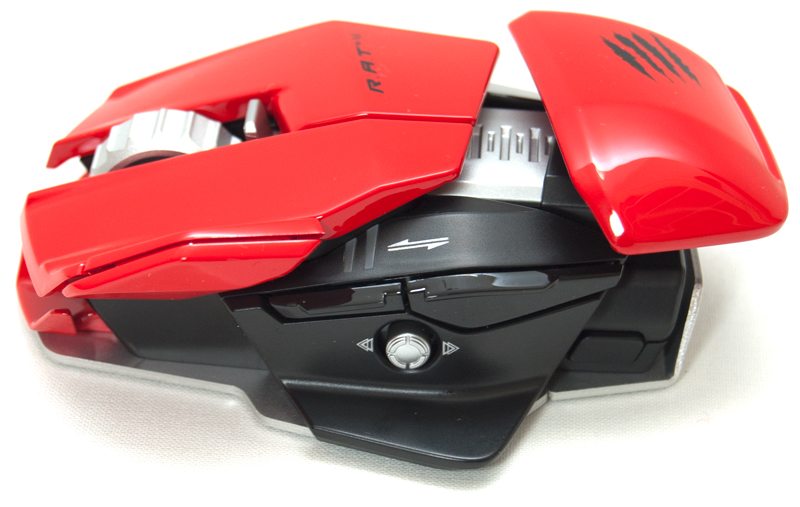 The underside of the mouse features a simple on/off switch, the 6400 DPI sensor and a tiny USB Bluetooth dongle that can be stored on the underside of the mouse.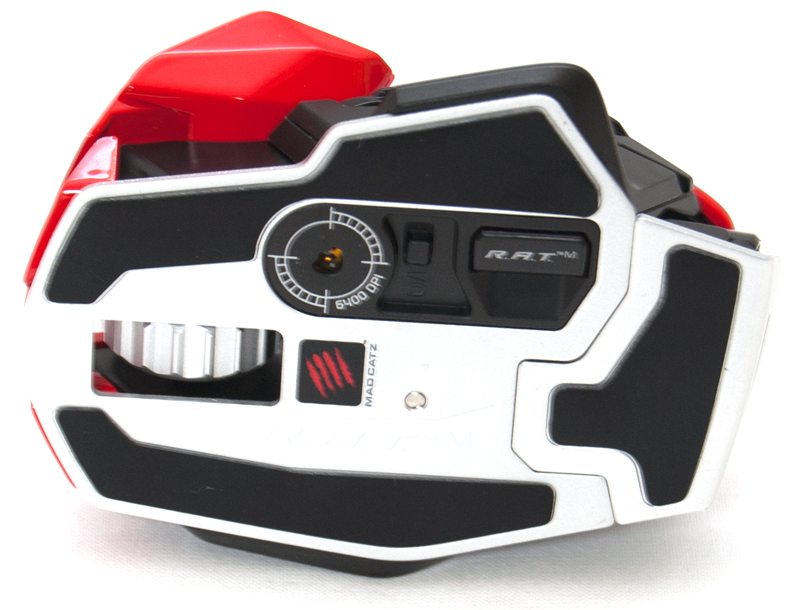 Setup & Installation
Using the RATM was as easy as plug and play, software and drivers can be downloaded from the Mad Catz website and this opens up a number of button configuration options. The button configurations are handled by a simple drag-and-drop format, there are loads of preset actions, but should you feel the need you can always create custom ones.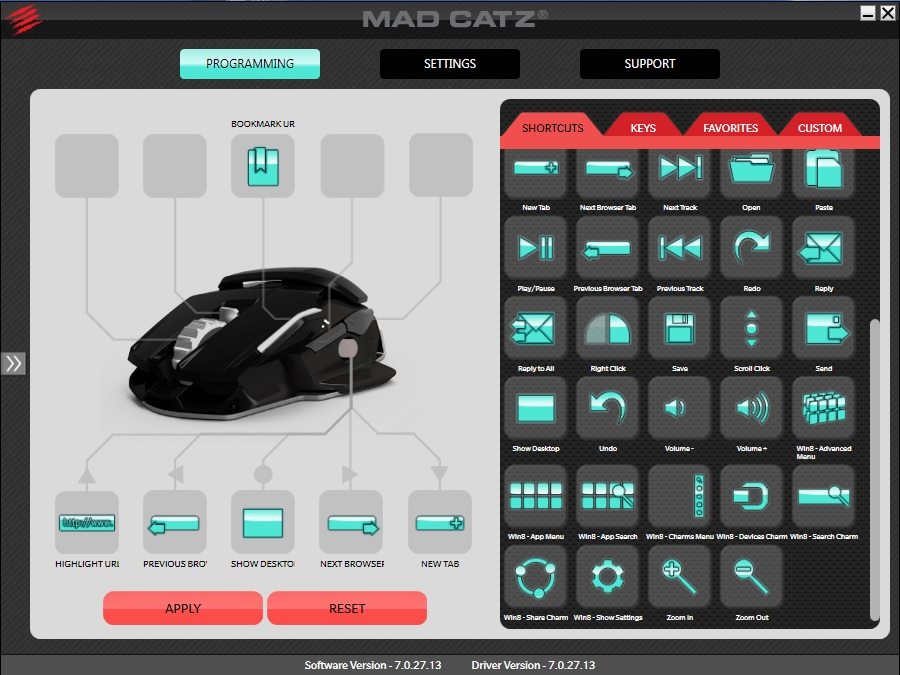 The next page features battery life indication, a DPI LED sleep timer, precision aim (sniper button) configuration, two level DPI presets, each with their own X/Y adjustments.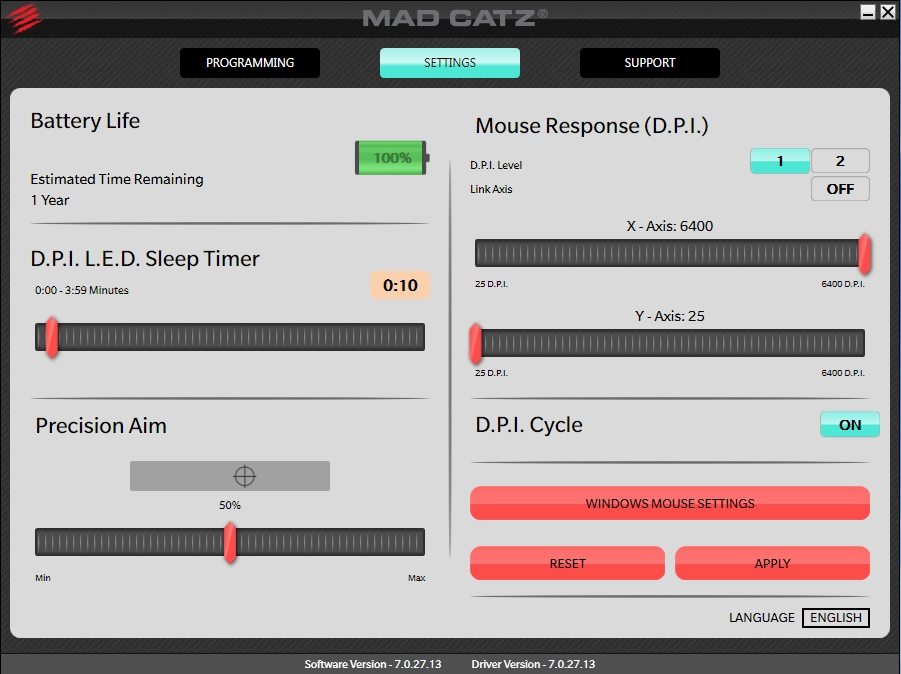 Performance
One of the big thing to worry about was input lag, something that often plagues wireless tech and it can be a real deal breaker for hardcore gamers. I took a few runs on Human Benchmark with my Roccat Kone XTD where I score between 231 – 241ms consistently (average of 10 attempts). Next up was the RATM which scores 254ms, which is pretty impressive and I'll say that's around 20ms out from wired solutions, it's also worth noting that this is faster than the Mad Catz MOUS9 I recently tested.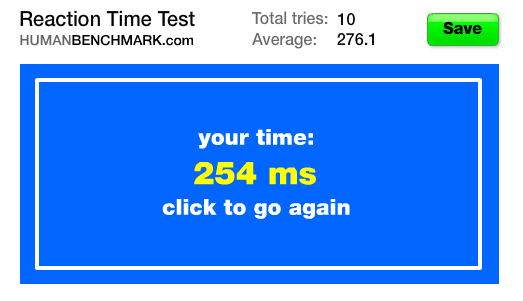 I also performed a few tests for angle snapping, prediction and acceleration and found no presence of any of them, the sensor gave me accurate feedback of my input, for better or for worse.
Gaming on the RATM was a lot better than I expect and while the mouse is quite small that is quickly fixed by extending the back panel outwards, I did still find my little finger struggled to find a good resting spot as there is no rest or wing shape to the right like you would find on larger Mad Catz mice. Having the dual DPI settings is a big bonus but you may need to configure it to each game and there are no presets so it can become a little fiddly but the end result is often worth the extra few clicks pre-game.
The drag and drop shortcut buttons are really nice too and great for MMO gaming, but again it would have been great to have a more extensive Macro and profile configuration to really take full advantage of all the buttons on this mouse.
Final Thoughts
The RATM is highly capable at day to day tasks and gaming alike and while it's not as comfortable over long periods of time as its bigger brothers from the Mad Catz RAT, MMO and MOUS ranges it's a lot more mobile than any of them thanks to its smaller size, this makes it an idea mouse for those wanting a gaming mouse for use with a laptop or portable games setup where space is an issue, as having to carry around large peripherals can often be a pain when your already lugging around a 17″ gaming laptop.
The high quality sensor is a welcome addition to the wireless market which is often filled with mid range optical sensors and having a high DPI and configurable sensor is something that will go down well with gamers.
The build quality is on par with what we have come to expect from the Mad Catz range and a mixture nicely finished metal work, high quality plastic panels, a slick glossy paint job and that unique Mad Catz styling really make the RATM stand out from the crowd and while it looks a lot like many of the other Mad Catz mice it has plenty of unique touches that make it unique in its own little ways, the DPI switch, the 5D switch, the extending back panel and the magazine style battery loading clip are all very cool features in my opinion.
Mad Catz have a great reputation for great design and performance and they've done well to uphold that reputation here today. While personally this isn't the sort of mouse I would go out and buy, since I have no need for a compact mobile mouse myself, but I can see there is a big market for mobile products and the ability to pair this one via your own Bluetooth hardware or by the included dongle gives way to extensive device compatibility for the RATM.
It may not be cheap (far from it) but you do get premium build quality, innovative design and high end performance in a small package and if that isn't worth paying a premium for, I don't know what is.