Maxsun Tease Nvidia 1180 Image At ChinaJoy Event
---
---
---
Mike Sanders / 5 years ago
Maxsun Tease Nvidia 1180 Image At ChinaJoy Event
We are possibly just weeks away from Nvidia officially announcing the brand new range of graphics cards. At the moment, speculation is rife as to what they might be. People can't even seem to agree on a name with many believing the flagship card will be called the 1180, while others seem fairly committed to the 2080. As incidental an argument as the name is, while we don't have any confirmation, all the information we have seen points to 1180.
In relation to Nvidia GPU news, you may not necessarily have heard of Maxsun, but they are an official trade partner of Nvidia. During Maxsuns presentation slot during ChinaJoy (a tech conference in China), an image appeared which would seem to be the first fully assembled picture of what could be Nvidia's new GPU.
A Somewhat Crude Image
The picture, courtesy of Videocardz, is certainly more than a little crude. This may, however, be the first image we have seen to date of a fully assembled Nvidia 1180 (or 2080 if you prefer). As for what we can learn about the new GPU though, I'm afraid that is a bit limited.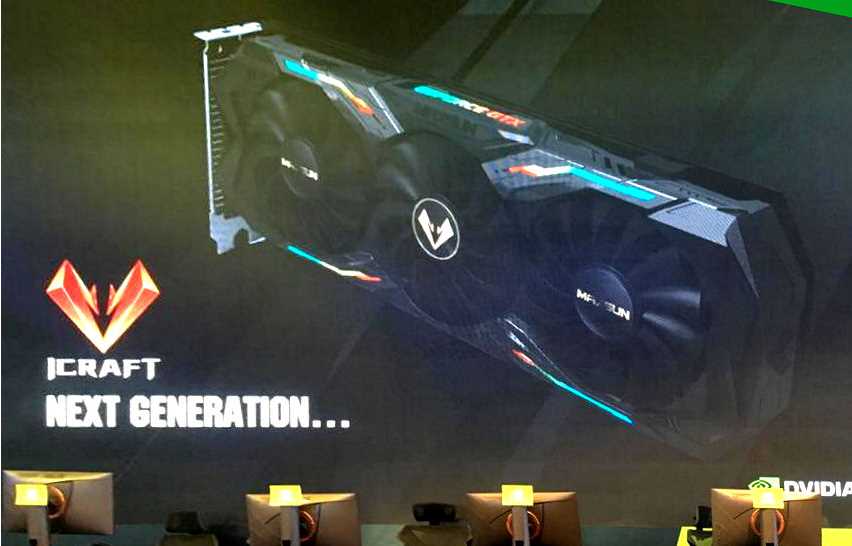 What we can say for certain is that this is a dual slot, triple fan graphics card. Well, an image of one anyway. What would've possibly have blown our minds is if it had a card name on it. If it did we could have finally put the whole 1180/2080 argument to bed.
When Is The New Nvidia GPU Out?
The best indications we have is that Nvidia will make an announcement on the 20th of August. What that announcement will be isn't confirmed and I can promise you, we're under no NDA's regarding this. We do, however, expect that this announcement will be the new flagship GPU. Either way, we will, of course, keep you up to date.
What do you think? Is this image the first picture of an 1180? – Let us know in the comments!