The Megalodon Easter Egg Has Been Found in Battlefield 1
---
---
---
Mike Sanders / 4 years ago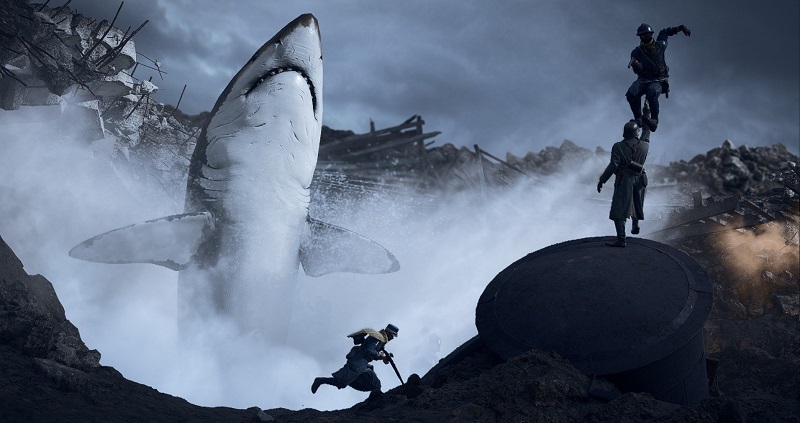 The famous Megalodon easter egg has finally been discovered in Battlefield 1, and as you can imagine, the unlocking of it is as trick as usual.
The fine people at Dice have always had a habit of inserting rather bizarre and fun Easter eggs into their games, 3 years ago people were thrilled to find the Megalodon in Battlefield 4, there was also in BF4 the lesser known T-Rex Easter Egg (where you could see trees moving in the distance and the roar of a dinosaur) and also the random Pterodactyl flying around in battlefield 3. With the exception of the latter, these have always been a really complicated affair to unlock and in Battlefield 1 this is no exception.
So… what do you have to do to unlock this beast?
Buy the DLC "They Shall Not Pass" as it's the map you need.
You must locate 3 valves on the map (2 inside the building, and 1 cryptically hidden underground).
You (and your team mates) must turn all 3 valves on at the same time.
The crater near C will begin to fill with water… so far so good.
Near B there is a corridor with a bunch of crates in the corner – destroying the crates will reveal a long pipe, leading down. You must throw a grenade down here.
HUMAN SACRIFICE!!! – Back to the puddle – 3 people must be knifed inside the puddle to summon Megalodon. MEGALODON REQUIRES BLOOD!
Boom! – Stand in the puddle and wait to be eaten.
So, as you can clearly see, not easy, which might have you thinking, how on earth was this discovered?
Well, in the release of the DLC, Dice placed random recordings throughout the game on 'vinyl discs'.
Through decoding the recordings the following message was found;
SO YOU ARE HERE FOR THE SECRET THAT LIES BELOW VAUX. MAKE SURE YOU ARE READY FOR THIS JOURNEY. DO NOT THINK IT WILL BE EASY, AND DO NOT EXPECT ANY REWARD. ALL YOU WILL FIND IS DEATH. A HINT; THAT IS ALL I HAVE FOR YOU, SO LISTEN CLOSELY: THE MEN THAT LIVED HERE KNEW ITS SECRETS. SEARCH WHERE THEY RESTED WHEN THEY DID NOT WORK
Still cryptic I know, but some clever clogs finally managed to put the pieces together and Megalodon is their reward!
So there you have it, if you want me to talk more about Megalodon, we're going to need a bigger anecdote!… I'm sorry.