Microsoft 365 Education Package Launched
---
---
---
Ron Perillo / 5 years ago
The Microsoft 365 Education package was unveiled Monday at the Ignite conference in Orland, Florida. This package, much like Microsoft's business and enterprise bundles, provides an all-in-one solution. However, it is specifically targeting educators and students. The bundle itself consists of Office 365 for Education, Windows 10, Enterprise Mobility + Security, and Minecraft: Education Edition.
The Microsoft 365 F1 is also now available. This is an expansion for their enterprise offering, specifically for "firstline workers". This refers to users who are "first to engage customers, represent a company's brand, and those who see products in action". This package contains Office 365 F1, Enterprise Mobility + Security and Windows 10.
Microsoft Windows 10 S Devices Also Expanded
Aside from software expansions, additional options for Windows 10 S-based PCs are also now available. Companies such as Fujitsu, Acer, HP, and Lenovo provide the 365 F1 bundle with many of these units for just $275. These devices include remote deployment and device management capabilities for Windows 10. It also includes enhancements to Microsoft StaffHub.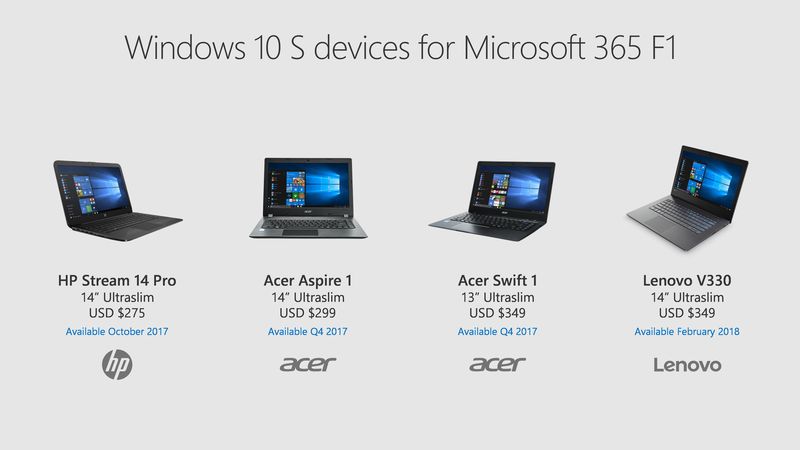 Windows 10 S is a direct competitor to Chrome OS, and it can only run apps from the Windows store. These Windows 10 S laptops are often available between $299 to $399, but the new $274 option should entice students or educators to try it out. However, this is still a far cry from the original promise of $199 Windows 10 S laptops.