Microsoft Blocks Ryzen and Kaby Lake From Windows 7 & 8.1 Updates
---
---
---
Samuel Wan / 4 years ago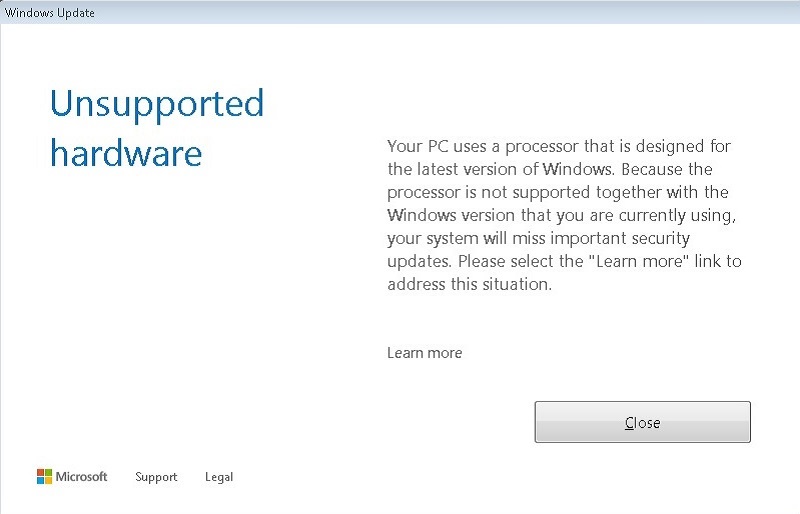 Last month, some troubling news came out from Microsoft. According to a change in their terms of service, Redmond would no longer honour their Windows Update commitments. Moving forward, new processors would no longer get updates of any kind with new processors. This policy was trialled with Skylake but was delayed due to heavy consumer backlash. With this latest generation of processors, it looks like Microsoft is finally pulling the trigger.
Announced back in January and modified in March, the policy means that Ryzen and Kaby Lake processors will only be supported on an ongoing basis on Windows 10. This leaves all Windows 7 and 8.1 users out in the cold. In a weird compromise, it appears that Microsoft was willing to drop the ball on Skylake as well. However, in a generous move, several OEMs have stepped up to the plate and offered to do the testing on their systems.
On the face of it, Microsoft has two main goals with this objectionable move. First off, they manage to save money on software quality control, validation, and certification. Since the company laid off a large group of testers a few years back, quality has been somewhat inconsistent and ditching Windows 7 and 8.1 will let their existing teams focus on Windows 10. A slightly more sinister move is to push for greater Windows 10 adoption and reduce users on older Windows, something they've been done with nefarious means in the past.
In some ways, Microsoft does have a merit in their position. Ryzen and Kaby Lake do have some new features that would require patching the older Windows OS to support. However, the whole point of x86 is to ensure backwards compatibility. Surely it would not be too much to simply let the older operating systems run, but not support newer features. After all, Windows 7 already runs on Ryzen just fine. At the very least, Microsoft should still release the updates to the operating system but have a disclaimer that these updates were not certified.
More troubling is the fact that Windows 81. is still in mainstream support for another year. While Windows 7 is only in extended support and new features are not expected, mainstream support means new features should still be added. If Microsoft can't be bothered to keep their promises regarding Windows 8.1 support, how can they ask us to trust them for Windows 10?