Microsoft Finally Ship Enormous Surface Hub Touchscreens
---
---
---
Alexander Neil / 7 years ago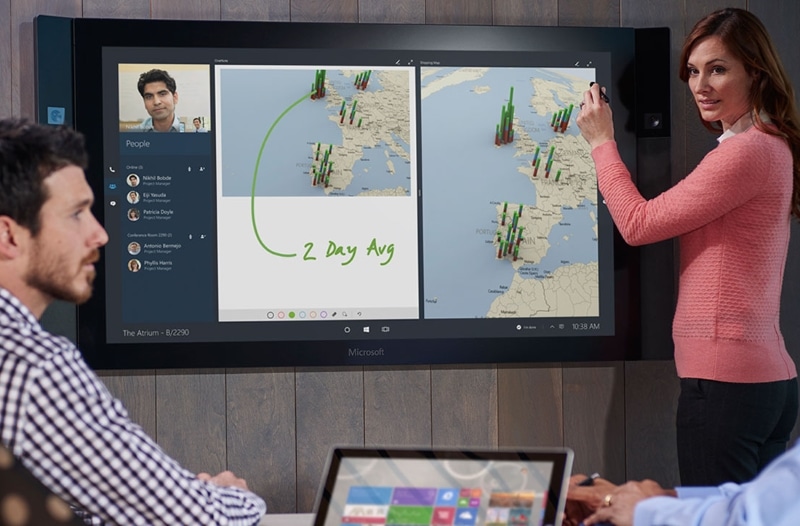 When you think of a Microsoft surface product, the advanced tablet-laptop hybrid systems are likely what come to mind. Now, the newest and largest member of the Surface family is finally shipping, available in a large 55-inch version and a truly gigantic 84-inch version. Clearly, not something you can carry around in your bag, but with their prices starting at $8,999 and $21,999 for each version respectively, they aren't for the average consumer either.
Under the screen, the Surface Hub sports fourth-generation Intel Core processors (i5 for the 55-inch and i7 for the larger model), with graphics options including the standard Intel HD 4600 graphics or an nVidia Quadro K2200 workstation card. Also included are 128GB of solid state storage, 8GB of RAM, four USB ports of which half are USB 3.0, Bluetooth 4.0, 802.11n Wi-Fi, and gigabit ethernet. Weighing in at 105 pounds for the smaller model and a hefty 280 pounds for the larger, mounting is important for the devices, with Microsoft having shown the devices capable of being mounted on walls or stands as needed.
As for why the Surface Hub is useful, instead of a typical smart whiteboard and projector connected to a laptop, for one, it is a fully self-contained device with no reliance on an external machine. It also packs a number of built-in sensors that allow it to start up automatically when approached and integrated support for a number of business tools, including Skype conference calling, Microsoft OneNote and integration with other devices. It's touchscreen also has amazing 100-point touch support, allowing a number of people to operate the Hub simultaneously.
The Surface Hub was originally planned to launch last year, however sales were reportedly delayed to allow for it to be manufactured on a broader scale. Whether it will catch on for businesses when far cheaper solutions exist remains to be seen, but the Surface Hub is an interesting piece of hardware. Just one question remains, does it play Civilization well?