Microsoft Surface Pro Users Plagued with Backlight Bleed Problems
---
---
---
Ron Perillo / 6 years ago
Microsoft's supposed Macbook-killer the 2017 Surface Pro is unfortunately coming up short in impressing users. The random hibernation and shutting down issue in particular is disappointing to those who purchased it. It took a while, but Microsoft has a temporary fix for that problem.
Although it seems there's more bad news out there. Users are now complaining about prominent light bleeding on the display screen. Unfortunately, this is not something that a software patch can easily fix.
Surface Pro Screen vs Surface 4 Screen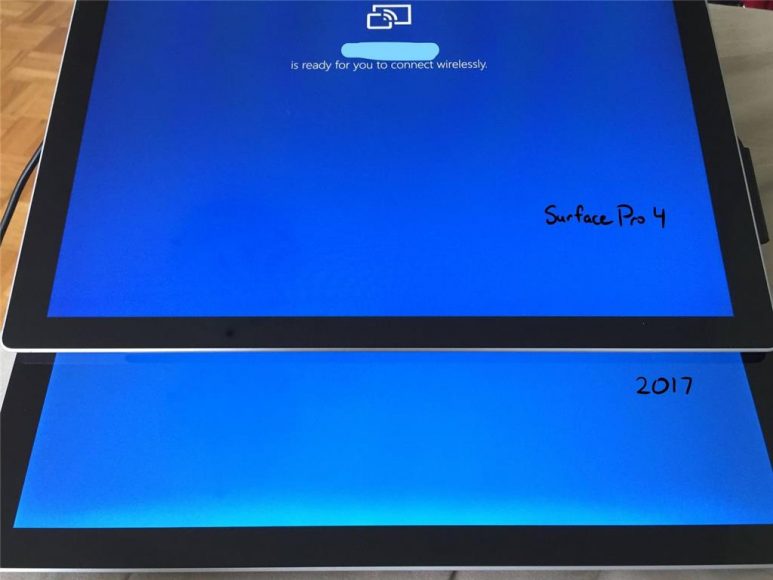 Directly comparing a Surface Pro 4 to a 2017 Surface Pro display, Surface Guy via the Microsoft forums illustrates just how bad the problem is. His Microsoft device is the Intel Core-i5 with 8GB memory. However, he says that this problem is also demonstrable on Surface Pro products at the Microsoft Store.
While this issue is not as noticeable when a taskbar hides it, it is clearly visible running everything else. Surface Guy's demo shows a uniformly blue screen via CTLR+ALT+DEL and the bleed is very pronounced.  Users can do further testing on their own by going to deadpixelbuddy.com. That site allows for various full-screen colour option for clarity checking. The photo he used for his post on the Microsoft forums is actually from /u/WalmartMarketingTeam on Reddit that also raised the same issue to Microsoft.
The Surface Pro is supposedly a premium product, but the prevalence of this problem and Microsoft's silence indicates otherwise.