MSI Cubi 5 10M Comet Lake Mini-PC
---
---
---
Peter Donnell / 8 months ago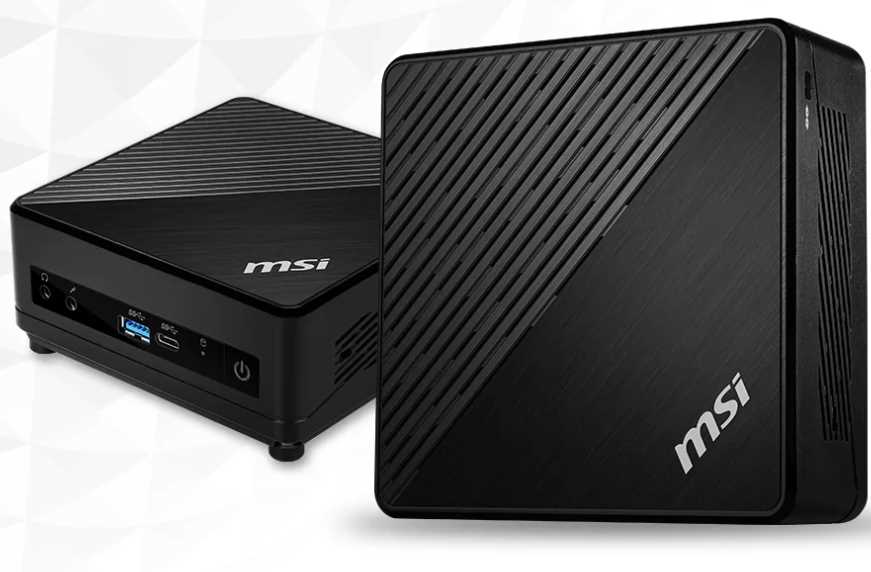 The market for mini desktop computers has ironically only gotten bigger. While many others love full-fat giant gaming PC builds, not everyone really has made them all of the time. Having access to a much more compact system, it's still packing in a punchy processor, can often hit the Mark just as well. Sure, it's not going to be the ultimate gaming machine, working in office files, photoshop, and even some light video editing, it may very well be all you need. Not forgetting the fact that they are space-saving, more affordable than a full system, and have other benefits like being quieter, cooler running and portable.
"MSI Cubi 5 is the smallest mini PC in its kind. With a 0.66 litre case that still provides all the elements of a desktop-worthy PC." – MSI
MSI Cubi 5 10M
It's not like MSI have skimped on the premium features for their system either, as it still packs in the latest Intel 10th generation Core i5 U-Processor. That means also comes with features like Intel Wi-Fi 6, USB 3.2 Gen1 Type C, room to expand of additional storage drives, and it all comes in a form Factor but small enough to sit on your desktop or even be attached to a VESA mount.
2x DDR4 2666MHz SO-DIMMs, up to 64GB
10th Gen. Intel® Core™ i5 U-Processor
Supports Wifi 6
Equipped with USB 3.2 Gen1 Type C
Maximum to 1 x M.2 SSD and 1 x 2.5″ SSD/HDD
Supports Dual monitors
Supports standard VESA-mount
Check out the official and in-depth specifications here
———————–
Packaging & Accessories
The box for the Cubi 5 is nice and compact, small enough to be held in one hand comfortably meaning it should be easy to transport or even ship. The box is just a standard brown box with some printed details, which I like to see it as looks and feels more recyclable but it is still functional and durable.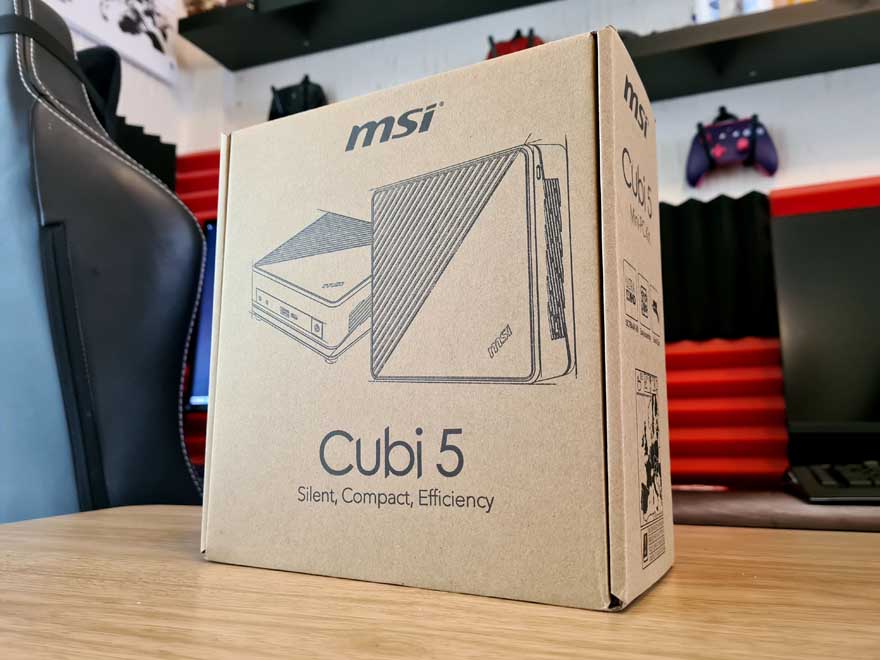 There's a small specifications sticker on one end, all pretty standard stuff, but it's also good to see here that it comes with Windows 10 Pro pre-installed. It also appears that it was packaged in California which means that it has a cancer warning, just like everything else in California does.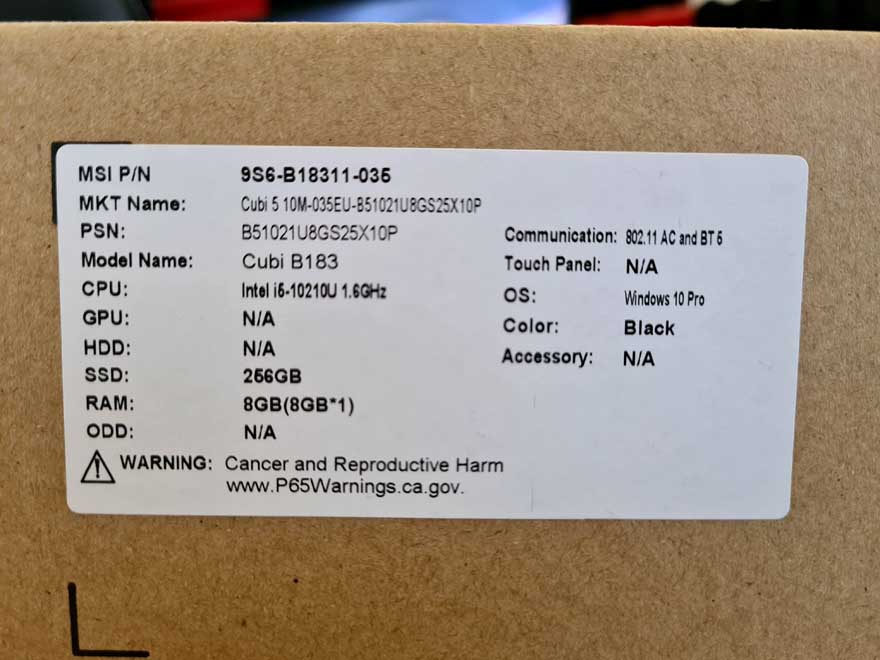 On the inside of the box, you'll find a nice layer of protective foam keep everything safe.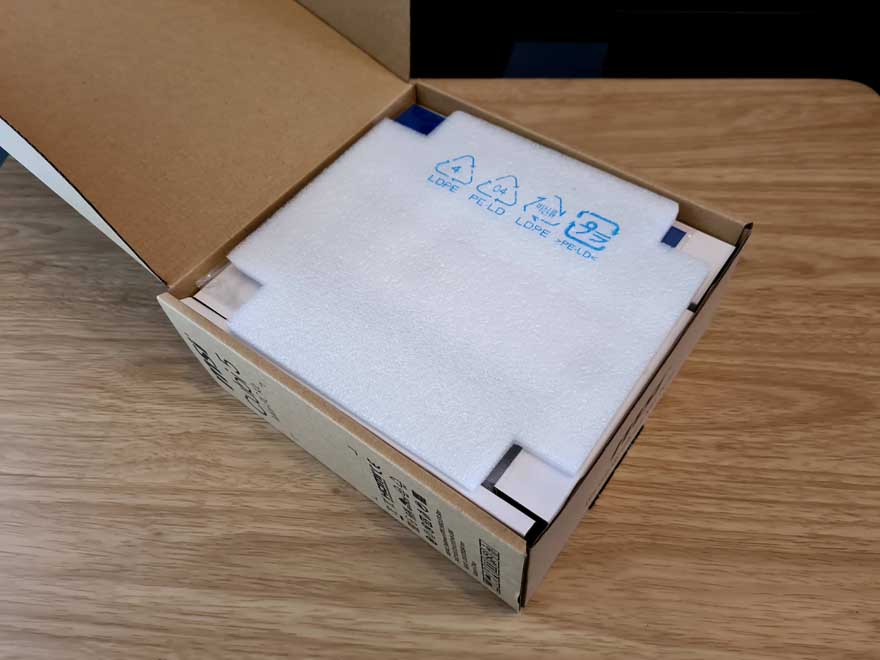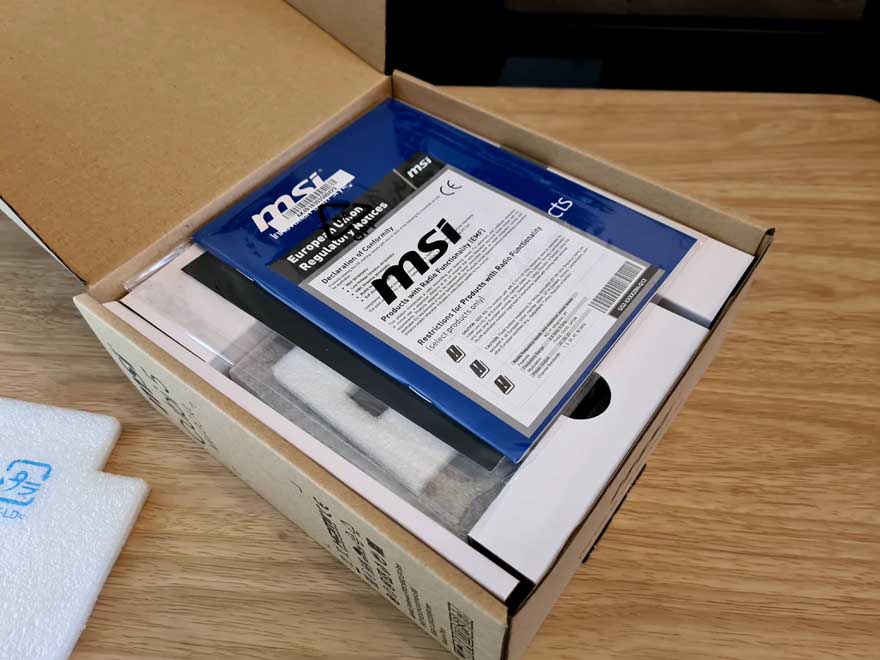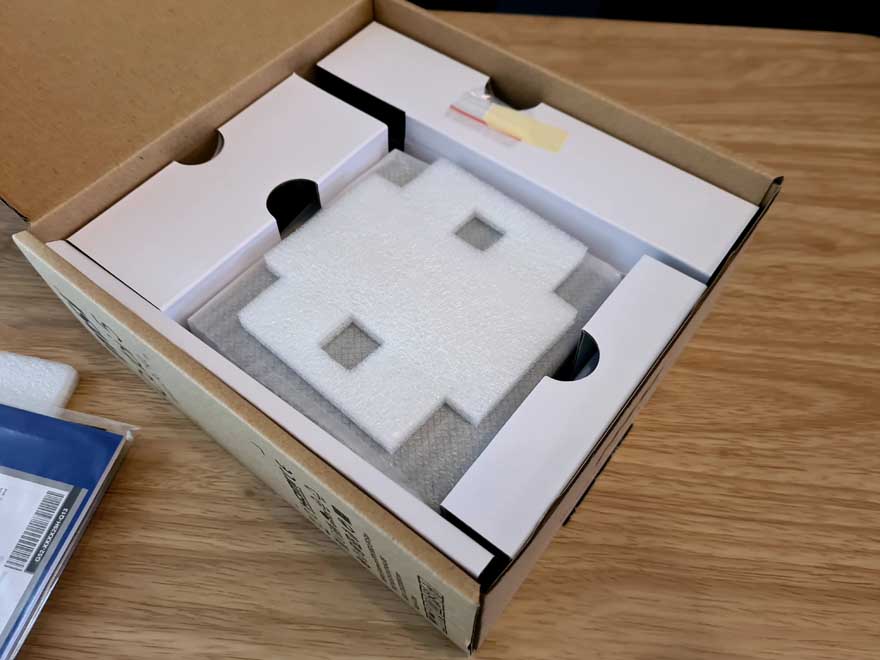 All the components come individually wrapped in foam bags or plastic bags.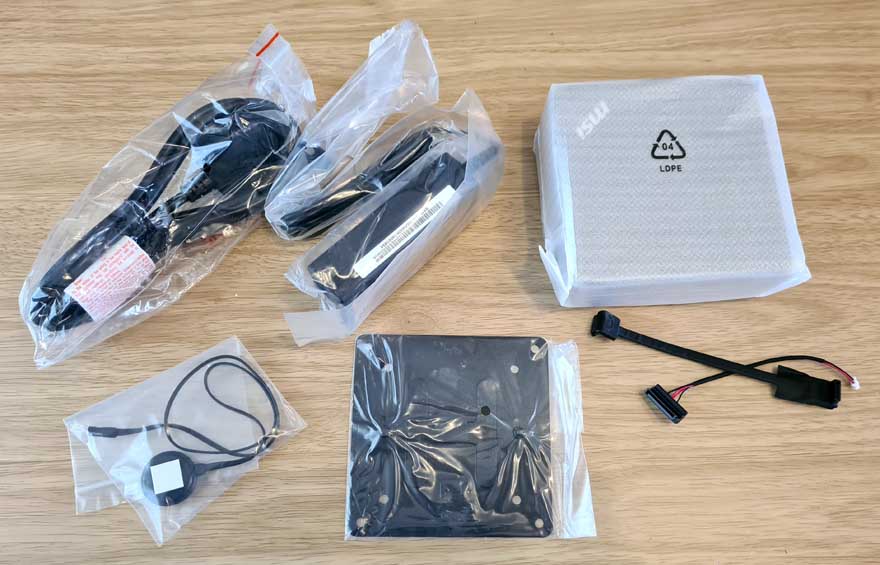 In the box, you will find everything you need to get set up and running. There are your standard power cable, an external power button, hard drive connection cables should you need them, and the VESA mount.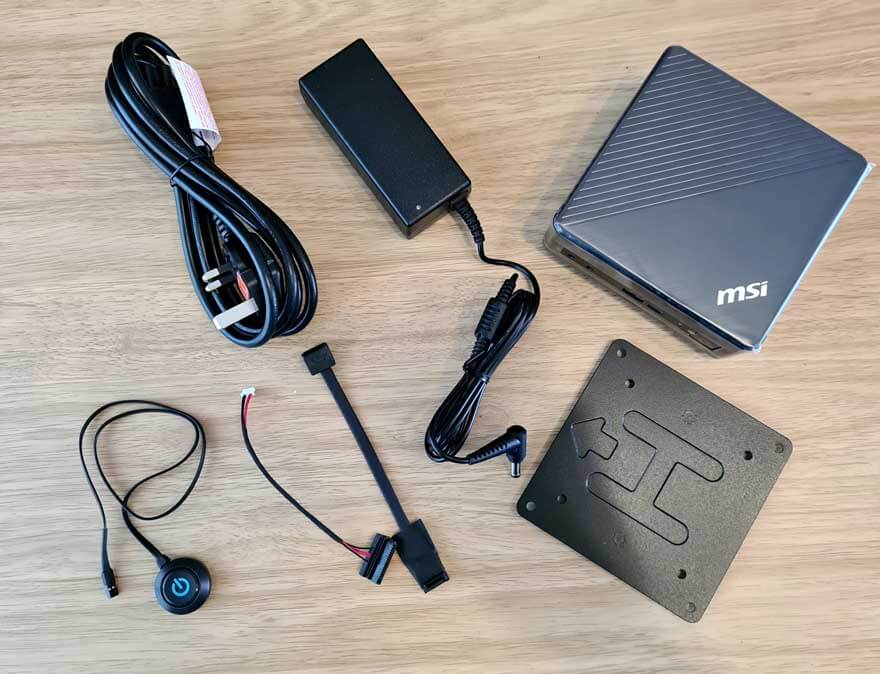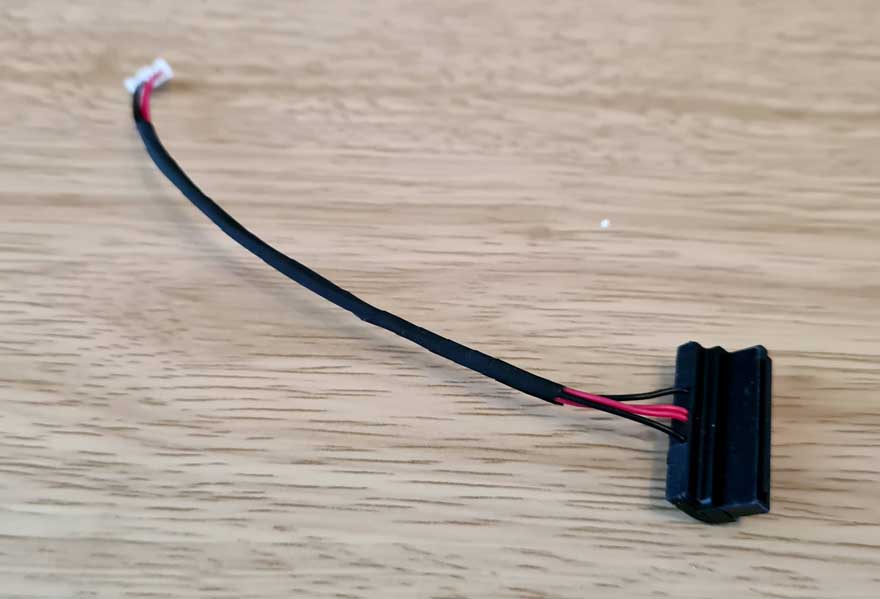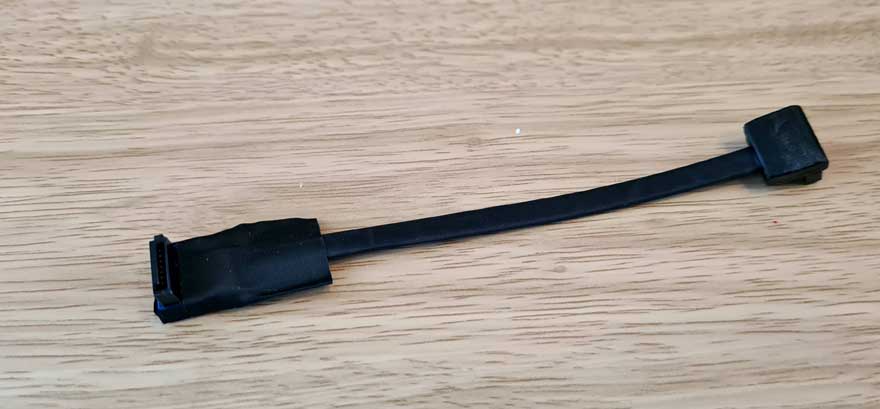 I particularly like the external power button, as if you mount this system on the rear of a monitor it would be tricky to reach the power button.
However, with this button placed on your desk, that will no longer be an issue.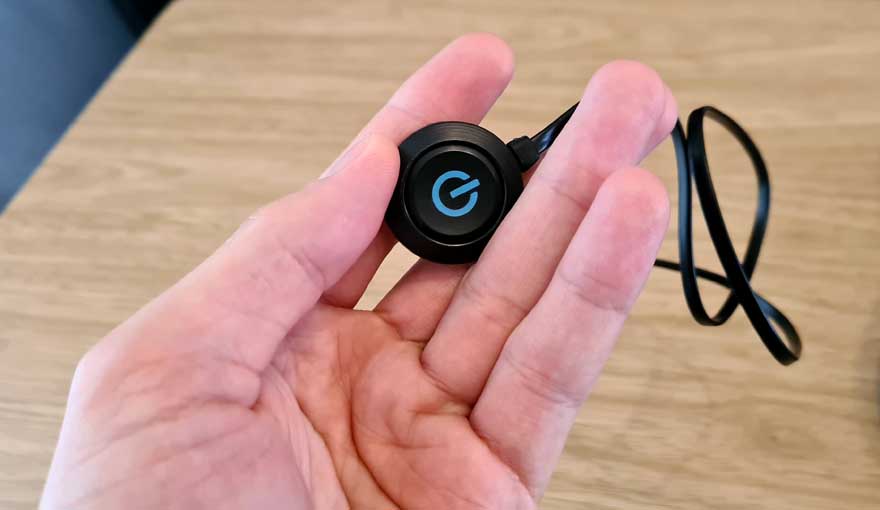 ———————–
A Closer Look
As for the system itself, it's about what you would expect from a mini PC. We've seen this form factor quite a few times over the years now, big enough to fit a decent processor and some good storage options, but still compact enough that you could fit it on the back of a monitor comfortably.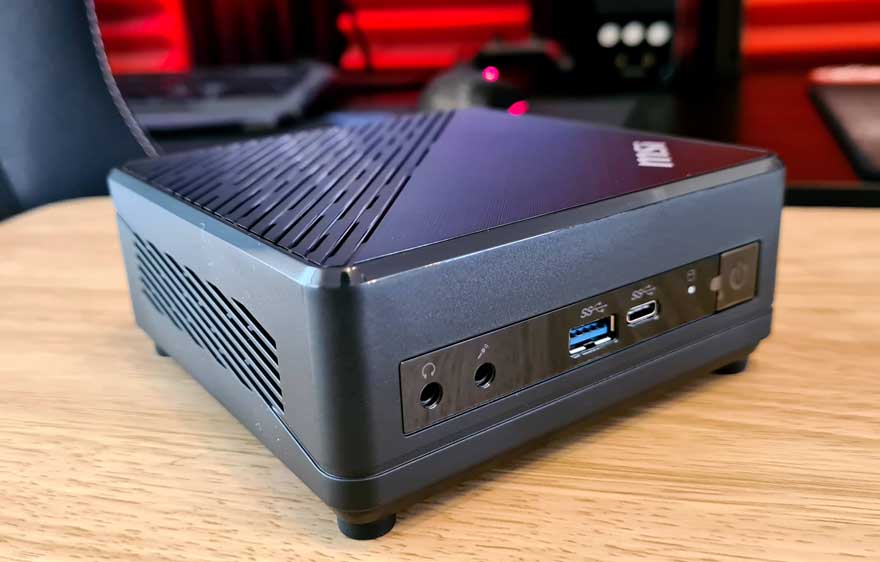 What I do like is the front panel, where you'll find a large power button, USB 3.0 and Type C, as well as the audio jacks. It's nice, clean, simple and practical.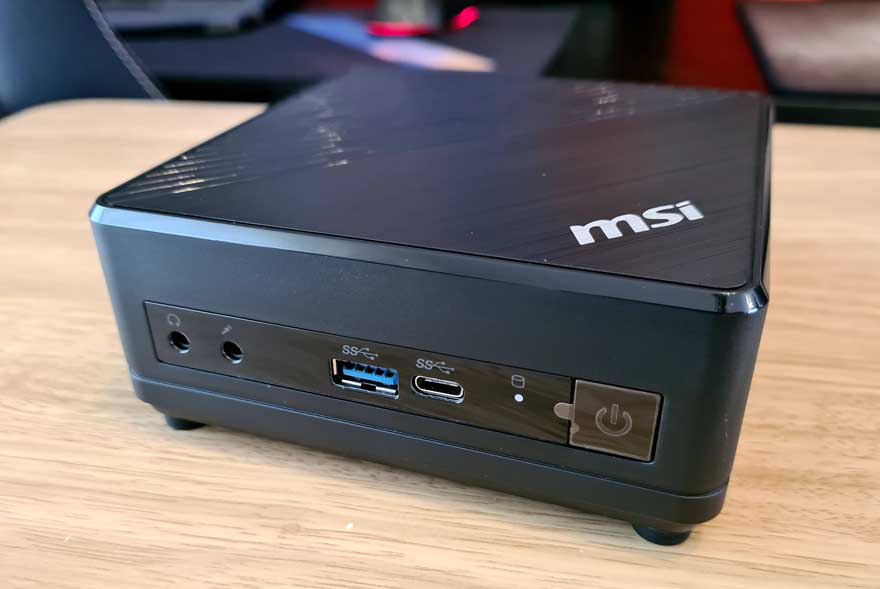 Around the side of the system, you'll find plenty of ventilation. This system is actively cooled with an internal fan rather than passively, but that should come as little surprise given the more powerful processor it contains. That's in i5-10210U @ 2.12 GHz, 4-core and 8-threads.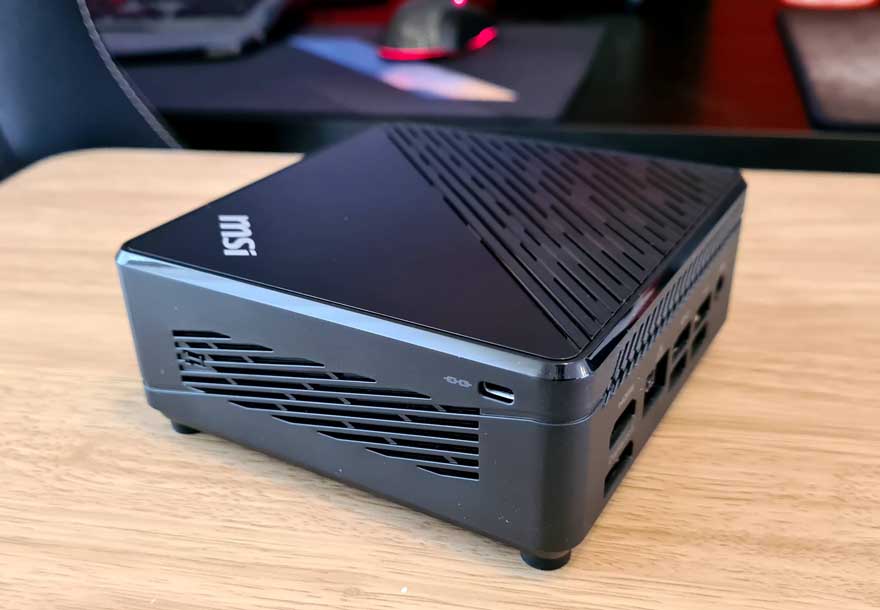 Up on the top there is more ventilation again, ensuring that heat can easily leave the system, however, the other half is a brushed aluminium effect on the plastic with a clean MSI logo in the corner.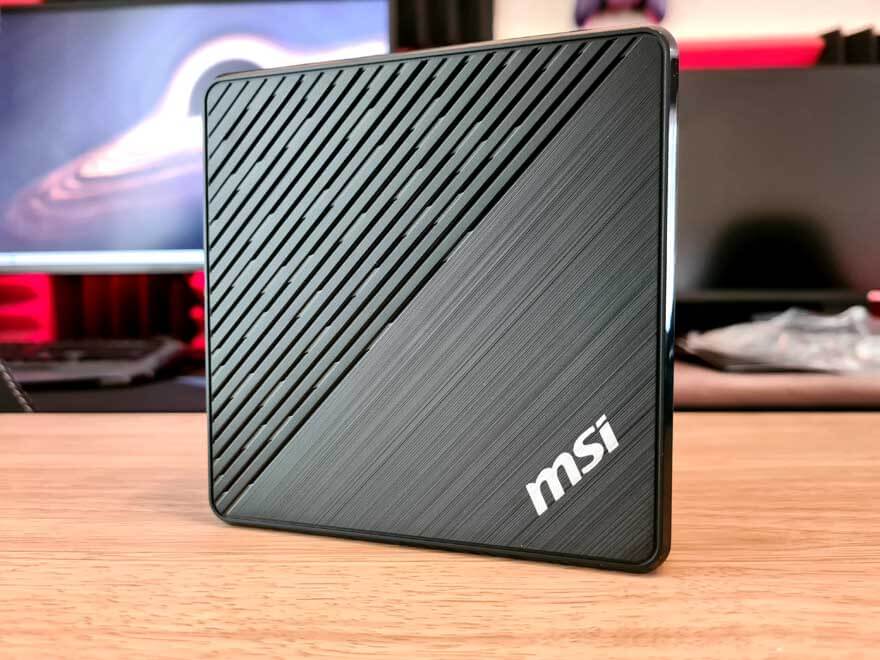 On the underside, you'll find even more ventilation, I think it's safe to say that is ventilation all this thing which is a good sign. There are a few screw holes in the base which I assume can be used for mounting an SSD internally. Then there are two keyhole slots which can be used to lock the system onto the VESA mounting plate.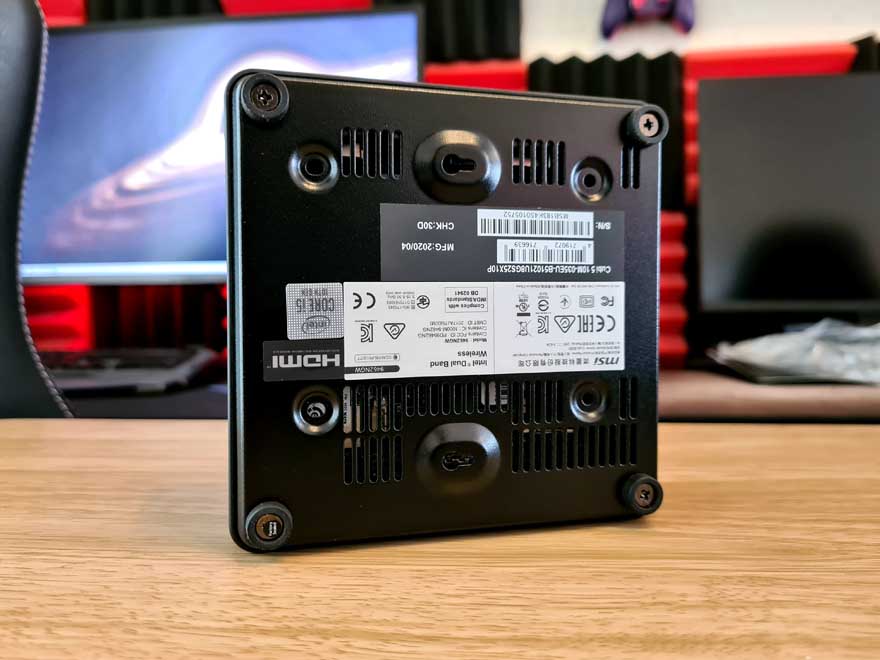 Finally, we have the rear I/O. Here you will find dual display outputs with HDMI at the top and DisplayPort at the bottom. Of course, outputs at the same time on high resolution. As for networking, you get both the super-fast Intel Wi-Fi 6, as well as gigabit LAN. Connectivity looks great as well, as with the two USB ports on the front, you get four more back here; more than enough to hook up a keyboard, mouse and any other peripherals you may have.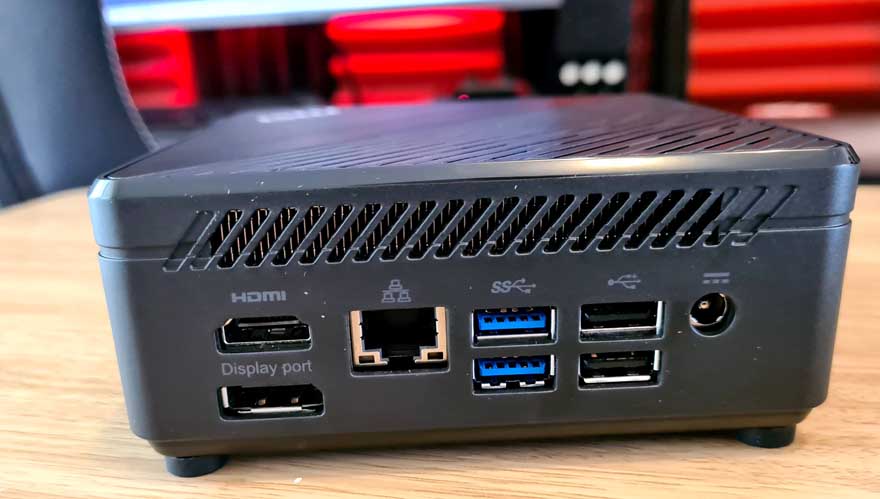 ———————–
Performance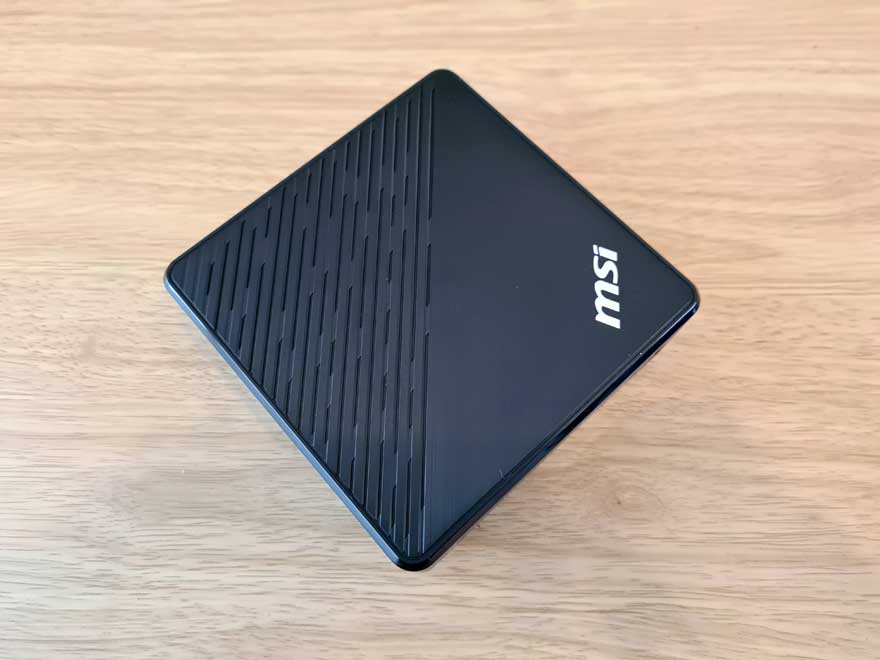 In light of our usual benchmark suite, I decided to give this more of their day-to-day usage test instead. While the CPU is powerful for this form factor, it's certainly still more underpowered than it's full desktop equivalents. It wouldn't really be a fair comparison sitting at the bottom of every benchmark chart. Pitting it against flagship gaming PCs… I think that would be doing an injustice to the system and wouldn't really highlight what it excels at.
When it comes to regular usage operating system, the system feels fast and responsive, with no noticeable lag from the built-in memory. Programs load swiftly, including things like Photoshop, which can often lag on systems with slower storage or memory, but not here. It was fairly adept at running some Photoshop actions as well, a lot of the processing we do for our reviews involves running scripts to resize and compress images, and again the processor handled these tasks easily.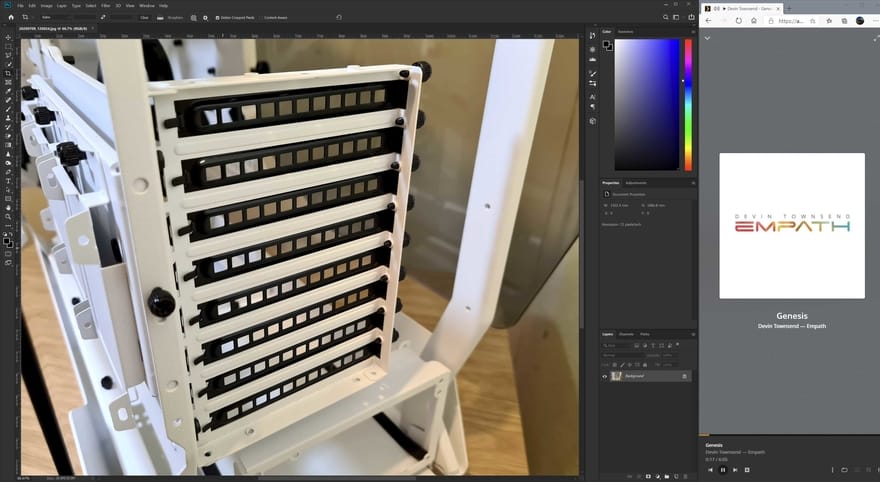 For office use, you're really not going to run into any hindrance here. We typically use Google Docs quite extensively, and the system is packing more than enough performance punch to run what is basically a web browser. I can't see you having issues with similar things like Microsoft Office, which can be more resource-intensive.
As for multimedia, the latest Intel processor can really pull its own weight. Running my plex server through this system worked perfectly, I do keep my files on a remote NAS, fast WI-Fi and land options here meant that was never an issue. Even if you just wanted to play files directly using something like VLC, the processor is decent enough to do some quick transcoding tasks in real-time, even on higher resolution files. The Cubi 5 is hiding just under the TV, spotted it yet?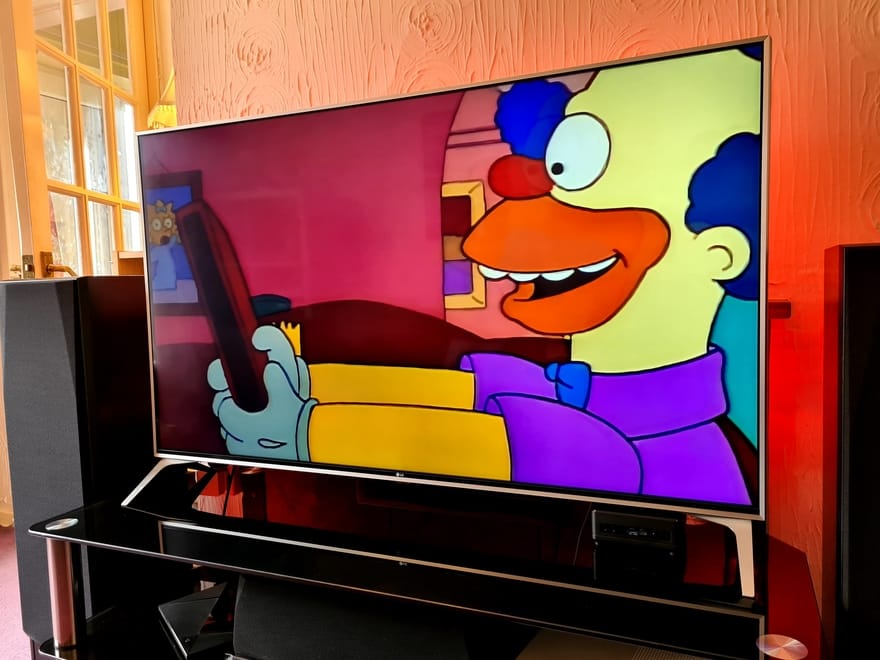 When it comes to gaming the processor isn't going to run the latest AAA titles, but less demanding indie games, and even retro games that are emulated or otherwise, will run absolutely fine. If like me you have this as a remote PC in the living room or even in the spare room, and you have a main gaming PC elsewhere, you could always use it for Steam in-home streaming of your games from one PC to the other. This can be quite practical for gaming on the big screen in the living room and it means you don't have to move the entire big PC to that location.
Overall though, the system does exactly what it is intended for, fulfilling all the usual practical applications and taking more than enough boxes for multimedia and entertainment. While the fans inside it are audible when the CPU is taxed, they're still remarkably quiet and unlikely to ever be a distraction. Plus, in most scenarios, the fan is on silent.
———————–
How Much Does it Cost?
At this price range, MSI Cubi 5 why isn't particularly cheap, it is a premium compact system and I think the price reflects that. You're paying a little more for a modern CPU, robust connectivity, and expandability.
The i5 model we reviewed is just £349.99 at CCL, the i3 is just £299.00 and the flagship i7 will set you back £499. Pick your model on Amazon UK here or Amazon US here.
Overview
However, your choice of CPU you can change the price too. There is an option with an i3, and an option with an i7, which are cheaper and more expensive respectively. Which one is right for you? I can't really say, but the i5 is certainly going to be the sweet spot of price vs performance.
Compact
I quite like compact systems, especially if I'm just doing my regular review work, I rarely need more than a web browser, Photoshop, and some form of multimedia playback to keep me entertained. When you boil it down to all of that I don't really need a fire breathing gaming rig to do my work. This takes up less space, use drastically less power, produces less noise and heat, and is obviously cheaper. There is also the added benefit that it is highly portable. With several months of lockdown behind us, I must admit I have found myself working in various rooms of the house to keep out of the way the children, and likewise for them looking for a spare computer to do their homework.
Affordable
Keep in mind this is the PSU, the case, the motherboard, the CPU the memory, the storage and the operating system too. It's all here in one ready to rock bundle. You power it up, sign in to your Windows account and you're ready to rock. For a rapid deployment, it's epic. Plus the ease of use for offices, families and more, it's certainly appealing. At this price though, I think it's a bargain for those who don't need a gaming PC but still need a perfectly capable and compact system overall.
Should I Buy One?
It's certainly not for everyone, but it's also for a lot of people. Digital signage? No problem. A portable system for work presentations and running a dual-display system, even a projector? No problem. An affordable but punchy office system that's going to be nice and quiet? Easy. A hidden PC behind your monitor for a small workstation at home? You got it. At this price, you can't go wrong.