MSI Gaming GTX 1070 Ti Graphics Card Review
---
---
---
Peter Donnell / 5 years ago
MSI Gaming GTX 1070 Ti
Nvidia is not taking any chances when it comes to battling it out with AMD this year. They've already got the performance crown with their incredible GTX 1080 Ti, but let's be honest, how many people can really afford to spend £700 – £800 on a new graphics card? Not many, that's for sure.
As the name would suggest, this card is designed to perform between the GTX 1070 and the GTX 1080, although rumours have already suggested this card is an overclocking monster, capable of giving the GTX 1080 a thrashing. Why would you buy the GTX 1080 then? Well, you can overclock a GTX 1080 too remember, it'll still be a faster card, but if you can get 90% of the thrills for less money with the 1070 Ti, it could be a real winner for consumers.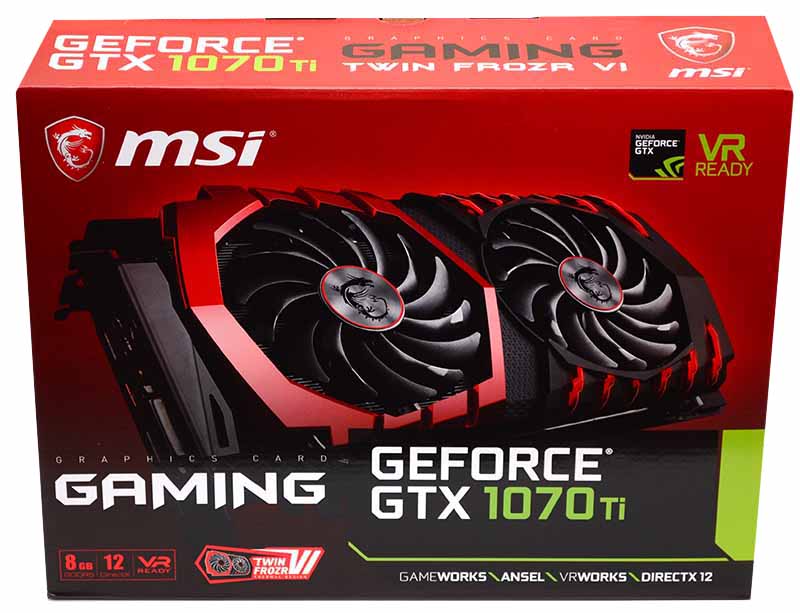 Hardware
Equipped with a base clock of 1607 and a boost clock of 1683 MHz, the MSI GTX 1070 Ti is no slouch. Rocking 8GB of GDDR5 memory, it's certainly got the hardware to deal with high frame rate gaming, and should have enough chops to power through 1440P and 4K gaming with relative ease with pretty high graphics settings.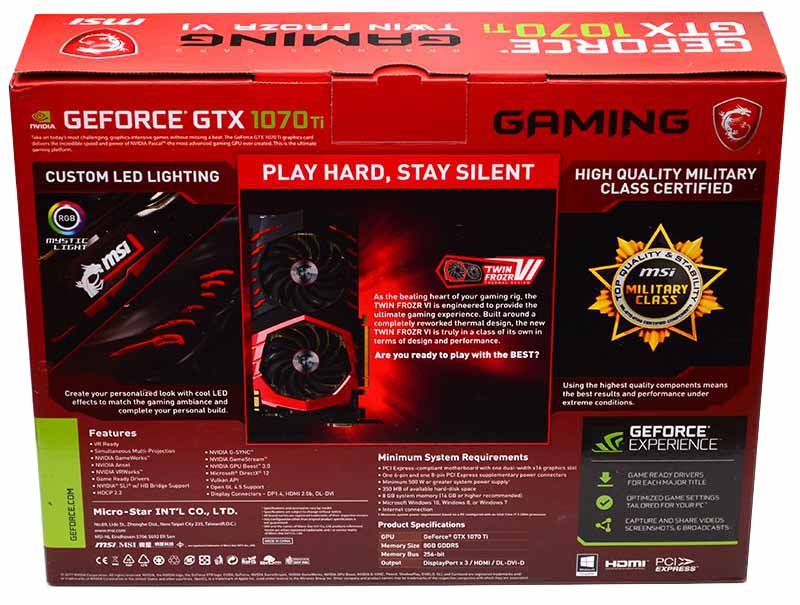 Features
Core/Memory
Boost Clock / Base Clock / Memory Frequency
1683 MHz / 1607 MHz / 8008 MHz
8GB GDDR5
TWIN FROZR VI
Smooth heat pipes
Squared shape at bottom maximize heat transfer from the copper base plate
Zero Frozr
Stopping the fan in low-load situations, keeping a noise-free environment
Airflow Control technology
Deflectors thrusts air onto heat pipes for lower temperatures and better gaming
TORX 2.0 FAN: Supremely silent
Dispersion fan blade: Steeper curved blade accelerating the airflow.
Traditional fan blade: Provides steady airflow to massive heat sink below.
Double ball bearing: Strong and lasting core for years of smooth gaming.
Military Class certified Components
Certified to MIL-STD-810G standards for top stability and quality.
Built with Hi-c CAP, Solid CAP, and New SFC components.
ZERO FROZR-STAY UNDETECTED
"First introduced in 2008 by MSI, ZeroFrozr technology has made its mark and is now the industry standard among graphics cards. It eliminates fan noise by stopping the fans in low-load situations. This means you can focus on gaming without the noise of spinning fans." – MSI
What's in the Box
The graphics card, obviously! Oh and you also get some cool stickers to jazz up your pencil case, and all the usual documentation. There's also a driver CD, which you should never use, always download the latest drivers online for optimal performance.