MSI GP70-2PE 'Leopard' Gaming Notebook Review
---
---
---
Chris Hadley / 8 years ago
Introduction
---

Running off the tail end of our look at MSI's GS6 'Ghost Pro' gaming series notebook, which features NVIDIA's latest 800m series graphics, MSI have been keen to show us what else they have in their artillery for the everyday gamer. Where the GS60 is a strong and well-balanced system, packing some Ultrabook-like credentials such as its slim and lightweight design, the GP70 Leopard that we're looking at today is aimed more at the budget gamer who wants a competent system that packs all the features and credentials needed to be classed as a gaming notebook, but without such a strong price tag that surpasses the £1000 barrier.
The GP70 is by no means a new system in its design and layout, having been around for at least one generation now, the GP70 'Leopard' is effectively a refreshed model, taking advantage of NVIDIA's latest 800m series graphics to give this more budget conscious notebook a performance boost, bringing it up to date with the latest games and the growing needs of today's gamers.
As we have seen from our first look at the 800m series graphics on the Ghost Pro, there is a notable gain in performance to be seen over the previous generation 700m series chips. To put the latest generation graphics into context, a current generation 870m GPU provides frame rates and performance similar to that of a 780m core whilst a 860m should give performance similar to that of a 770m and so on. What this means for the Leopard is that we should see a notable difference in performance between the new GP70 Leopard, with its 840m GPU and the older GP70 with its 740m offering.
Aside the GPU there are a handful of other areas where MSI have done some housekeeping, the network adaptor has been upgraded to the KillerLAN E2200 series gaming NIC, whilst the wireless adaptor sees an upgrade to support the latest 802.11ac standard. The audio sees a refresh with MSI's Audio Boost technology to give a deeper adn richer audio experience. Finally the storage sees a huge boost in performance from a hybrid system that uses 24GB of NAND cache with a 1TB hard drive for all of its storage needs over to a setup that uses two separate drives; a 128GB mSATA drive for the boost drive and a 1TB hard drive for bulk storage needs. All the other key areas of the systems specification, including the processors, chipset, memory and I/O features, plus the design of the system remain the same as before.
Name: MSI GP70-2PE 'Leopard'
CPU: Intel Core i7-4700HQ @ 2.4GHz

RAM: 8GB 1600MHz ADATA MIF4D1D167HZ1

SSD: Toshiba 128GB mSATA SSD
HDD: Western Digital Blue 750GB

GPU: NVIDIA GeForce GTX 840M 2GB
LAN: Killer E2200
WLAN: Intel dual-band Wireless-AC 3160
Monitor: 17.3″1920 x 1080 Anti-glare LED backlit
Keyboard: Steelseries chiclet
I/O: 2x USB3.0, 2x USB2.0, 1x HDMI, 1x VGA, SD Reader, Mic-in & Headphone-out, 1x 1Gb LAN, FHD Webcam
ODD: DVD-RW DL
Battery: 6-Cell 4400mAh 49Wh

OS: Windows 8.1
Dimensions: 41.8 x 26.9 x 3.9 cm
Weight: 2.7kg with battery (5.96lb)
Warranty: 2 year RTB
Price: £899.99 Inc VAT
For any gaming laptop, let alone a system as thin as this, there is a lot of 'oomph' behind the keyboard – especially in the graphics department and considering the fact that gaming laptops these days are generally considered as bulky and heavy, a thin and light system is certainly a welcome addition to the market.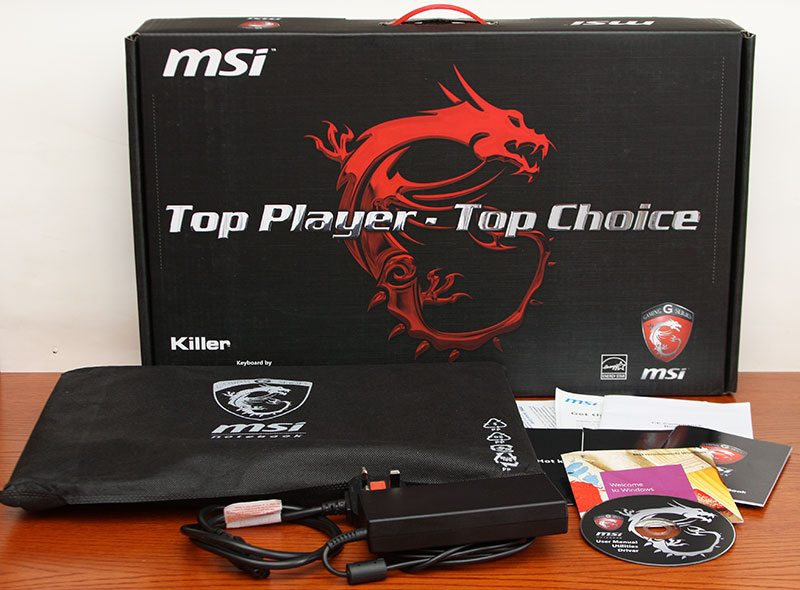 Every part of MSI's gaming series is just as important as the notebook itself and thus everything follows the same colour scheme. Bearing the red dragon and the tagline 'Top Player – Top choice', the box print looks like the brushed effect paint that we will see on the notebook. Inside the notebook comes protected inside a plastic bag and then a cloth liner to prevent marks and scratches during transport, further more a soft-touch layer sits between the keyboard and screen to ensure the notebook arrives with you in the same way that it left the factory. A series of guides, manuals, warranty paper work followed by a driver CD and regional power adaptor round off the GP70 package.