MSI GS60-2PE 'Ghost Pro' Gaming Notebook Review
---
---
---
Chris Hadley / 10 years ago
Introduction
---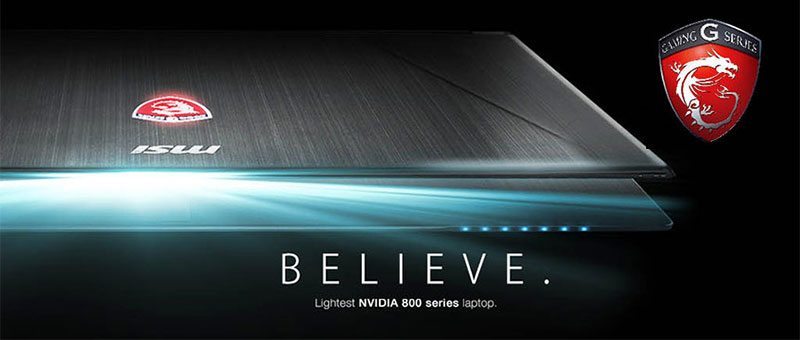 Over the last few weeks we have been bombarded with the launch of Intel's Z97 chipset and the release of the Haswell-Refresh processors, however whilst all of this has been going on, there has been another launch that has taken place, although it seems that it was completely missed out due to the rumours and speculations surrounding Z97. This launch that I'm referring to has come from the green team over at NVIDIA. On the desktop market we are well and truly settled with the latest range of 700 series GeForce GTX graphics cards, however the notebook side of the market has taken a step forward into the next generation with the release of the 800m series of discrete mobile graphics solutions. Now before I go any further, I will answer a very quick question that has been asked over the last few days; "800 Series…? Does this mean that the desktop cards are soon going to be making a step forward as well?"
Whilst I can understand where to question is coming from, after all it makes perfectly good sense to ask this, sadly the introduction of the 800m series is not a flag to indicate that the 800 series desktop GPUs are on their way. If anything I don't expect to hear anything about the GTX 800 series desktop cards until the end of this year or the start of next. This said though, the 800m series is still a generation up from the 700m as we would expect and along with it comes new levels of performance and more features and technology. Over the 700m series cards, the 800m chips are set to offer a performance boost of around 10% over the previous generation, along with new technologies such as battery boost, where the power drain from the GPU core is reduced, whilst keeping the frame rates over 30fps. The battery boost technology doesn't just give us a small gain in life either, NVIDIA say that in some cases we could expect to see notebook batteries lasting up to twice as long (compared to a similar system with a 700m series GPU) and alongside the more power conscious Haswell processors, mobile gaming is becoming more of a reality and not just a dream.
A new graphics line-up means, for mots brands. a brand new line up of gaming notebooks and MSI are just one of these big names. As far as gaming notebooks go, MSI is one of the market leaders, alongside other names such as Gigabyte and Dell and their line-up covers virtually every level of performance and a huge range of price points. For the consumer this huge range of systems means that no matter what your budget is, MSI are almost certainly going to have the right system for you.
The GS60 Ghost Pro that we're taking a look at today sits towards the higher end of the performance and pricing scales and not only does it pack top end components, its design and construction has led to the GS60 claiming the title of 'the lightest NVIDIA 800 series laptop' available on the market. At 1.96kg, we are talking about a system that is no heavier than a 15″ MacBook Pro and only a fraction more than some of the top Ultrabooks that are available on the market today. The build of this system is so light, we could almost call it a gaming Ultrabook.
Name: MSI GS60-2PE 'Ghost Pro'
CPU: Intel Core i7-4700HQ @ 2.4GHz

RAM: 8GB 1600MHz Kingston MSI16D3LS1KBG

SSD: MSI Super RAID 256GB (RAID0) – 2x Toshiba HG5d 128GB M.2 6Gbps
HDD: HGST 1TB 5400RPM

GPU: NVIDIA GeForce GTX 870M 3GB
LAN: Killer E2200
WLAN: Intel dual-band Wireless-AC 7260
Monitor: 15.6″1920 x 1080 Anti-glare LED backlit
Keyboard: Steelseries fully backlit RGB chiclet
I/O: 3x USB3.0, 1x mDP, 1x HDMI, SD Reader, Mic-in & Headphone-out, 1x 1Gb LAN, FHD Webcam
Battery: 6-Cell 4840mAh 52Wh

OS: Windows 8.1
Dimensions: 39 x 26.6 x 1.99 cm
Weight: 1.96kg with battery (4.32lb)
Accessories: Padded sleeve
Warranty: 2 year RTB
Price: £1399.99 Inc VAT
For any gaming laptop, let alone a system as thin as this, there is a lot of 'oomph' behind the keyboard – especially in the graphics department and considering the fact that gaming laptops these days are generally considered as bulky and heavy, a thin and light system is certainly a welcome addition to the market.
Once we've opened up the fantastic looking box which bears the MSI gaming logo to the top left and the tag line 'Top Brand – Top Choice' in the middle, we find the notebook itself sealed inside a protective cloth sleeve (after taking it out of a plastic bag). Alongside the notebook we get a grey zipped carry case with a stitched MSI gaming logo in one corner and inside the case is well padded and holds the notebook snug and well. Having the carry case is quite a surprise considering notebooks typically don't carry such an accessory.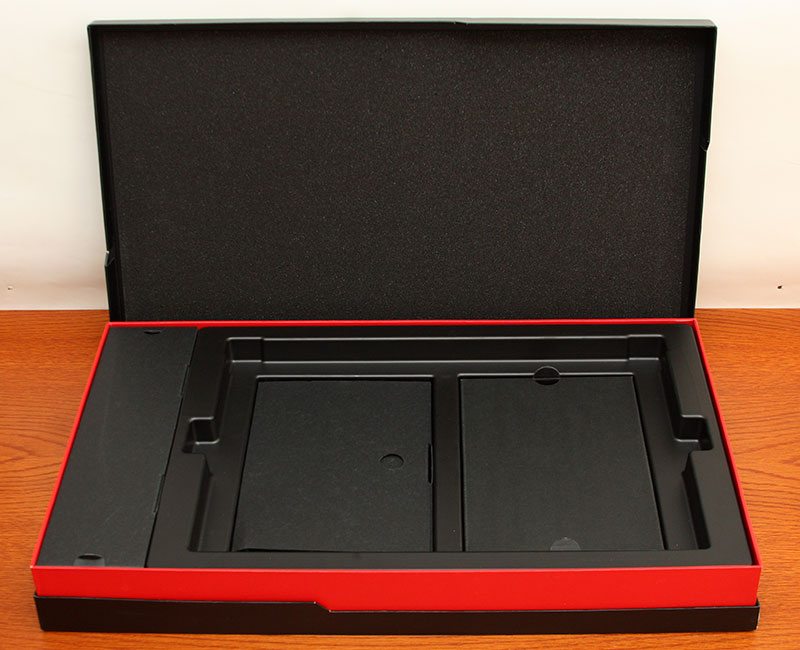 With the notebook and case aside we can look a little closer at the box. Whilst I don't normally look at the box itself, the attention to detail here is far greater than I'd usually see with a foam insert in the lid and a neatly presented layout inside. The red band around the perimeter of the box adds some contrast to the packaging and adds to the details that MSI have put in to this system.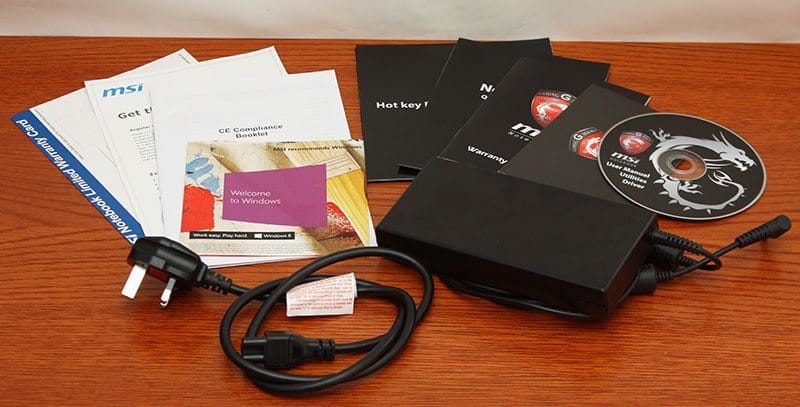 In the three boxes we first of all find the AC power adaptor in the right hand box, with a regional power cord in the left. The middle box comprises of all the manuals, warranty leaflets, hot-key guides, quick start guide and so on, with a driver CD rounding off the extras.