MSI MEG B550 UNIFY Motherboard Review
---
---
---
Ben Enos / 1 year ago

MSI, need I say more, really? They are one of the most prominent motherboard manufacturers out there, releasing new products all the time and new motherboards for every new CPU that comes out. Whether you're a fan of AMD or INTEL, MSI has you covered! Today, we are taking a look at their MEG B550 UNIFY Motherboard, which is designed for AMD's latest Ryzen based processors. The MEG UNIFY is normally one of their top boards, so it will be interesting to see what it offers a more budget-friendly chipset. Can it be the best B550 board out there? Well, only time will tell, so let's jump into it!
MSI MEG B550 UNIFY Motherboard
Looking to be the top B550 board out there, the MEG B550 UNIFY has quite a bit going for it. From four M.2 slot,s three of which are Gen 4 (Take notes Intel) to WiFi 6 and more, the MEG B550 UNIFY looks like one hell of a board on paper! The all-black aesthetic is going to allow it to fit in nicely with almost any build and really give users full control over how they want things to look. Is RGB slowly dying off? I highly doubt it, but it is nice to see an option without it, Kudos MSI!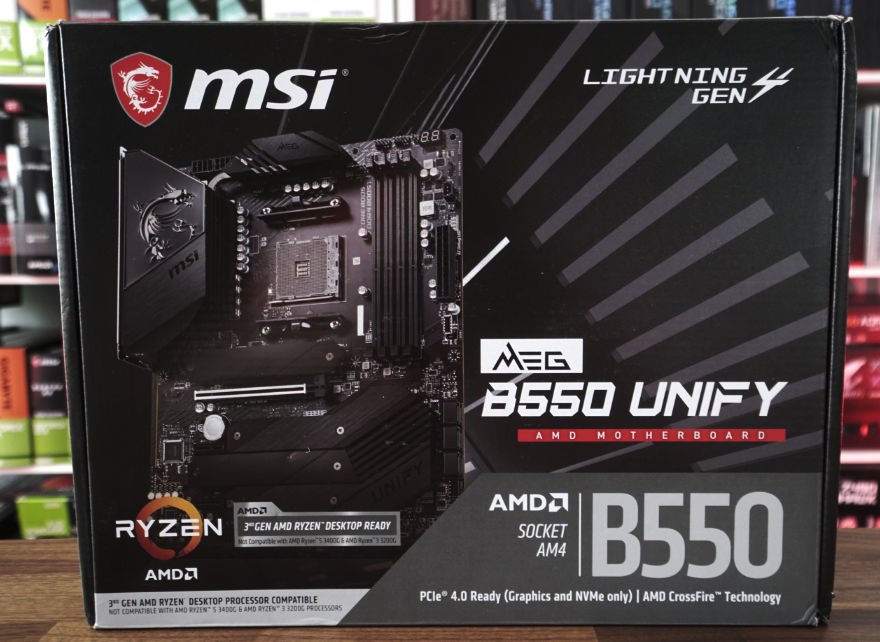 Features
Supports AMD Ryzen™ 5000 & 3000 Series desktop processors (not compatible with AMD Ryzen™ 5 3400G & Ryzen™ 3 3200G) and AMD Ryzen™ 4000 G-Series desktop processors
Supports DDR4 Memory, Dual Channel 5100(OC) MHz+
Quadruple M.2 Connectors: Maximum onboard 4x M.2 slots, support the latest Gen 4 solution with up to 64GB/s bandwidth for maximum transfer speed.
Extreme Power Design: Direct 14+2 phases with 90A Power Stage and dual CPU power connectors to unleash your true power.
Premium Thermal Solution: Aluminum Cover with additional choke thermal pad rated for 7W/mk and PCB with 2oz thickened copper are built for high performance system and non-stop gaming experience.
2.5G LAN with LAN Manager and Intel Wi-Fi 6 AX Solution: Upgraded network solution for professional and multimedia use. Delivers a secure, stable and fast network connection.
Lightning Fast Game experience: PCIe 4.0, Lightning Gen 4 x4 M.2 with M.2 double-side Shield Frozr, AMD Turbo USB 3.2 GEN 2.
Flash BIOS Button with Optmized ClearCMOS Function: Simply use a USB key to flash any BIOS within seconds. Restore the BIOS to the default settings without any additional actions.
Pre-installed I/O Shield: Better EMI protection and more convenience for installation.
More Info
For in-depth specifications, please visit the official Manufacturer Motherboard product page here.
Looking to Purchase? Check it out on Amazon UK Here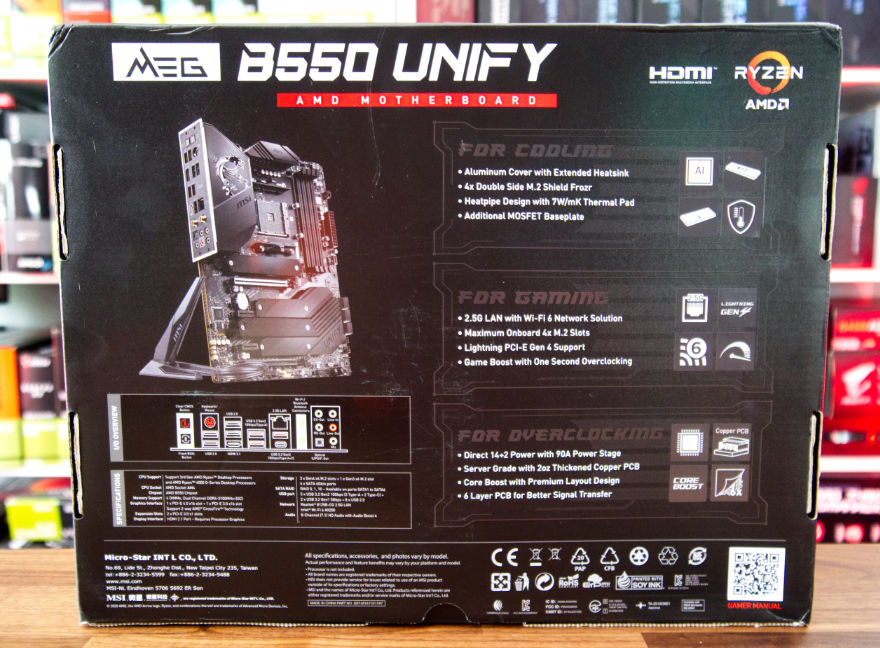 We actually have a few bits in the way of accessories that comes with the MEG B550 UNIFY motherboard. Alongside our manuals and standard hosts of cables, we also have some motherboard stands! These are unique and not something I have seen before and will be used to rest the motherboard on similar to a test bench. This is going to allow for some overclocking fun and really allow people to push the limits of what the MEG B550 UNIFY has to offer.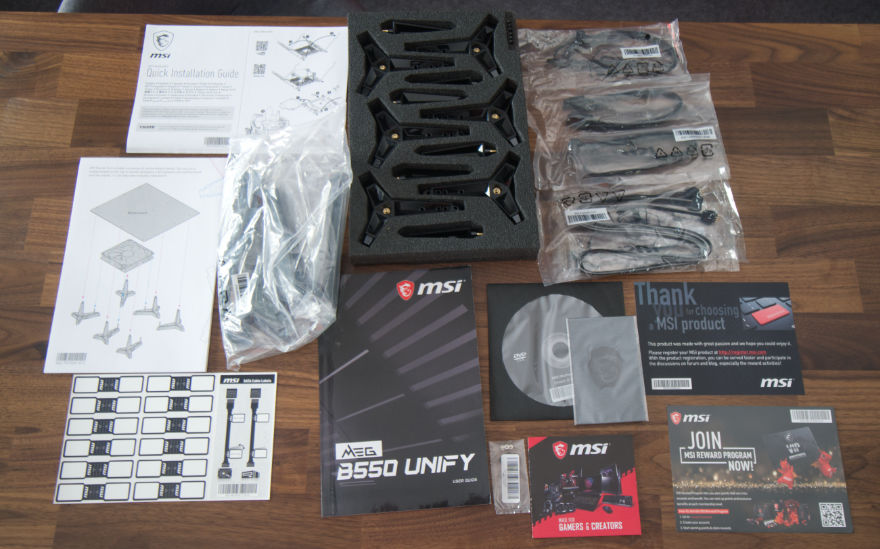 So, the whole idea behind these stands is so you can mount your motherboard in a test bench like fashion, ideally something that would benefit overclocker's or even just someone who wants to test the board out before they install it into their case. Now, the even cooler thing (you'll see what I did there) is that they have also added a place so you can mount a fan on the underside of the motherboard. This fan is going to allow you to blow cool air to the underside of the CPU socket to help keep things as cool as possible for those amazing B550 overclocking sessions. Yes, I know it sounds rather weird thinking MSI are trying to push this B550 board as an overclock board when it is on the budget chipset. However, MSI is well-known on the overclocking scene so maybe, just maybe, they know something we don't, so we should give them the benefit of the doubt here!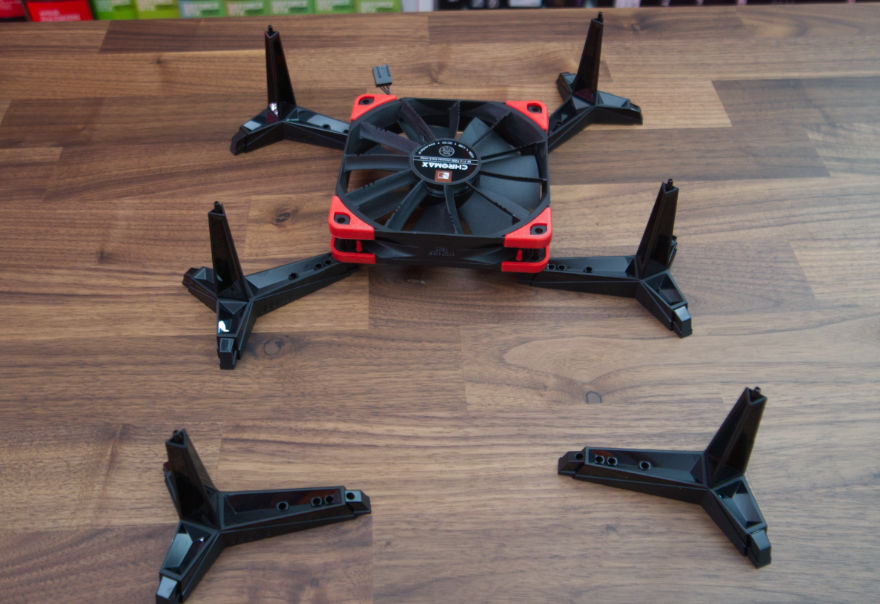 The easiest way to get the fan mounted was to mount the motherboard first, then turn the legs as needed to get the fan mounted. As you can see in the image below, the legs aren't going to all be straight so it takes a bit of work to get the fan on the first time around, but nothing too major.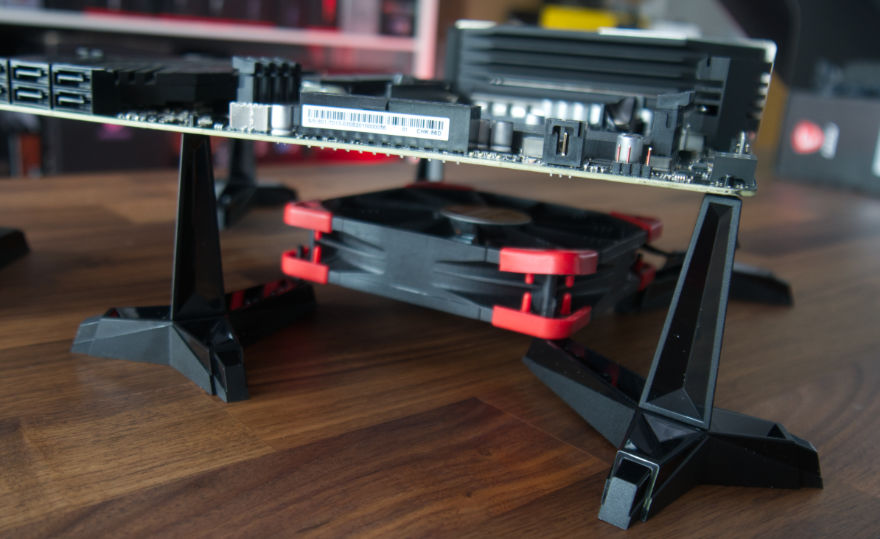 It definitely has some decent clearance off of the floor so should have no issues with creating a good amount of airflow to the bottom side of the CPU socket.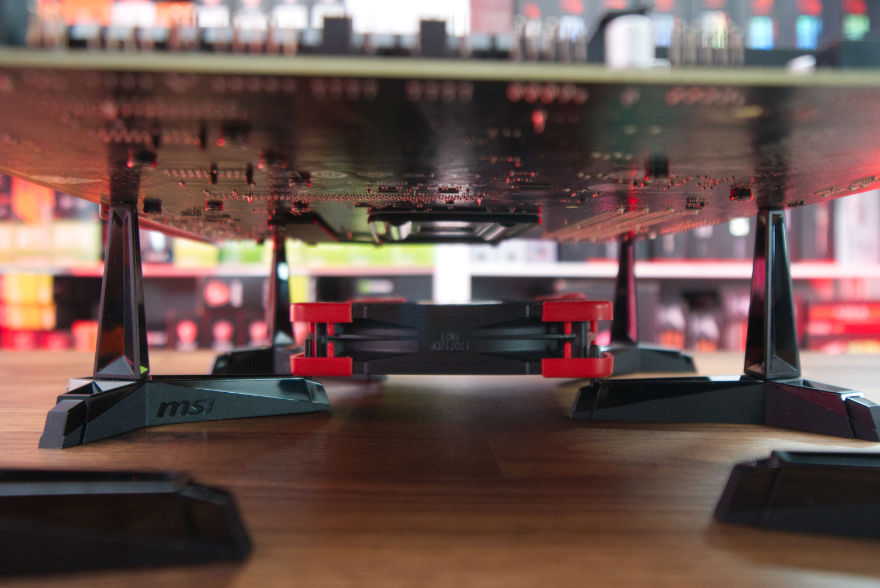 Hopefully, this will help the overclockers among us out keep their temps as low as possible! If nothing else, it is a cool way to set up an easily accessible testbench with an extra bit of cooling on the underside.