MSI MPG Z590 CARBON EK X Motherboard Review
---
---
---
Ben Enos / 3 years ago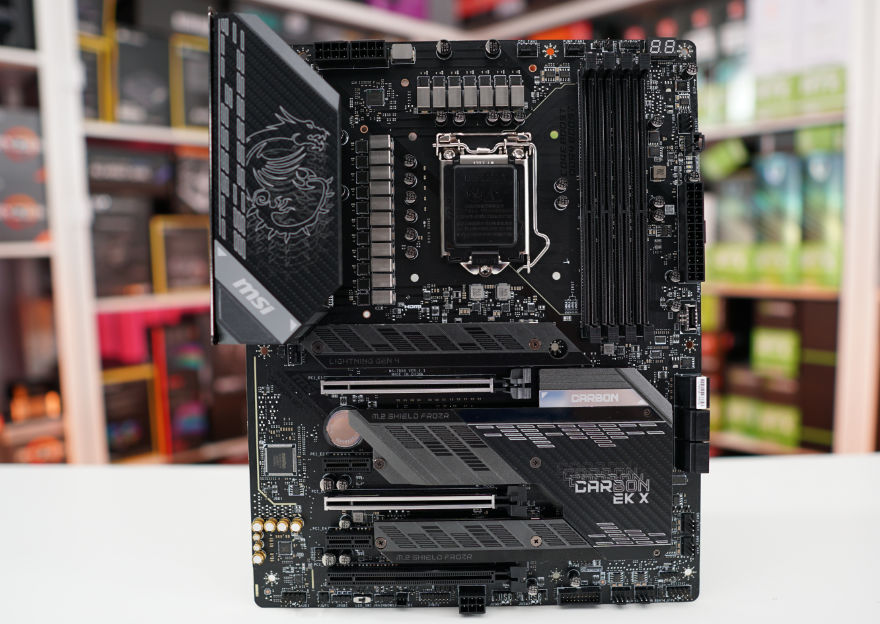 Keeping up with our Z590 reviews, today we bring you the MSI MPG Z590 CARBON EK X. For Intel's latest 11th Gen CPU launch, MSI has sent us several Z590 and B560 boards. So no matter your budget, MSI has a motherboard for you if you are looking to upgrade to the latest and greatest chipsets! The Z590 CARBON EK X, as the name would suggest, is MSI's board in collaboration with EKWB, so it comes with a CPU monoblock in the box to help you get started on your water cooling journey.
Those looking to use as few different manufacturers as possible for their build will be happy to know that between MSI and EKWB, you can pretty much get everything you need except from RAM and storage. While EKWB will have you covered on the cooling side of things, MSI has a very extensive catalogue that ranges from motherboards to PC cases, peripherals, monitors and many more products!
MSI MPG Z590 CARBON EK X
The MSI MPG Z590 CARBON EK X has a lot more to offer feature-wise than just the amazing EK CPU Block that it comes with! Being on the latest Intel Chipset, Z590, the CARBON EK X can also offer support for things like WiFi 6e, PCIe Gen4 and much more. Unfortunately, as with all of the Z590 boards we have seen, the PCIe Gen4 only works when using an 11th Gen CPU. It would have been nice to see some Gen 4 slots run off the chipset, but Intel seems to have given this a miss this time around. Hopefully, they will hear some user feedback and offer this on their next platform. That way, we can get more than a single Gen4 slot on their upcoming motherboards. Either way, the Z590 CARBON EK X has a lot going for it and, on paper, looks like an amazing board. With all the boring fluff now out of the way, let's take a quick look at some of the features this board has to offer and get into the closer look sections so we can really get a feel of what to expect!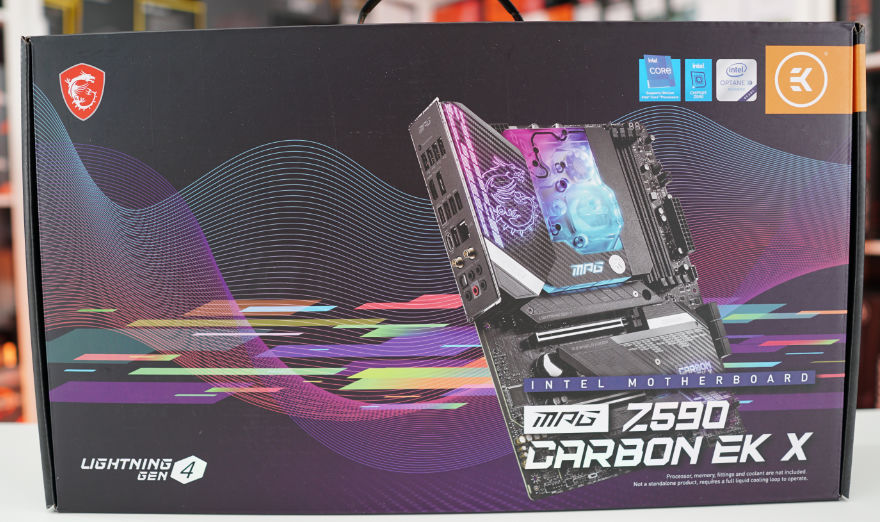 Features
Supports 11th and 10th Gen Intel® Core™ / Pentium® Celeron® processors for LGA 1200 socket
Supports DDR4 Memory, up to 5333(OC) MHz
CPU + VRM Water Cooling: A custom-designed EK monoblock with build-in inflow indicator that offers pristine cooling for both the CPU and VRM power delivery section.
Lightning Fast Game experience: PCIe 4.0, Lightning Gen 4 x4 M.2, USB 3.2 Gen 2×2
Enhanced Power Design: 16+1+1 Duet Rail Power System, dual 8-pin CPU power connectors, Core Boost, DDR4 Boost
M.2 Shield Frozr: All M.2 slots covered with Shield Frozr to built for high-performance system and non-stop gaming experience
MYSTIC LIGHT: 16.8 million colours / 29 effects controlled in one click. MYSTIC LIGHT EXTENSION supports both RGB and RAINBOW LED strip.
2.5G LAN with LAN Manager and Intel Wi-Fi 6E Solution: Upgraded network solution for professional and multimedia use. Delivers a secure, stable and fast network connection
AUDIO BOOST 5: Reward your ears with studio grade sound quality for the most immersive gaming experience
High-Quality PCB: 6-layer PCB made by 2oz thickened copper and server grade-level material
Pre-installed I/O Shield: Better EMI protection and more convenience for installation
More Info
For in-depth specifications, please visit the official Manufacturer Motherboard product page here.
Looking to purchase? The MSI MPG Z590 CARBON EK X can be purchased directly from EKWB: Click Here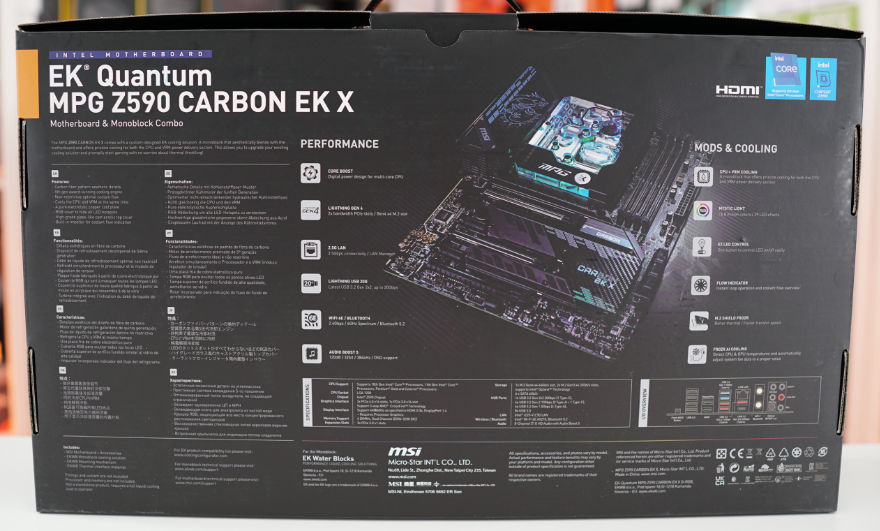 Inside the box, we have our normal host of manuals and accessories. One of the things I like to see is that MSI actually includes a USB for updating BIOS and a pair of small key-sized screwdrivers. Also, as we are starting to see more and more, MSI has included some stickers for things like cable management and even to help cover batteries or be used in the middle of fans.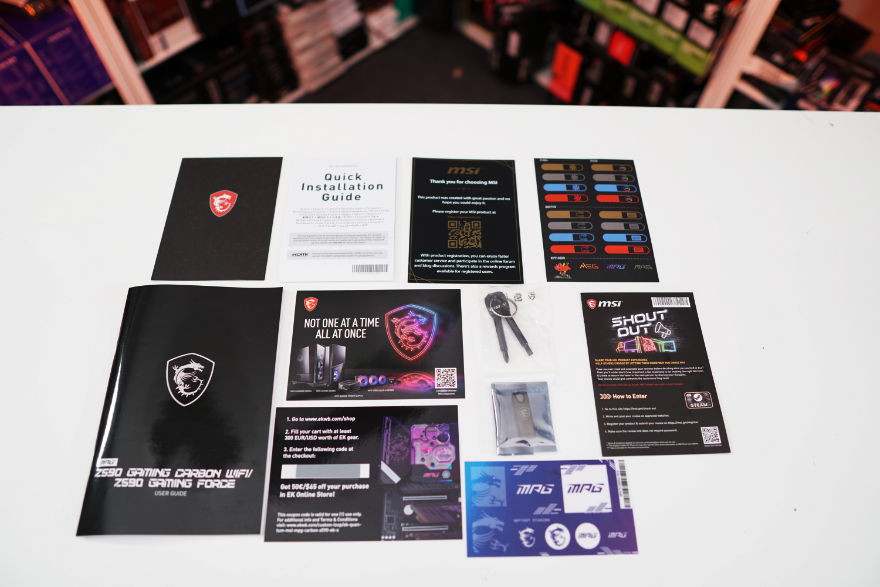 MSI also includes a few cables and what not to make sure you can get your build up and running in no time. There is a cleaning brush, pair of SATA cables, the WIFI antenna and a few different RGB extension cables. We can also see a nice case badge and a few M.2 screws to make sure we have what we need for our upcoming build.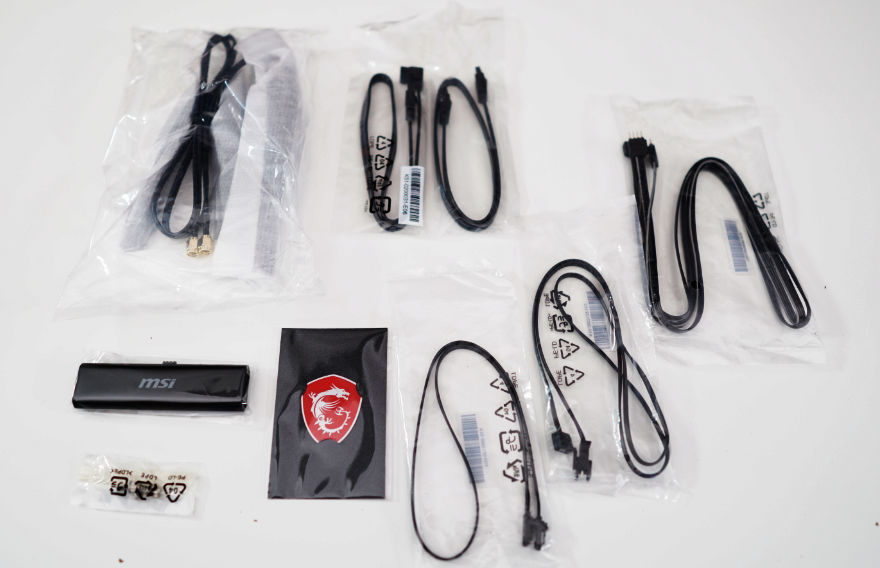 MSI accessories aside, let's see what EK has included for the MPG Z590 CARBON EK X motherboard. The first thing you will likely notice is the Monoblock that will cooler whatever CPU you decide to use in your build. Don't mind the cloudiness in the image below. I forgot to get a picture of it before use, and yours will come looking clear and shiny as can be! The Monoblock has a dedicated flow meter and the MPG and EK branding on it as well. It also follows the carbon fibre aesthetic the motherboard has to make sure it fits in as best possible.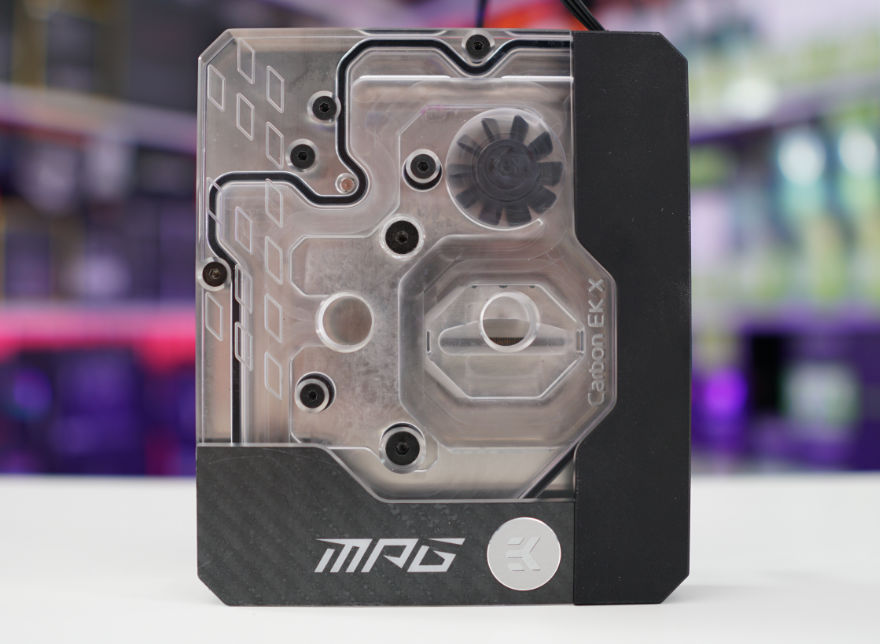 Not a whole lot going on the underside of the monoblock. However, we can see a couple of EK Leak Tested QC stickers, so we shouldn't need to worry about any leaks. As always, it is best to test the parts yourself, especially when dealing with water cooling, before putting them in your build. While EK has no doubt done extensive tests, there is no guarantee someone else, after EK shipped it, hasn't played football with it. So, be safe and have a quick pressure test of your system before filling it with liquid.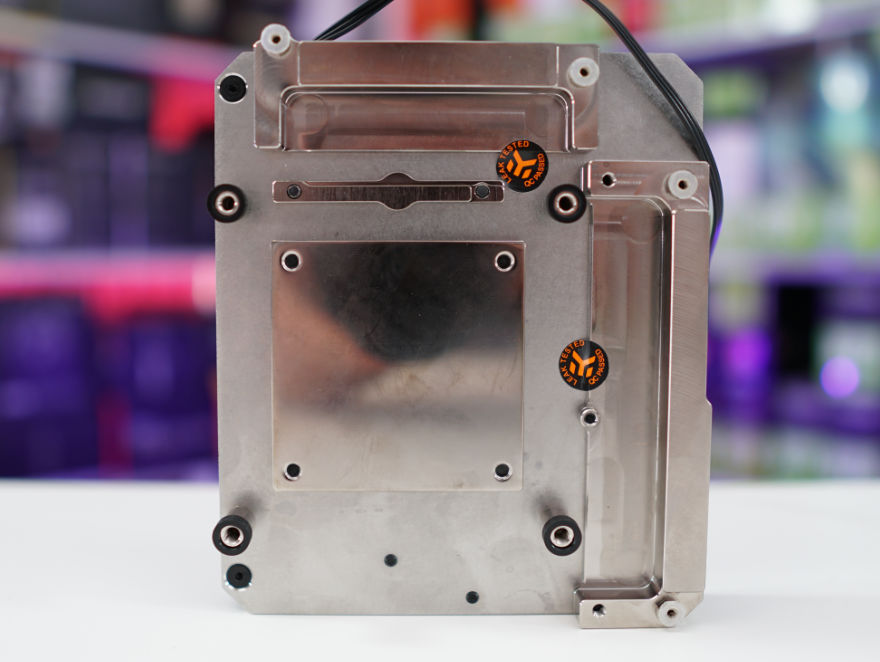 Speaking of pressure tests, EK has made this seamlessly easy if you decide to buy the MPG Z590 CARBON EK X. They have only gone and included one of their pressure testers with this motherboard! This is amazing as pressure testing the loop before filling it can save you not only time down the road, it can also save your components should something not be right.