MyDigitalSSD Boost 1TB USB 3.1 Portable SSD Review
---
---
---
Bohs Hansen / 7 years ago
Introduction
---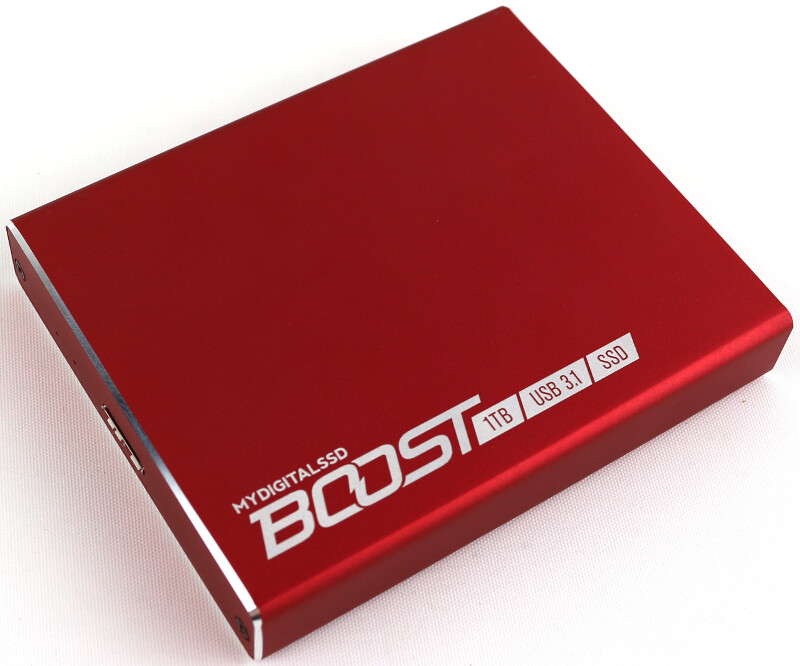 The joys of traveling, may it be far or near, can be highly increased when you have all your data with you where you go. Portable storage usually has the downside and that it that it isn't as fast as internal storage. As such, it can be a pain to wait for the data transfers to finish. Not so for the portable drive that I'm testing today, the MyDigitalSSD Boost. It has both the capacity, up to 1TB, and the speed to blow anything out of the way that other portable drives can offer.
Most portable storage drives max out around 500MB/s when they're fast, some go a bit higher, some a bit lower. But none other so far has been able to deliver the impressive transfer speed rating of up to 830MB/s when reading and 730MB/s when writing – and the Boost does so with ease. There are multiple reasons for the MyDigitalSSD Boost to be so fast, the first that the drive features the second generation USB 3.1 with a transfer speed up to 10Gbps. The drive also features the USB Attached SCSI protocol (UASP) that offers a signification performance improvement over BOT drives. It reduces latency and processor usage in order to deliver near instant access to your files.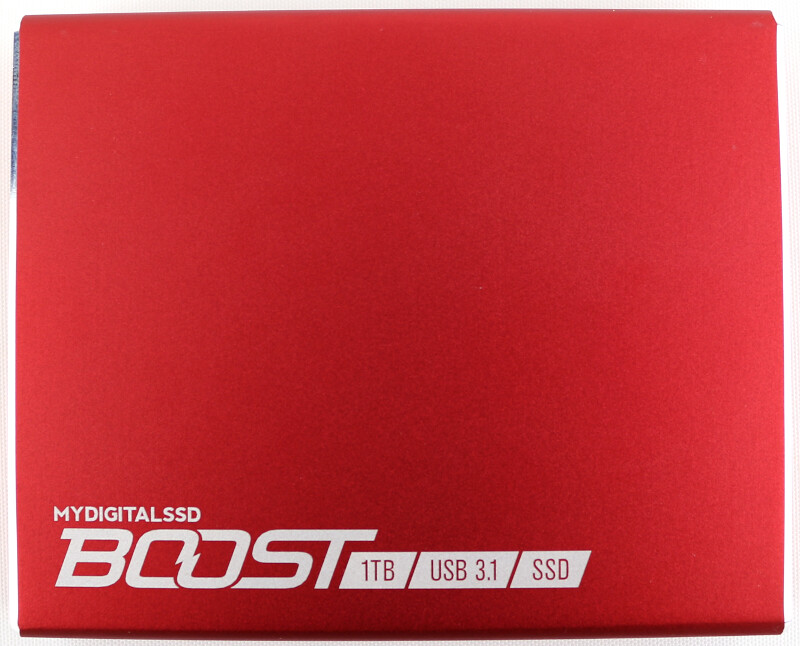 Besides the red version of the Boost that I got here in the office today, MyDigital's latest portable flagship drive is also available in black. The entire casing is coloured except for the logo as seen above and the end-border as seen below. The 141 gram light drive is the size of an average wallet, yet the lightweight Boost offers a crush-resistant aluminium casing.
There is no getting around it, the Boost is a beautifully designed drive where the photos barely do it justice. It looks even better in reality. The square shape and bright colour are also sure to draw everyone's attention when you arrive somewhere and unpack it.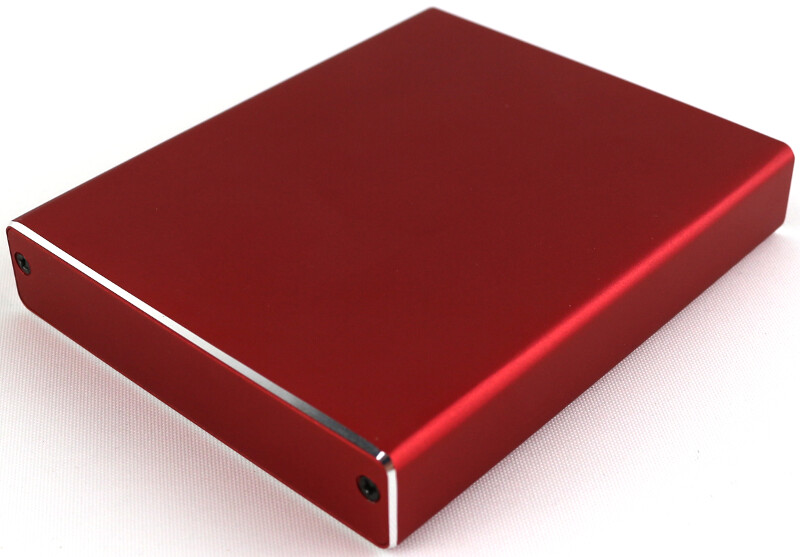 The low power consumption of SSDs makes it easy to have a fully bus-powered drive and it allows the Boost to work without any extra power supply. That increases the portability as you don't need to carry a bulky AC/DC adapter around and it also makes it easier to set up and connect when you need it.
Due to the very nature of USB, the MyDigitalSSD Boost is completely plug-and-play. There is no need to install any drivers or software for it to work. It might be a bit of a surprise to see a Type-B connector on a USB 3.1 Gen.2 drive, but the connector on the drive doesn't really matter that much. It's whether we can connect it to our systems or not that matters. And we can, MyDigital included two cables to make sure that everyone can use the drive and access the files right out of the box and without the need to purchase any additional cables.

MyDigitalSSD included two 45 cm long cables for connection to your systems. There is one with a classic Type-A plug for USB 3.0 connections and one with the newest Type-C plug for USB 3.1 Gen.2 connections. The Boost is naturally also backward compatible with USB 3.0, USB 2.0, and USB 1.1 – although that will impact the performance.
At the centre of the Boost SSD, beats an ASMedia ASM1352R controller which has been coupled with TLC NAND. In fact, there isn't just a single drive inside the Boost, there are in fact two and that's what makes it so much faster than the competition.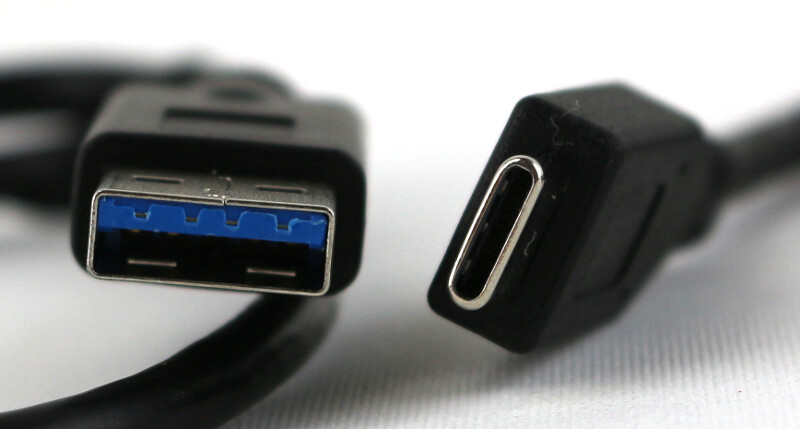 The drive is easy to take apart thanks to the default screws used and MyDigitalSSD isn't trying to hide the inside workings as others might. They are proud of their drives and they don't mind showing it off. A trend that we also saw on the portable OTG drive that I reviewed some time ago. Not only does it allow us a peek inside, it also allows us to upgrade the actual SSDs in the future when 1TB might be too little. More to that in a little bit, first it's time to see just what is inside the Boost.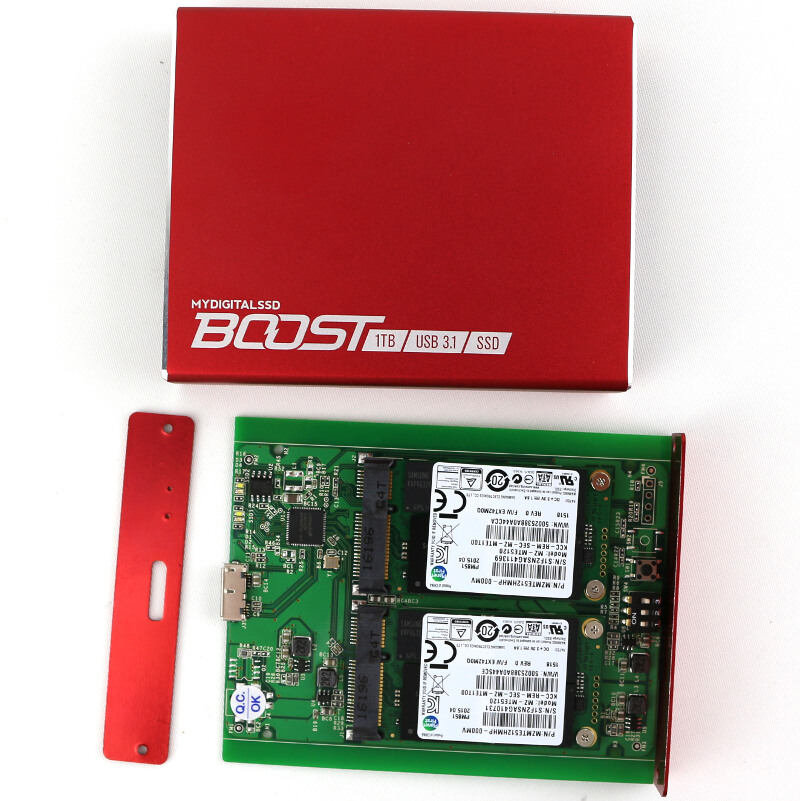 We see a relatively simple system once we have taken all parts apart from each other with a large controller PCB, and two small SATA SSDs.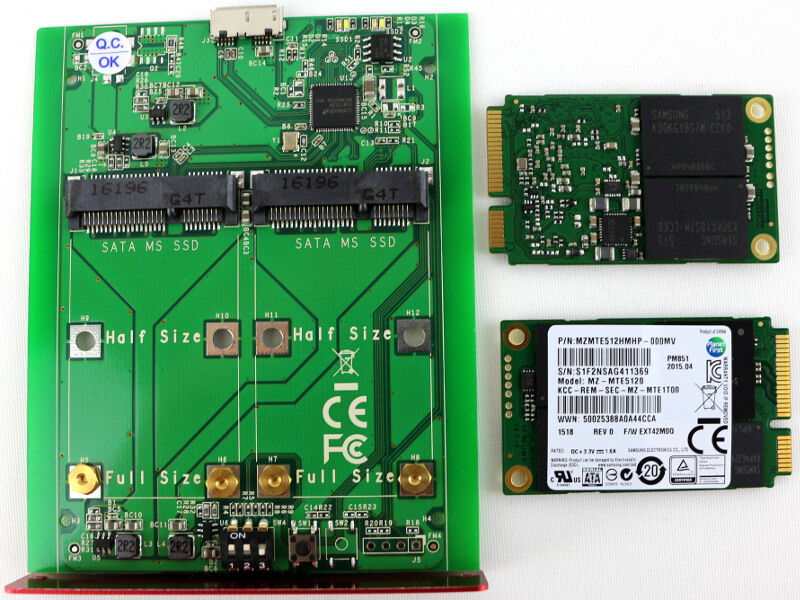 The utilized drives in my Boost are Samsung PM851 SSDs. These mSATA drives are 50mm long (and 30mm wide) and feature Samsung NAND and a 4th-generation 3-core Cortex-R4 Samsung MDX controller with self-encrypting drive (SED) technology. The NAND should be 21nm Toggle Mode 2 MLC NAND and it has been coupled with 512MB low power DDR2 SDRAM. The modules have an MTBF rating of 1,500,000 Hours and feature a TBW rating of 43TB (40GB per day). That should be more than enough for portable drive usage as well as everyday heavy use.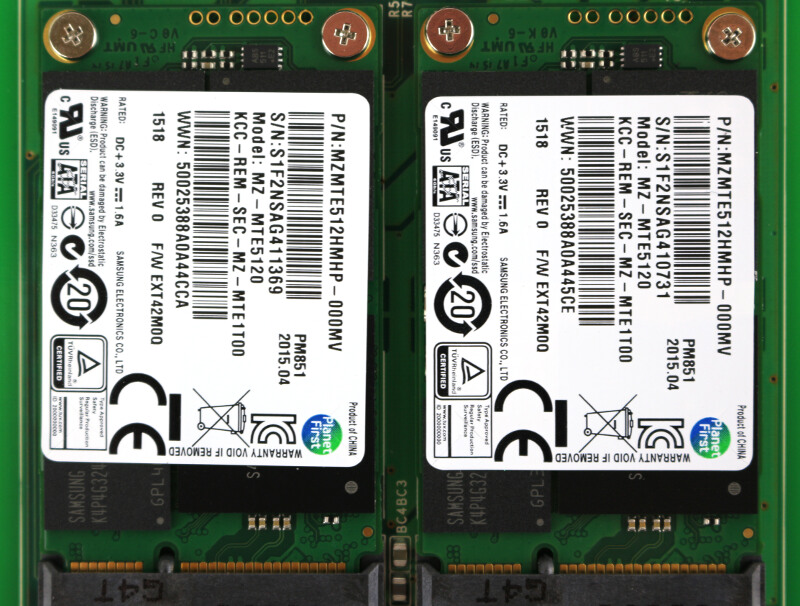 While the drives are interesting themselves, the main PCB holds a few more surprises that you might not expect. But first, the bridge controller. The ASMedia ASM1352R is a USB 3.1 to SATA 6Gbps RAID/Port Multiplier solution in a single chip. It supports one USB 3.1 port and two SATA device ports, enabling USB PHY up to 10Gbps in compliance with USB 3.1 specifications and enabling Serial ATA PHYs up to 6Gbps high-speed interface, following serial ATA Revision 3.2 Specification.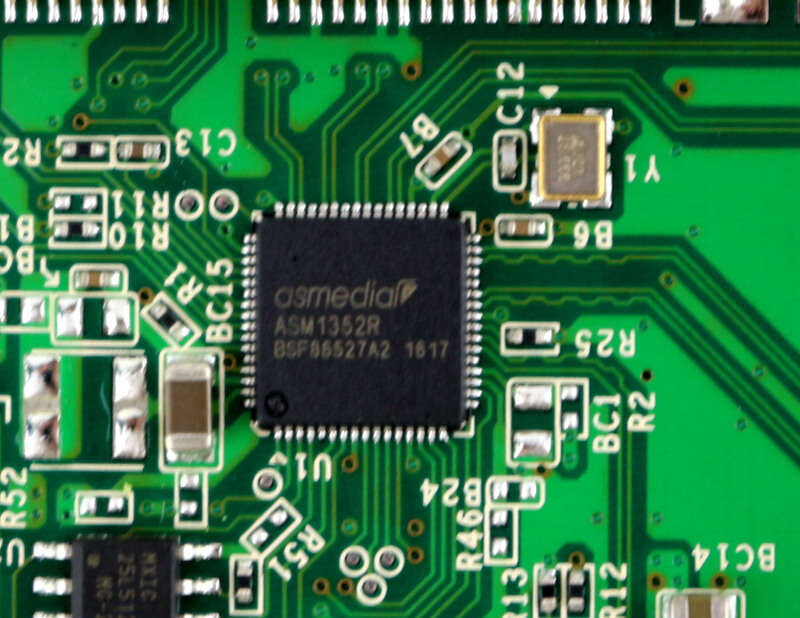 With such a great bridge controller and main PCB, it would be a shame if you couldn't take full advantage of it. And you can. At the end of the PCB, there is a small DIP switch set and a switch button that can be used to change the hardware setup of your drive. Keep in mind, this will erase all data on the installed drives.
But these features do allow you to both upgrade the internal drives as well as their setup. During my testing, I checked the market and there are several 1TB mSATA MO-300 full-size drives available which would allow you to double the capacity of your Boost down the line. On the other hand, it also allows you to change to RAID 1 mode for redundancy over capacity or to JBOD for pure capacity.

There is no need to guess the DIP switch settings either as there is a print on the back of the board telling you the settings. We also see holes in the PCB to support half-length mSATA modules.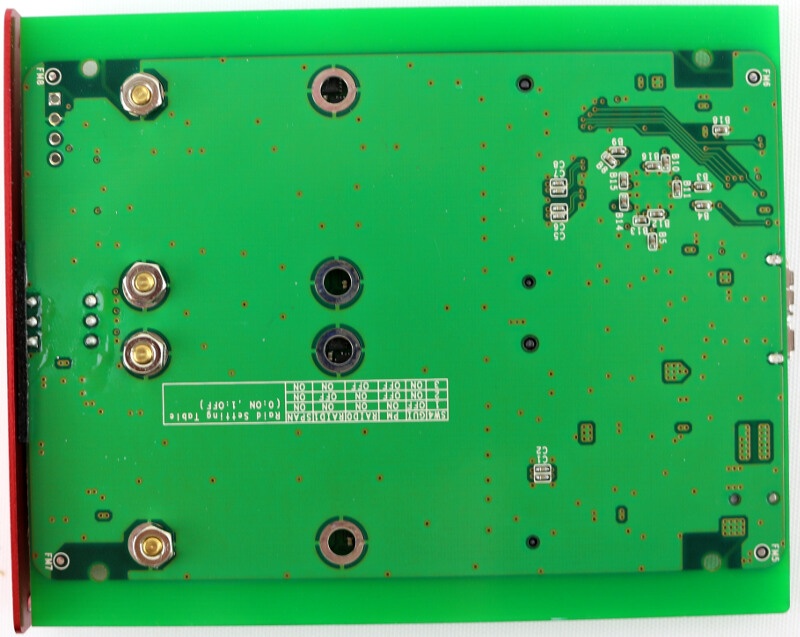 Isn't that just an amazingly built drive? Amazing out of the box and even upgradeable and usable beyond the original intended usage. That's a win in my book.
MyDigitalSSD is backing the Boost with a 3-year warranty which is a year longer than most, but the drive doesn't come with official TBW rating besides what the included drives have themselves.
Feature Highlights
USB 3.1 SuperSpeed Plus (SSP)
UASP Support
Durable Compact Design
Bus-Powered
Plug and Play
Includes two 18-inch USB Cables
Improve Xbox One and Steam game performance with faster load times
Quick access to your favorite movies, music, photos, and more at home or on the go
Durable and reliable backup storage
Package and Accessories
The MyDigital Boost SSD comes in a simple brown box with a large sticker on the top that contains all relevant information about the included drive.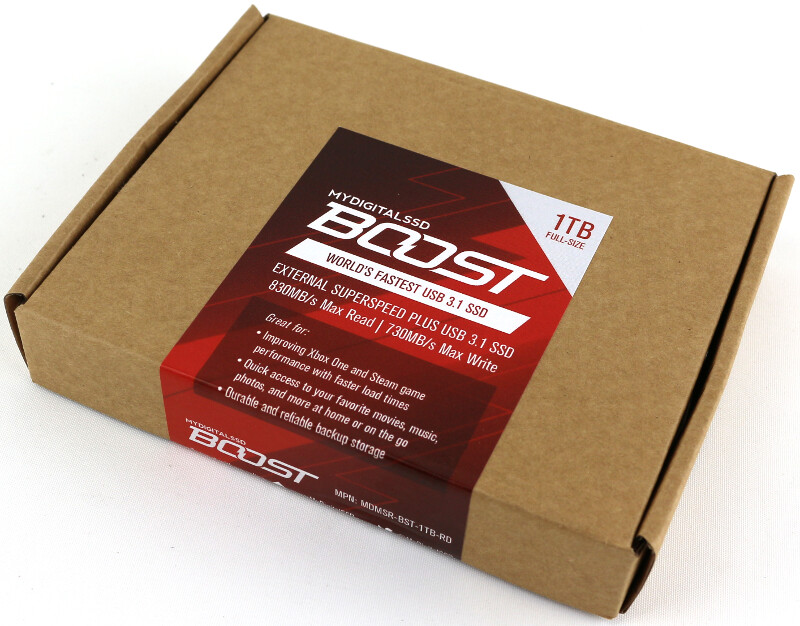 Besides the SSD itself, there are two cables in the box, one for USB type-A connections and one for USB type-C connections.