MyDigitalSSD BP5e M.2 2280 480GB Solid State Drive Review
---
---
---
Bohs Hansen / 5 years ago
Introduction
---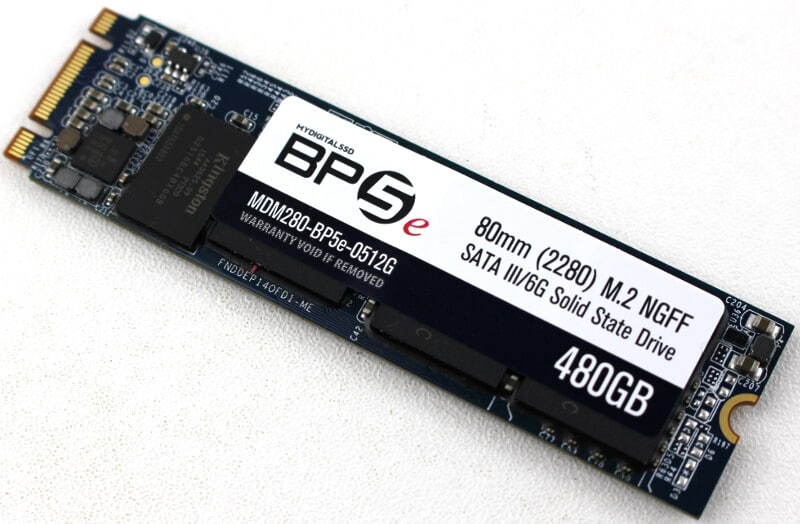 Next generation is a term often used, but it is certainly the truth when it comes to the NGFF (Next Generation Form Factor) storage modules. There are two types of these modules, so you should watch out that you get the right ones for your motherboard. We have the newer PCIe-based drives and also the older SATA-based ones. When I say older, then that's only in term of when the module standard came out, not the drives. Today I'm taking a closer look at an SATA-based model, perfect as
Today I'm taking a closer look at an SATA-based model, perfect as an upgrade for both notebooks, ultrabooks, stationary, and compact systems: The MyDigitalSSD Bullet Proof 5 Eco (BP5e) 80mm 2280 SATA III 6Gbps M.2 NGFF SSD module with a capacity of 480GB. There are also 120GB and 240GB models available and a 960GB model is also expected soon.

The MyDigitalSSD Bullet Proof 5 Eco (BP5e) series NGFF solid state drives are value-upgrade solutions for Notebooks, Ultrabooks, Chromebooks, NUC Mini PCs, and Desktop users of all experience levels who want the best possible performance from their system.
Whether it's breathing new life into a sluggish device or rounding out your DIY setup with a high-performance system drive, the BP5e is a worthy drive. We have a higher maximum throughput on even basic M.2 connectors than a native SATA3 which should give us a little boost there over the 2.5-inch counterparts. We also eliminate a lot the cables with this method and possible also get an increased airflow.
The M.2 NGFF drives are smaller, lighter and consume less power than traditional drives, which all is a big bonus for anyone. The BP5e only consumes 0.5W when idle and 0.9W when active. Especially portable systems will benefit from lower power consumption and thereby get an increased battery lifetime.

Whether you want to use your new M.2 drive alone or maximize the performance of your old mechanical drive by using it as a cache drive and thereby keep up a larger capacity, the MyDigital BP5e won't let you down. It is rated for a performance of up to 565MB/s reading and 545MB/s writing. Feature wise the BP5e also comes with everything you want from the basic NCQ and SMART over sudden power-off recovery and battery backup function to Error Correction Code that can handle up to 24bits/sector. Durability should also be guaranteed thanks to the use of both Dynamic and static wear-leveling and Dynamic bad block management. The BP5e weighs less than 5 grams and we should also mention that it comes with RAID and TRIM support.
The controller used on the BP5e is the Phison S10 (3110) and the TLC Toggle NAND flash come from Toshiba. The whole thing is backed by a 3-year warranty.
Feature Highlights
Unequaled price to performance ratio
Large storage capacity
PHISON S10 controller
Toshiba TLC Toggle NAND Flash
High-speed SATA 6Gb/s (SATA III) interface (Backward compatible to SATA 3Gb/s (SATA II))
Withstand extreme shock and vibration
Power management supported, NCQ command set, TRIM support, RAID support, SMART support
3-year warranty
Packaging and Accessories
The MyDigitalSSD BP5e M.2 drive is packed in a simple blister package that showcases both the drive and the included accessories. All the important details are available on the front, so they're easy to spot in a retail setup too.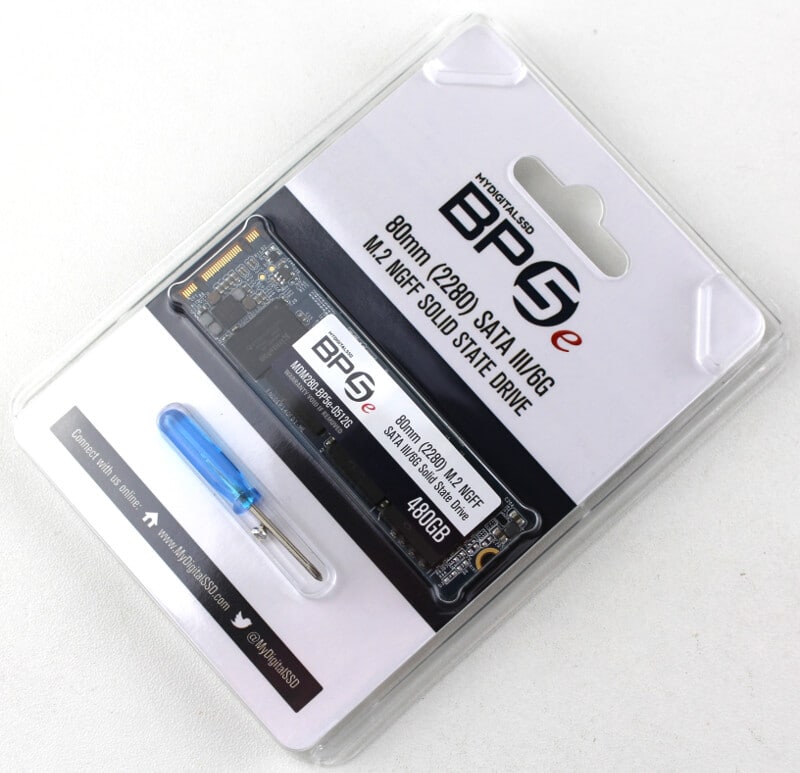 The rear has a few more details on the specific drive features and we also get a little look at the other side of the drive.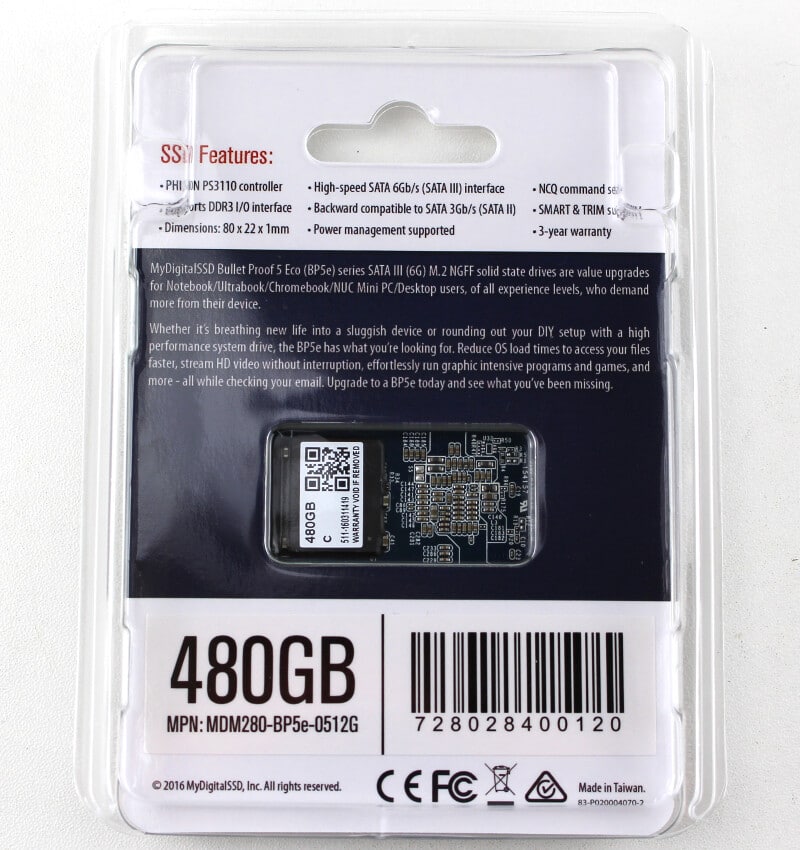 Besides the drive itself, there's also a screw and a screw drive included. There most likely already is a screw in your system or motherboard where the drive should be mounted, but in case there shouldn't be, one is included. The bonus of a tiny screwdriver makes sure that you don't need anything extra to built in the drive.