New Building In London Includes "Sky Pool"
---
---
---
Gareth Andrews / 8 years ago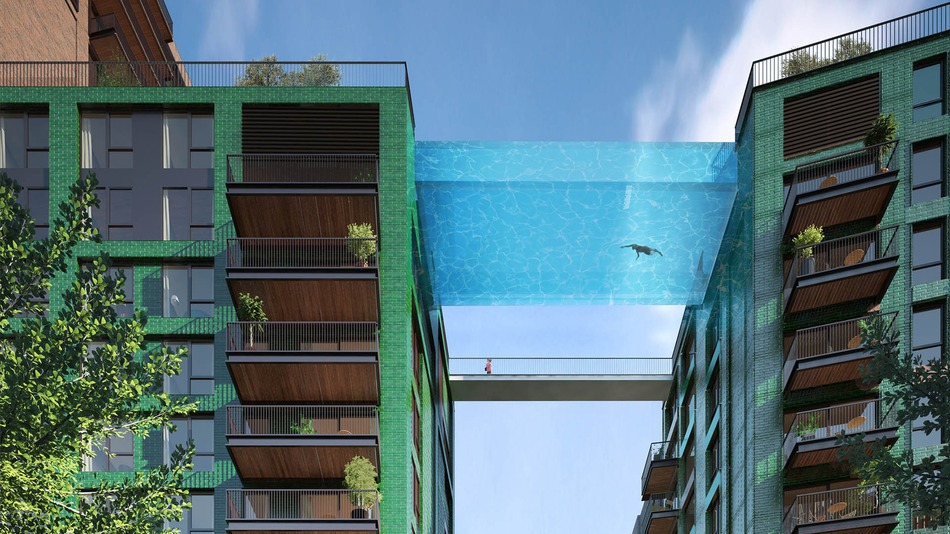 For many swimming is a relaxing past time, the feeling of water rushing over you as you dive beneath the surface and are engulfed by a fundamental element that sustains us. Many enjoy diving to the bottom of the pool so they can touch the bottom and feel the accomplishment before resurfacing. Now imagine the next time you dive beneath the water and touch the bottom you look out to 10 floors of open space between you and the ground; residents in London could be experiencing that feeling very soon.
A new development in London will feature just that, a "sky pool" as it has been dubbed. The pool will measure 25 metres by five metres and will be encased by glass measuring 20cm's in thickness.
The design will connect two new apartment buildings, alongside a normal pathway for those who aren't quite ready to swim to borrow a pint of milk from their neighbour. Sadly though if your are looking at going for a swim there may be a queue, given that around two thousand homes will have access to the pool when it opens.
If you are interested in buying an apartment you can grab one for a mere £602,000, but sadly the first phase of homes have already been bought, leaving the second phase open for people who want to express their interest before they go on sale in September.
"The Sky Pool's transparent structure is the result of significant advancements in technologies over the last decade. The experience of the pool will be truly unique; it will feel like floating through the air in central London." Ballymore Group CEO Sean Mulryan, who came up with the original idea for the pools design.
I personally love the idea of a sky pool, but I guess a fear of heights and 10 floors of open space beneath the water may stop me from enjoying it quite as much as I think I might. If your interested though you can register your interest here, or hope that a friend gets on of the houses and invites you over.
Thank you Mashable for the information.
Image courtesy of Nine Elms.