Amazon's New World Beta Accused of Bricking Nvidia GPUs
---
---
---
Mike Sanders / 2 years ago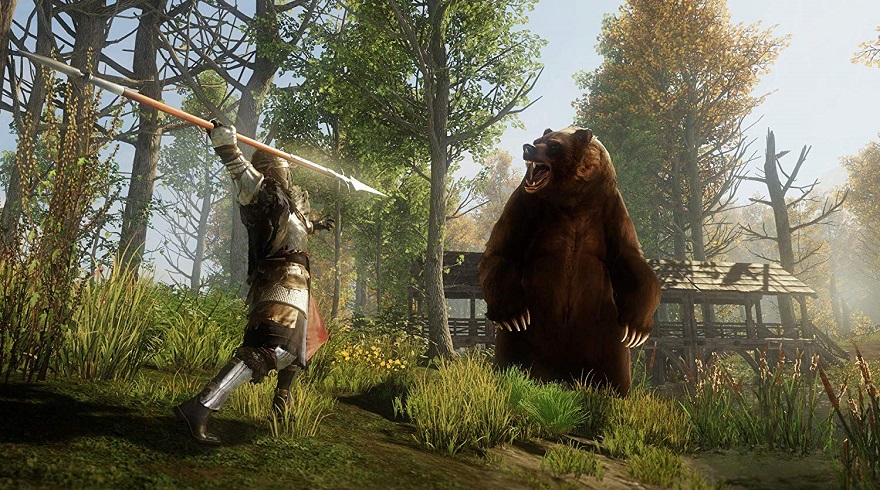 With Amazon set to release their new MMO game 'New World' later this month, there have been many people eagerly checking out the BETA to see if it might be worth the $40 asking price. If you are one of those people, however, and specifically someone who owns an Nvidia 30XX series graphics card, then you are currently being strongly advised by the community to steer well clear of it as following a report via Videocardz, a growing number of users are claiming that the game is completely bricking their GPU.
Amazon's New World Beta Bricks Nvidia GPUs?
Now we should note that, at least at the time of writing, Amazon has not specifically commented on the issue and, as such, although user reports are growing, this is not a categorically confirmed issue. Not yet anyway. It does, however, seem that the game puts a rather unusual heavy load on Nvidia graphics cards which is, rather alarmingly, causing a significant number of them to, allegedly, completely break.
Specifically thought to have the worst effect on the Nvidia 3090, users are claiming that after running the game for 15-30 minutes, video output completely drops out and, in worst cases, it would appear that the GPU itself has been fried. – Although there are many theories as to what might be causing this, it is believed that the primary factor is overheating which may be due to the fact that the games menu doesn't have any caps on the framerate. In other words, Nvidia 30XX series graphics card may be being allowed here to work itself to a heat-exhausted death!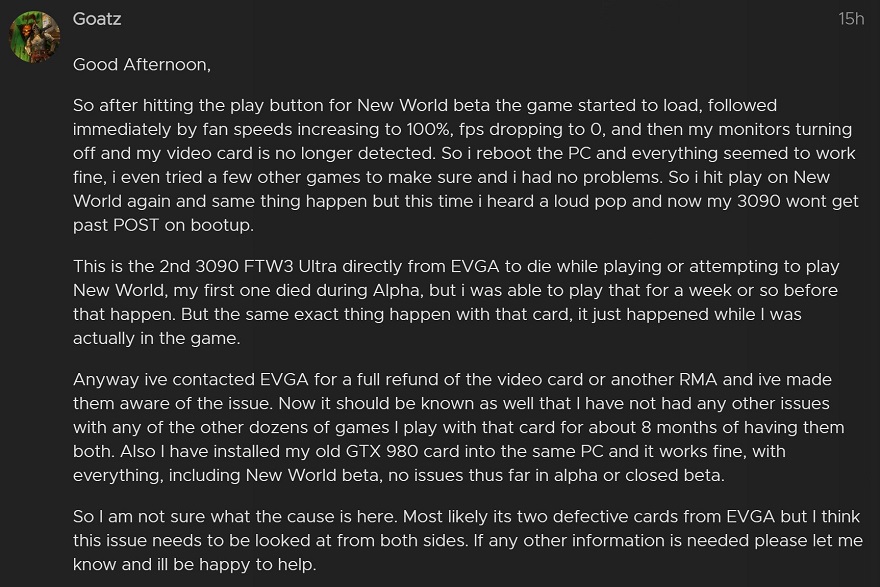 What Should I Do?
As noted above, although this issue has not yet been 100% confirmed, the rather alarming nature of the growing level of user reports is definitely something that warrants gamers giving this 'New World' BETA a pretty wide berth. It's no secret that graphics cards are neither cheap nor readily available at the moment and, as such, while it's entirely possible that this is some kind of negative PR hoax against Amazon (and trust me, we're VERY open to that possibility) would you really want to risk killing your GPU? – We certainly wouldn't recommend it! – Well, only perhaps if you're on an older Nvidia card or AMD model which, apparently, isn't being affected by this problem. How ironic is that? A heat-related issue that's not apparently bothering AMD!
For the sake of fairness and balance, however, if this is proven to be a hoax, we will update this article accordingly. For the moment, however, we suspect that there is more than a little frantic testing being conducted at Amazon's gaming HQ.
What do you think? – Let us know in the comments!