Ni No Kuni: Wrath Of The White Witch PlayStation 3 Review
---
---
---
Peter Donnell / 9 years ago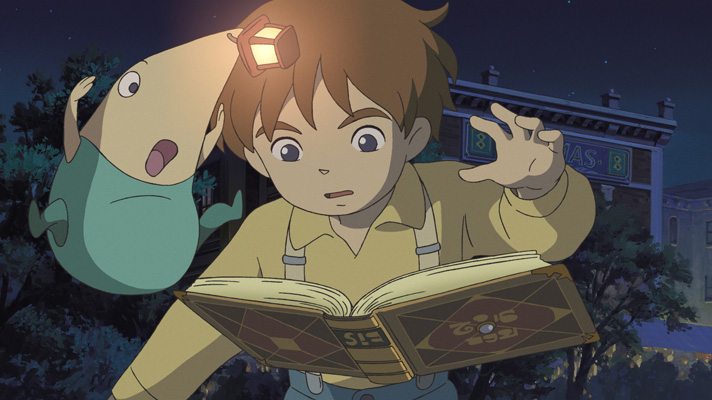 Ni No Kuni: Wrath of the White Witch has been on my "to play" list for quite some time now and while this is an effective spoiler for the rest of the review, I'm annoyed at myself for leaving it for so long! Hailing from the masterful developers at Level-5; who have created a phenomenal collection of games over the last 16 years, including the legendary Dragon Quest VIII: Journey of the Cursed King, White Knight Chronicles and the Professor Layton series. Then we have the added support of Studio Ghibli; the legendary animation studio behind many of our times greatest animated masterpieces, with too many to mention. Finally the mix is complete by the publisher Namco Bandai, who have long been at the front line when it comes to Eastern influenced games. Combined, the companies have a considerable war chest to create something magical, and Ni No Kuni is the end result of such a collaboration.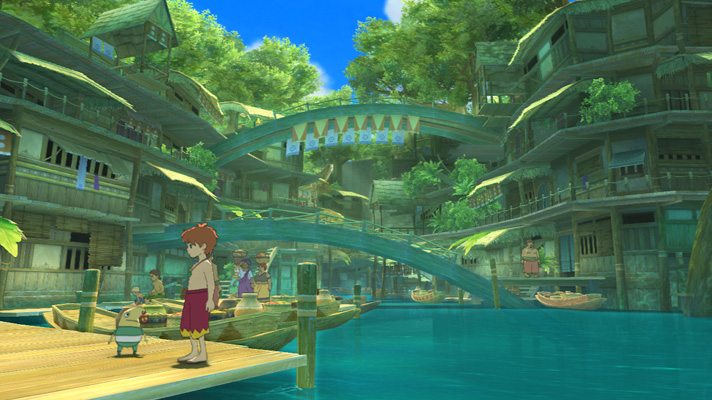 Ni No Kuni: Wrath of the White Witch is a real mixture of influence, with the obvious J-RPG elements that each team involved can bring. With that, the game features a very unique range of settings and make-up that have as much in common with a western RPG as it does with a J-RPG.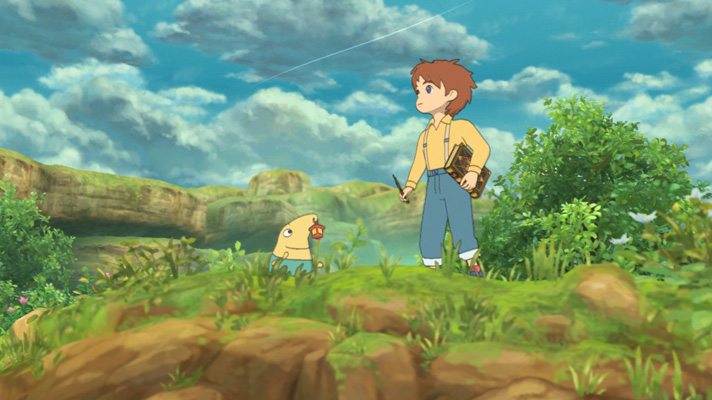 Before we continue, I want to make sure that you know the following paragraph includes plot spoilers!
Set in the town of Motorville, young Oliver is your typical adventurous young boy, keen for excitement, but forever cautious of being caught by his mother while sneaking around town with his friend. A series of events lead up to a tragic loss for Oliver when events unfold and his mother passes away. It is at this point that the game really takes off, as Oliver is met by the King of the Fairies, also known as Drippy, who may in fact be the greatest sidekick in RPG history. With a thick Welsh accent that you really wouldn't expect in a J-RPG style game, Drippy takes you on a journey to defeat Shadar, (effectively this games "Voldemort") as you go out into the world to become a wizard, defeat Shadar and save your mother's soul mate in the other world, which you hope will in turn save your mother's life.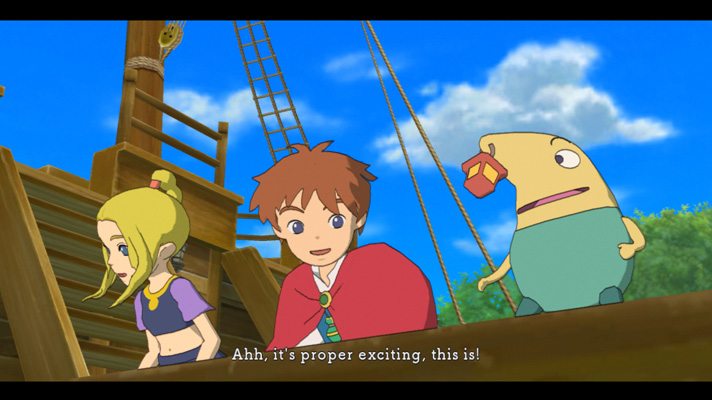 The games story is full of fantasy, mystery and a massive amount of fun. Despite the games story of despair and impending doom, the characters high spirits persevere and keep you smiling with their quick wit, jokes and puns aplenty throughout. The game focuses heavily on cooperation and friendship with the people you meet and it doesn't take more than a few moments to feel like you're playing around in a Ghibli universe. Characters are imaginative and unique. Young Oliver (your lead character) gets to explore a beautifully designed world full of towns, people, beasts and a whole lot more as you seek out the help you need to become a more powerful wizard, but always happy to help those in need as you quest to save your mother's life.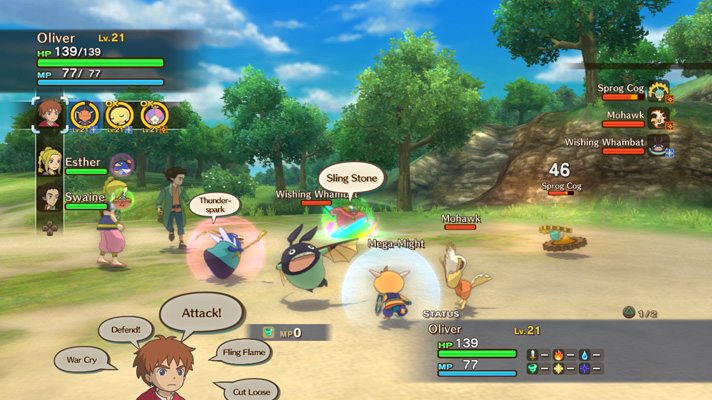 It's full of interesting twists on the typical boy saves the world formula that most RPG's follow, especially since you're able to freely open up a portal and travel between the human world of Motorville; a lovely American town full of happy citizens and people going about their business and the fantasy realm where you'll find wizards, witches, and fairies with broad Welsh accents roaming around. It's the travelling between worlds that is important, and the notion that everyone has their soul mate on the other side, and how one good deed, or wrongdoing can influence the lives of their soul mate.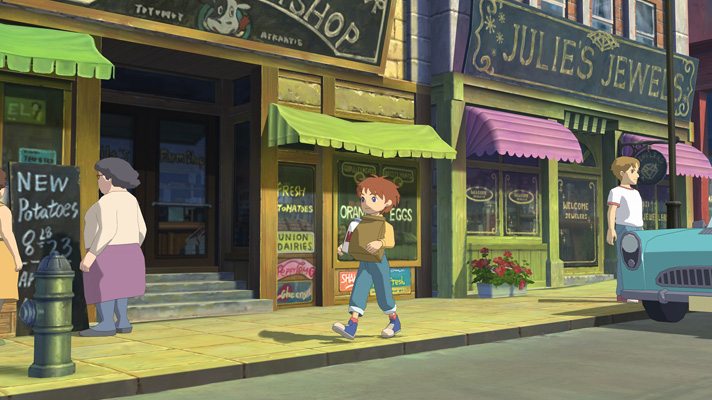 The game is packed full of features that keep things fresh throughout the 60 hours or so story line,. You can play through like most any other RPG and blast through it to a certain extent, but as with most RPG's you'll struggle a fair bit unless you focus on side quests, which can earn you rewards, exploration and grinding a few battles, but most importantly capturing creatures to fight alongside you. It's these "familiars" who do most of the fighting for you and think Pokemon/Final Fantasy summons to get a rough idea of how this works. Each familiar in your creature cage can be deployed in battle, be equipped with weapons and armour, level up, and even grow into new creatures and with hundred of them out there, you'll find a lot of fun and time can be put into this.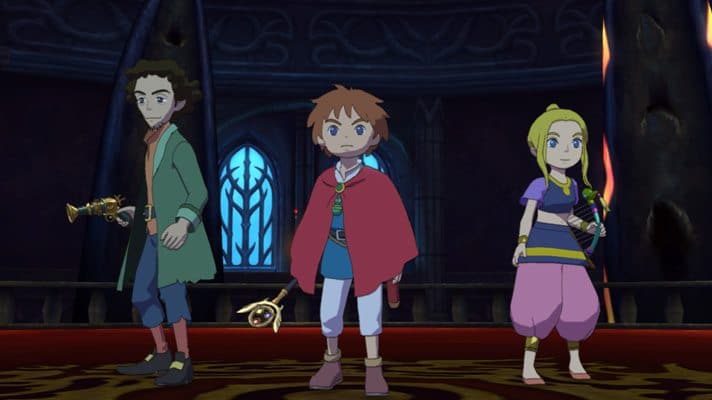 There is a lot to love about this game, from the amount of emotions that the characters take your through, to the games gorgeous world and people who you'll easily fall in love with. You can spend plenty of time just walking around the towns and enjoying the scenery and sounds, with Drippy providing an amusing backing track as you create your own path in this very interactive Ghibli movie/game. This is further enhanced by a "nothing short of stunning" orchestral soundtrack, but I wouldn't have expected anything less from the team that developed the best Dragon Quest games (IMO).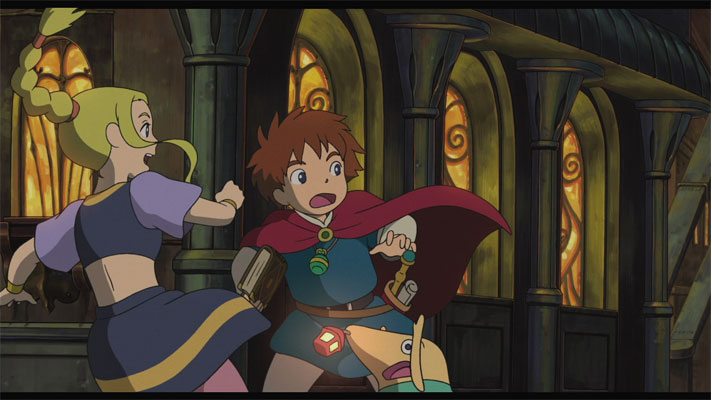 This is one of the finest RPG's to come out in a very long time and while it does have a few minor issues that stick out, they're easily brushed over thanks to the most enjoyable characters and settings. The battle mechanics are great, offering a mixture of run-around combat like you would find in Zelda, with turn based commands of a more classic Final Fantasy title and a considerable amount of challenge to them to test seasoned RPG fans. Random encounters are a little too frequent at times, but you can see enemies in the world and avoid them some of the time.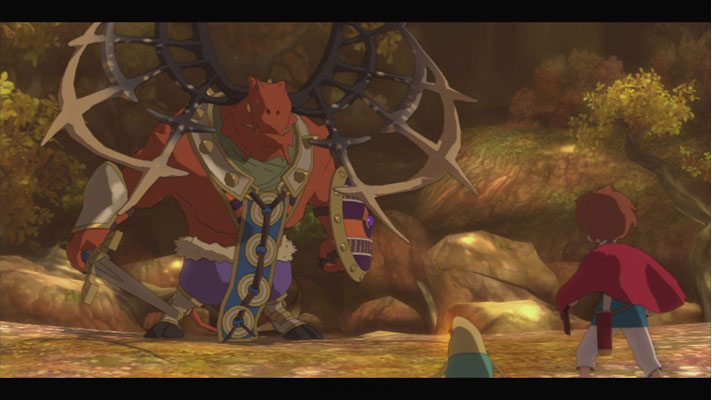 Tutorials come thick and fast in Ni No Kuni, even 30 hours in your still being taught game mechanics and it can be hard to keep on track of them at times, but once all the major stuff is out-of-the-way, amazingly around the 12 hours mark,  the games pace really picks up, combat becomes more dynamic and you can really dive into the familiar capturing system that the game offers. Even once you've done with that you'll find no end of imaginative side quests and monster hunts to keep you from heading for the end credits.
[youtube]http://youtu.be/WrCJQJcZ_bM[/youtube]
Pros
Stunning art design throughout
Ghibli Studios animated cut-scenes are beautiful
Voice overs are superb and full of spirit
Lots of great characters
Deep and involving battles system
Creature capture / levelling system
60+ hours of gameplay and beyond for those willing to explore everything
Cons
Too many tutorials at times
Main battle mechanics don't really take off until after around 10 hours of gameplay
More of those gorgeous cut-scenes would have been nice
Voice acting is a little more broken up with sub-titles only sections than I would have liked
"Easily one of my top ten RPG's of all time and one I'm keen to revisit in the future if only to enjoy the magical characters and world that Ghibli and Level-5 have created. It may be a little complicated at time for newcomers to the genre, but the story alone will be enough to keep you playing through regardless."