noblechairs EPIC Series Chair Review
---
---
---
Peter Donnell / 6 years ago
Introduction
---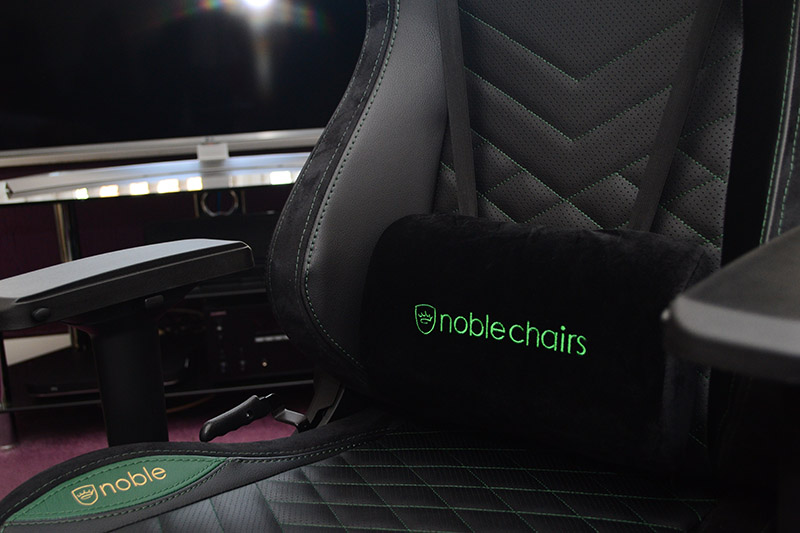 Picking the right chair to go with your desk, so you can kick back and enjoy your games, or even just feel comfortable for those long work hours, can be a demanding task. The market is packed with options, ranging from the budget offerings, to hundreds, even thousands of pounds. Gaming chairs are big business these days, and while the market is flooded with affordable products ranging from £100-200, there's not a growing market for premium products, and that's where noblechairs come in.
"Avant-garde office chair brand noblechairs raises the bar up high by bringing you its impressive EPIC series swivel chairs pioneering the world's first gaming chair featuring valuable and exceedingly durable real leather covering. Their equally well-equipped faux leather siblings are made of 100% vegan polyurethane (PU) with similarly outstanding characteristics and a 25 per cent higher material thickness of 1.5 millimetres. The entire range of noblechairs' classy gamer seats shares the same stellar German design that strikes a perfect balance between luxury car-inspired appearance and materials as well as idiosyncratic gamer chair styling and ergonomics descended from racing car seats. The resulting discreet design without garish colouring creates an air of noblesse and renders the noblechairs gaming chairs simply beautiful." – noblechairs
Today, we'll be taking a look at the noblechairs EPIC, their PU leather covered model which clocks in a little over £300, and while that's not exactly loose change, it's still noticeably cheaper than their genuine leather version of the same chair, which comes in at a wallet-busting £490. Of course, for those familiar with high-quality chairs, this isn't even close to really expensive desktop chairs, but it's certainly the upper end for most consumers and the general gaming chair market.
"High-precision manufacturing for superb ergonomics noblechairs' enviable sitting comfort is fabled due to its dimensionally stable high-class upholstery made of freshly moulded cold foam with 55 per cent density straight from the factory instead of recycled waste scraps used in many lesser, competing products. Its open-cell cold foam structure delivers optimal breathability in conjunction with the luxurious cover materials employed, which allows for a pleasant climate regulation and brings along increased robustness and longevity. The gaming chairs are perfected with fully automated manufacturing processes akin to those applied by car manufacturers that warrant a flawlessly pristine build quality."
Only choice materials and advanced features:
Timeless and classy luxury car look "Designed in Germany"
Covering made of 100% vegan polyurethane (PU) imitation leather
Coloured seams, fine embroidery and perforated contact zones for best aeration
A sturdy frame that consists of solid steel
Height-adjustable safety class 4 gas lift
Comfy & breathable high-density cold foam upholstery straight from the factory
Durable five-star base and logo emblem made of pure aluminium
60 mm casters with nylon core and PU coating for soft and hard floors
Softly cushioned 4D armrests made of PU
Advanced rocking mechanism up to 14°
Flexible adjustment options for individual adaptability
Two pillows included for the lumbar and neck area
Reinforced outer packaging for safe and sound delivery
2 years manufacturer warranty most obligingly handled by OCUK
Specifications:
Appearance:
Main colour: Black
Side strip colour: Black (suede feel)
Stitchings colour: Green
Logo segment colour: Green
Logo embroidery colour: Gold
Pillow colour: Black with green embroidery
Measurements:
Total height (with base): ca. 131 – 141 cm
Height adjustability: ca. 49.5 – 59.5 cm
Width backrest (shoulder level): ca. 54.5 cm
Width backrest (pelvis level): ca. 52 cm
Width backrest (point of contact): ca. 29.5 cm
Length backrest: ca. 87 cm
Backrest adjustability (static): 90° – 135°
Width seat (total): ca. 56 cm
Width seat (point of contact): ca. 35 cm
Depth seat (total): ca. 56.5 cm
Depth seat (point of contact): ca. 49.5 cm
Width armrests: ca. 10.5 cm
Depth armrests: ca. 27 cm
Rocking mechanism: max. 14°
Armrests adjustable: Yes (four-dimensional)
Maximum weight (user): 180 kg
Net weight (chair): ca. 27 kg
Gross weight (chair): ca. 29 kg
Package dimensions: ca. 84 * 38 * 70 cm
UK Fire safety compliance: BS 5852
Manufacturer warranty: 2 years
Packaging
The box for this chair is huge, and clocking in at 29KG it's something you're going to want help with moving.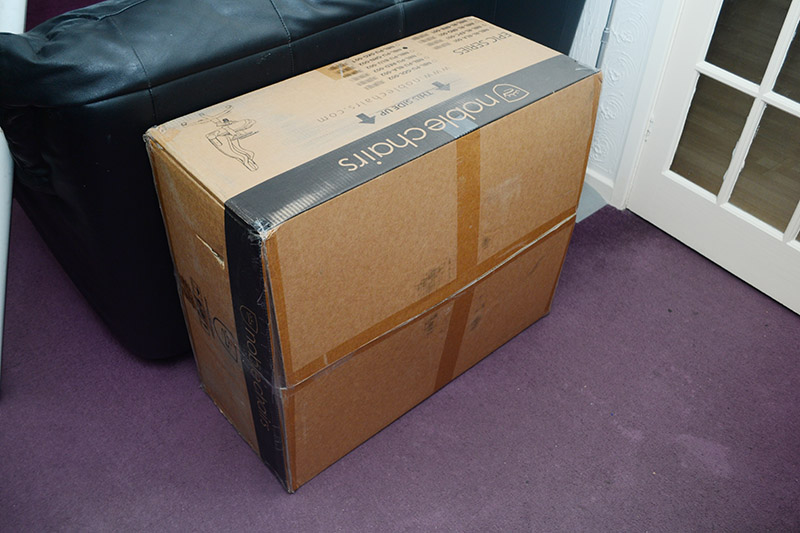 Open the box, and you'll find extensive plastic wrapping, protective foam, cardboard, and sheets of padding throughout to protect all components during transit.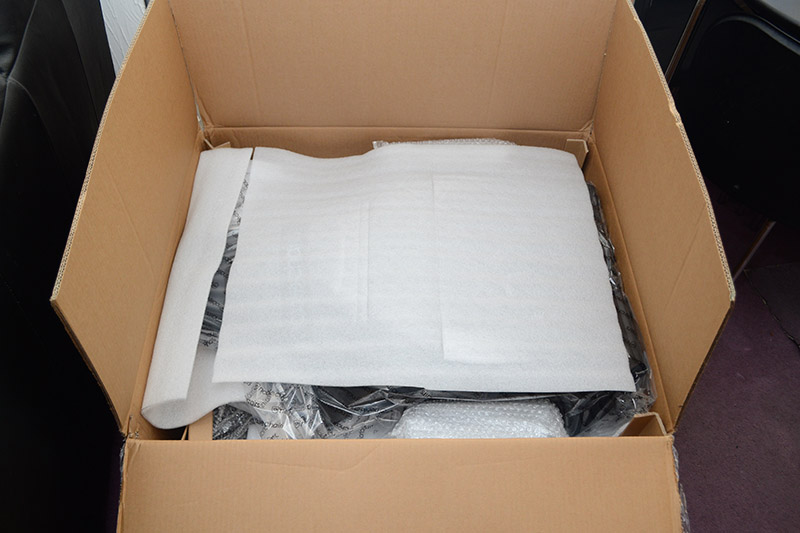 All leather materials are sealed in plastic bags to keep them fresh and dry.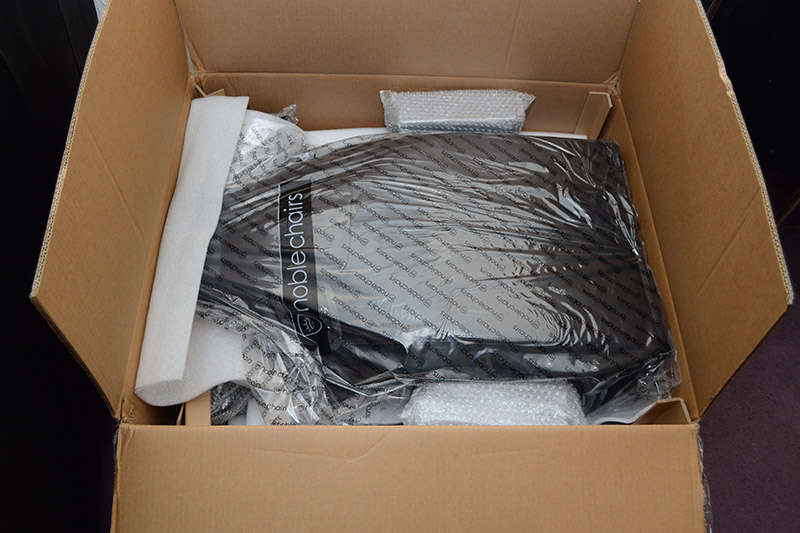 All metals are covered to prevent scratches. So, let's get this out of the box and see what we've got.