Noontec TerraMaster D5-300C USB-C 2+3RAID DAS Review
---
---
---
Bohs Hansen / 4 years ago
Introduction
---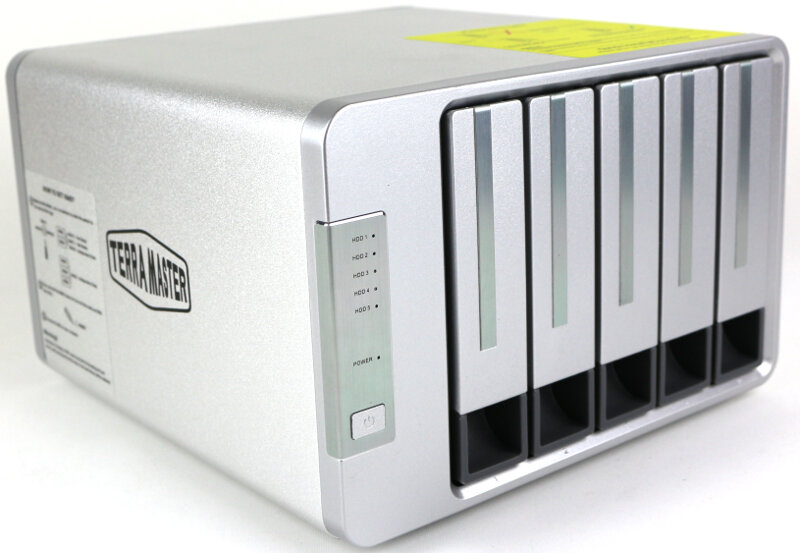 Noontec TerraMaster's D5-300C (Product Link) looks like a traditional DAS at first glance, but it comes with a unique drive setup. You get multiple volume options for the first drives while the last three always run as single drives and that can be very useful.
A Unique Drive Setup
The TerraMaster D5-300C has five drive bays, but unlike traditional DAS units, they aren't sharing the same settings. You can run all five drives as single drives and so far there isn't much difference. Now normally, you would be able to select RAID modes to combine all five drives into one drive pool, but that might not be the best solution for you. Otherwise, if you want to mix and max modes between your drives, then you'd need a NAS, and a 5-bay NAS costs a lot more than a DAS does.
This is where the TerraMaster D5-300C comes into play. The first two drives can be combined into a RAID setup while the last three drives remain single volumes. The available options are RAID 1 and RAID 0. In return, you get a performance boost or redundancy for your most important files while you get the maximum capacity from the rest.

The Perfect Usage Scenario
We all have a stack of files we never want to lose. It could be letters, photos, videos, and other memories, but also your creations, art, programming code, or maybe books. You can never replace these things if they are lost. So having those files on a redundant setup makes a lot of sense. At the same time, there is a lot of content that isn't as quite as important. It could be CDs, DVDs, and Blueray disks you have ripped and stored digitally, for example, or backups of your downloaded games. Losing those files is annoying too, but you can replace them. Your digital memories can never be replaced.
That is where this unit is so perfect. It allows you to keep the most important files on a redundant drive array while it gives you maximum capacity and flexibility for the rest. To get this kind of setup otherwise, you'll have to get a NAS. While a NAS offers more options, you might not need them, and there's also the matter of the costs. This DAS is a lot cheaper than a 5-bay NAS will be.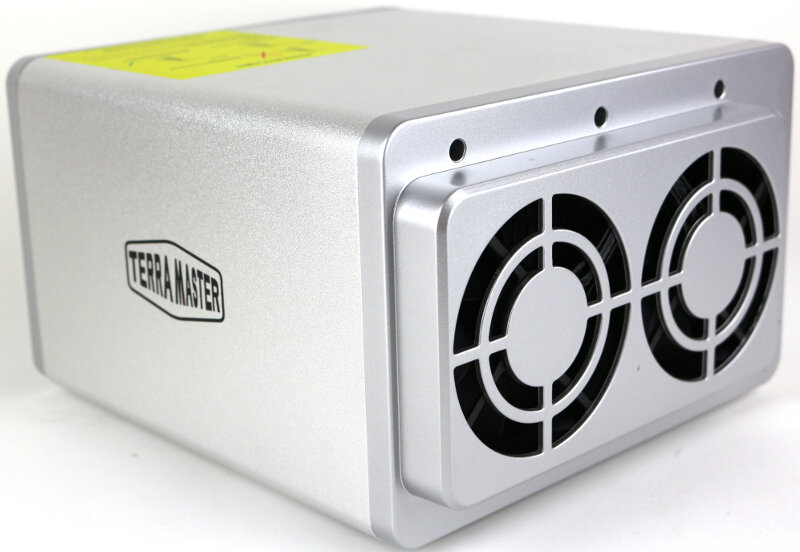 A Premium Finish
TerraMaster's units stand out with their aluminium enclosures, and the choice of material does more than give you a great looking DAS. The aluminium aids the unit's overall cooling abilities with improved heat dissipation. It allows the built-in 80mm fans to run at a lower speed which in return offers you a silent experience. Or in fewer words, you'll only hear the drives you install in the unit. Considering that DAS units are placed close to your workstation, silence is preferred.
There are other materials used besides aluminium, obviously. It is the main chassis cover which is made of aluminium while the general insides are steel. The drive trays are plastic, and so are the front and rear covers.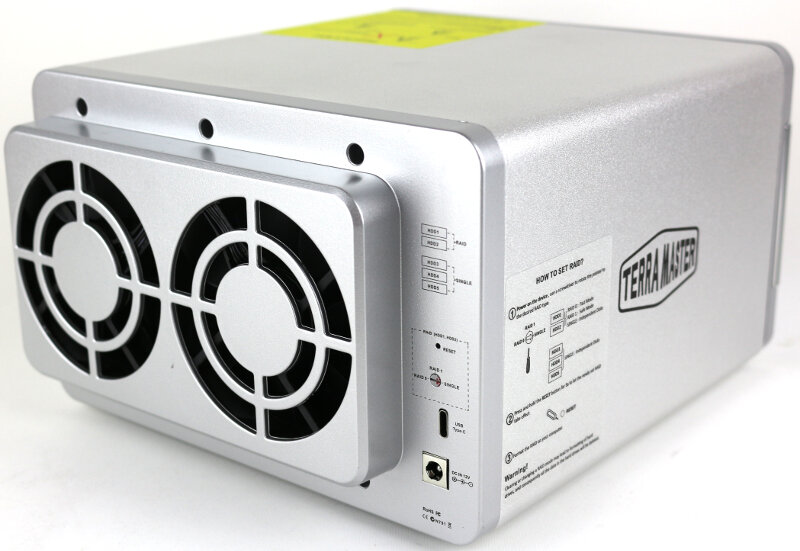 Connection and Drive Options
The TerraMaster D5-300C's name already gives the connection port away. The use of a USB Type-C port is something that I personally welcome. I get more and more devices with this type of port, from my cell phone to docking stations, and with everyone I get, I like it more. The Type-C cables are a lot easier to handle and connect, and that's the main reason that I like them.
The included USB cable is a Type-C to Type-A cable, so you get the full legacy support all the way down to USB 2.0. However, it is a USB 3.0 device, and that will give you a bandwidth for 5Gbps. But please keep in mind that the drives in the unit share the speed and they also share it with other USB devices which are connected to the same controller. But that's the same for all USB devices you connect.
With five drive bays, you can easily get up to 50TB capacity when using 10TB drives. With RAID mode enabled for the first two drives, your overall capacity might shrink a bit, but that's a given. The D5-300C isn't just compatible with standard 3.5-inch hard drives; you can install other drives too. Whether you want to install HDDs, SSDs, or SSHDs and whether you want them to the 2.5-inch or 3.5-inch drives doesn't matter. Thanks to the single volume setup, you can mix and match them too. No need to keep everything the same for the sake of your RAID array.
The supported file formats for the units are FAT16, FAT32 and NTFS.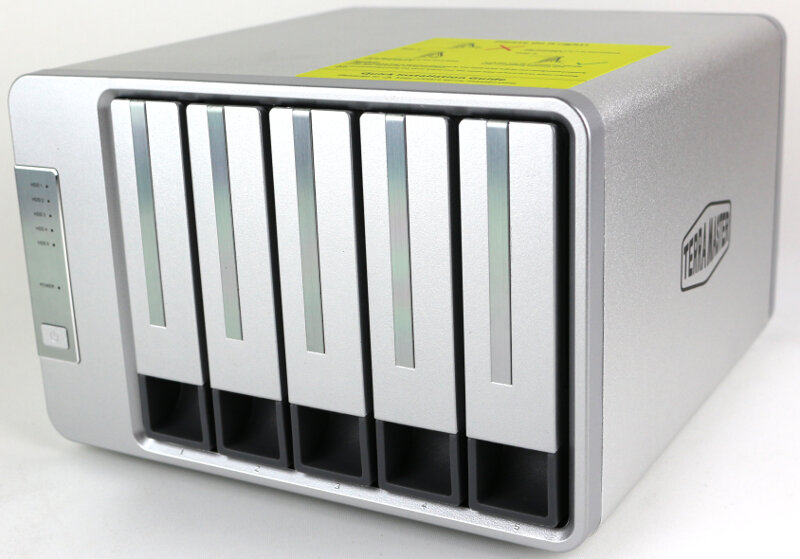 Performance Ratings
TerraMaster naturally tested the unit internally to add performance figures to the product page and packaging. Loaded with SSHD drives and RAID enabled, the TerraMaster D5-300C delivered 410MB/s read performance and 400MB/s write performance. As I'm going to test the unit with HDDs as well as SSDs today, we should match those numbers with ease.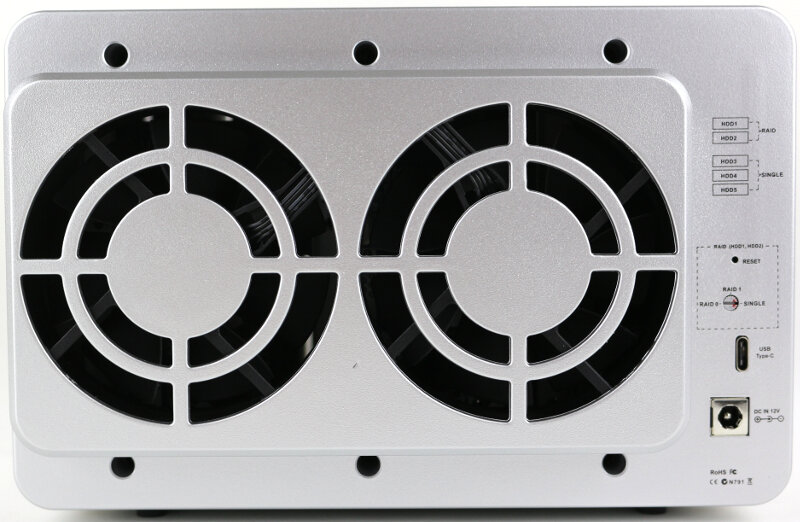 A Complete and Ready-To-Go Package
One of the lovely features with every TerraMaster unit is that it comes with everything you need in the box, except for the storage drives, of course. You get more screws than you'll need for both 2.5-inch and 3.5-inch drive setups and you also get a screwdriver. Besides that, there are all the connection cables needed, and the DAS units also come with RAID adjustment tools: a tiny screwdriver and a pin pusher.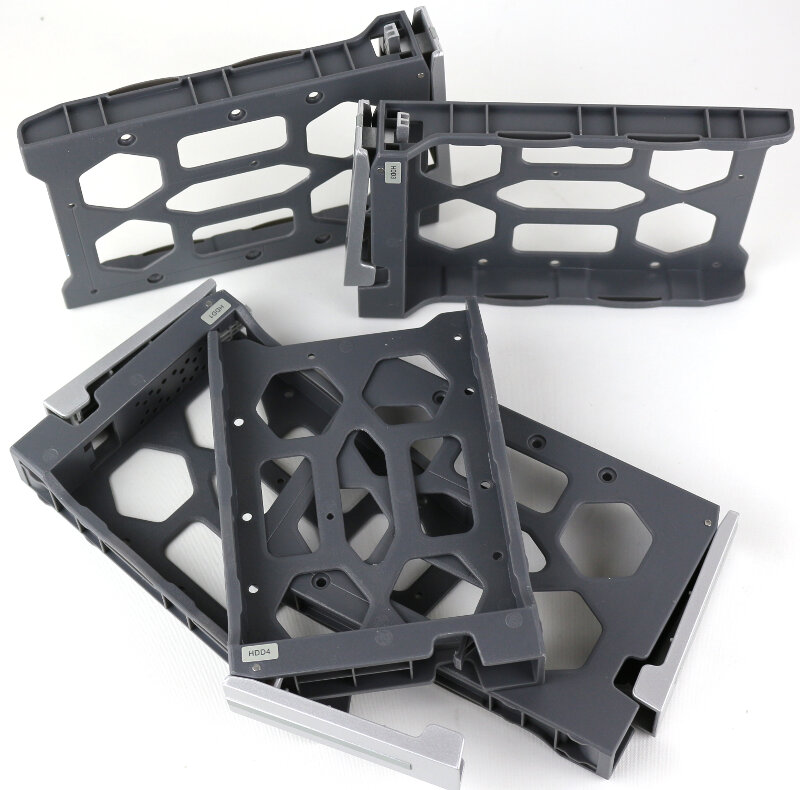 Feature Highlights
Up to 50TB storage capacity
Exclusive 2+3 RAID storage
USB 3.0 with UASP and Type-C connector
Aluminium enclosure
Specifications