Nude Tifa Mod Released for Final Fantasy 7 Because of Course it Has! (NSFW)
---
---
---
Mike Sanders / 12 months ago
Coming as an exceptionally pleasant surprise immediately prior to Christmas (aside from the fact that Square Enix wanted £69.99 for it), the PC release of Final Fantasy 7 Remake has so far largely proven to be very popular with both gamers and critics. Given that it's been on the market for nearly 2 months, however, there was one particular thing I was surprised to see lacking. Namely, it seems that the modding community had not been too quick out of the blocks to give us some kind of nude mod.
Well, while it certainly took longer than we expected, it's official. Final Fantasy 7 Remake has its first nude mod giving us a very detailed and revealing look at Tifa!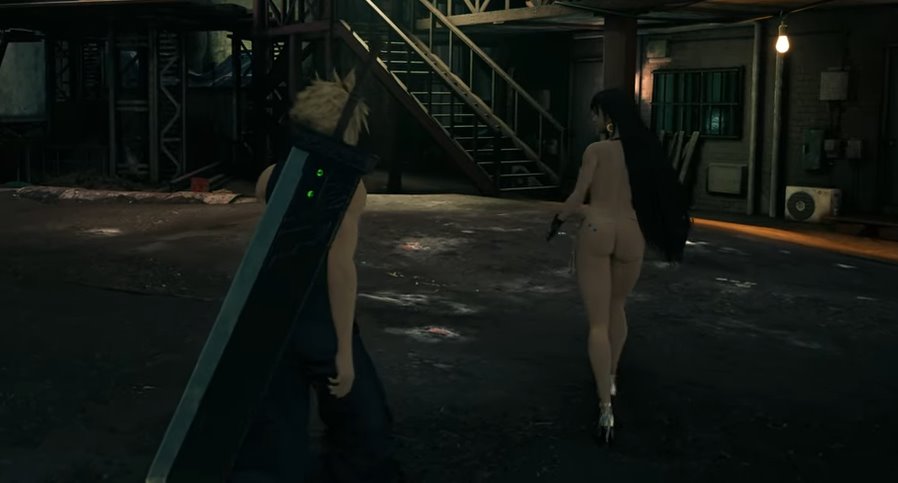 Final Fantasy 7 – Tifa Goes Nude in Bizarrely Overdue Mod!
As noted above, we're not surprised that this mod has been created. More than anything, we're surprised that it took this long to happen. While we will, of course, not be going into too many details within the images, a video of the mod in action has been embedded below. Presuming that this doesn't work for you, however, which it might not given the general *ahem* adult nature of the content, you can check it out manually via the link here!
Before you do though, please do not watch this while at work. And also possibly while your screen is within watching distance of your friends, family, or significant other!
Where Can I Check it Out?
In so far as I can tell (because I haven't downloaded this myself… yet) it does appear that this nude mode does have a prerequisite download based on the work of another modder. Specifically, they created a mod that seemingly put Tifa in a semi-revealing dress without going the whole hog of just removing all her clothes entirely (which this new modder did). – If you do, however, want to learn more, you can check out the 'Nude Tifa' mod (my name, not theirs) via the link here!
Be warned though, prolonged exposure to it may cause blindness and/or hairy palms!
What do you think? – In fact, no, don't answer that question this time please!