Nvidia GeForce GTX 980 4GB "Maxwell" (28nm) Review
---
---
---
Ryan Martin / 9 years ago
Introduction
---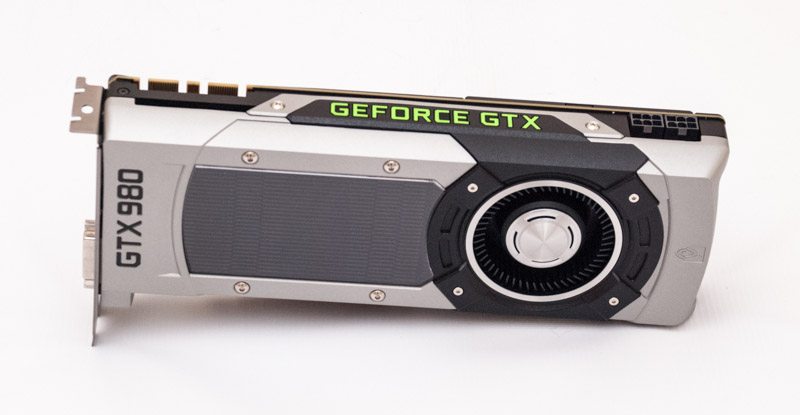 Nvidia's newest Maxwell architecture first made its appearance in February this year when Nvidia revealed their entry level GTX 750 Ti graphics card. One of the obvious hallmarks of Maxwell, that the GTX 750 Ti revealed, was an incredible level of power efficiency as well as a drastic increase in compute performance. Since Nvidia gave us a taste of Maxwell we've been eagerly awaiting that high-end variant and that's exactly what we get today with the GTX 980's launch. The GTX 980 is a direct upgrade of Nvidia's "middle" desktop GPU; it takes the GK104 and bumps it up to GM204. This means one of two things; firstly, the GTX 980 is the true successor to the GTX 680/GTX 770 and secondly, the GTX 980 means we will see an even higher end GM210 Maxwell part arrive later to replace GK110. However, let's not get ahead of ourselves as today is all about GM204. GM204 is 28nm Maxwell, just like the GTX 750 Ti, which means all the rumours about the potential for Nvidia to release two iterations of Maxwell; one 28nm and one next year based on 20 or 16nm, remain credible.
On paper the GTX 980 doesn't look that impressive; it offers the same size manufacturing process as its predecessors with a reduction of CUDA cores and ROPs. However, don't let the numbers fool you: Maxwell is not like-for-like comparable with Kepler as it is a totally redesigned architecture. As anticipated, Maxwell's power efficiency results in the GTX 980 boasting a TDP of 165W; that's 85W lower than the GTX 780 that it succeeds in naming terms. It also offers a welcomed video memory boost to 4GB to match AMD's offerings and silence the critics who claim Nvidia doesn't offer enough video memory to be 4K ready: except on the insanely priced GTX Titan series products. Pricing isn't bad either: compared to the GTX 780 it replaces it holds a $50 premium and is $100 cheaper than the GTX 780 was when it launched.
A brief specifications analysis shows Nvidia has no competition where the GTX 980 comes in. AMD's best offering is the R9 290X which is geared to fit in somewhere between the GTX 780 and GTX 780 Ti. The GTX 980, on the other hand, is geared to outperform the GTX 780 and GTX 780 Ti. Not to mention that AMD was already quite some way behind Kepler on power efficiency, now Maxwell looks set to turn that small gap into a valley (maybe even a Unigine one!).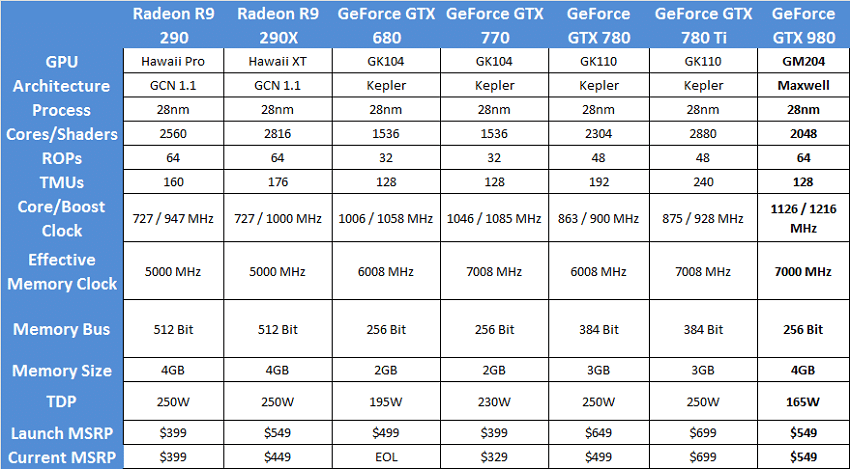 Packaging and Accessories
Nvidia's press sample of the GTX 980 comes simply packaged, no accessories, just the card in a sleek-looking box. Simple, yet effective. The claim to be "The World's Most Advanced GPU" also shows a fair amount of bravado on Nvidia's behalf; let's hope it lives up to those expectations.