NVIDIA GRID Event Coverage
---
---
---
Andy Ruffell / 8 years ago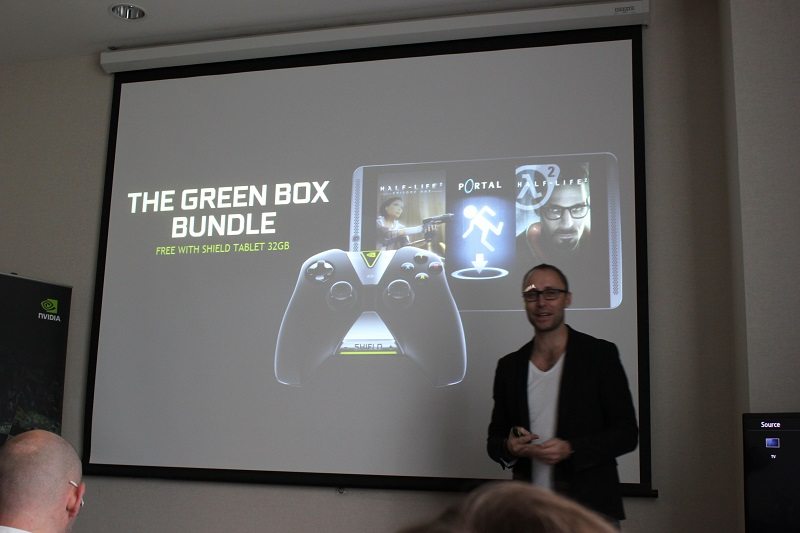 Several days ago, we at eTeknix were invited to a special event held by Nvidia in the Hilton Hotel in Reading, near to their UK offices. Only a select amount of media were invited and the event itself was very small, but the announcements were anything but.
With the recent announcement of Android Lollipop from Google being on many people's minds at the moment, it was inevitable that NVIDIA were going to bring it to their Android based SHIELD and SHIELD tablet devices, and not only that, but within their press show, they made it very clear that they were the FIRST to bring it to a gaming tablet. Screw you Samsung!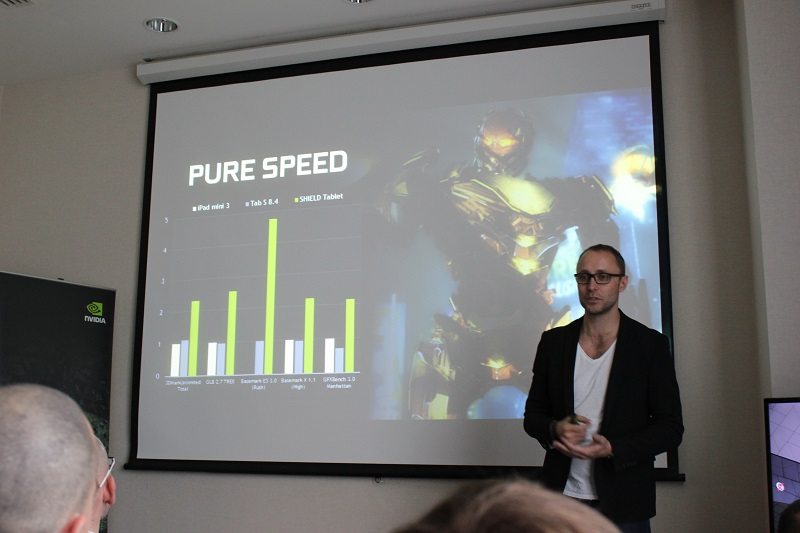 NVIDIA were a bit coy when it came to a release date as technically it's out of their hands and instead lays with Google, but they are expecting it to be released sooner rather than later, as we hear the Android fans rejoice. With the update, we can expect many bug fixes, some new features and great speed and performance inprovements and with the SHIELD being the fastest tablet on the market for gaming, thanks to the Tegra K1 architecture, they wanted to bring some special goodies along with the update, and special is what they brought.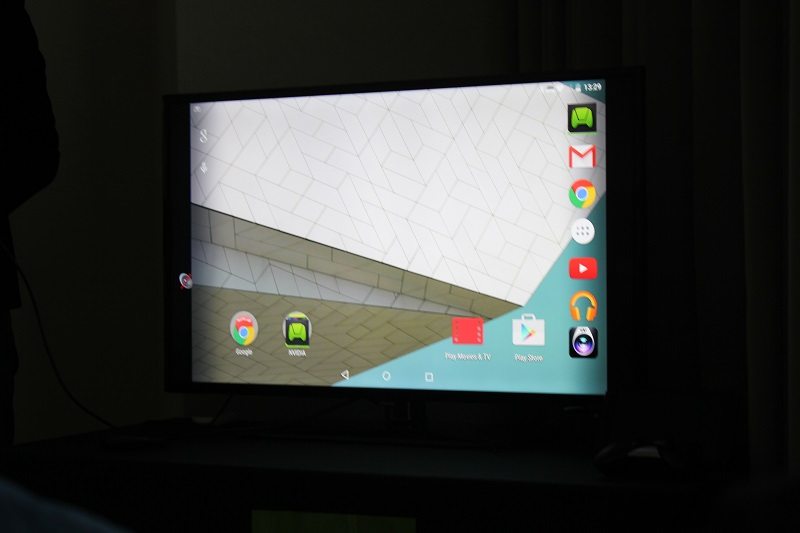 Does anyone remember the Orange Box bundle that Valve released many moons ago? Giving us the hottest titles that their customers wanted? NVIDIA have done exactly the same, and upon listening to their customers, they are announcing "The Green Box" bundle. Comprising of Half Life 2, Portal, and Half Life 2: Episode 1. They were abundantly clear that Episode 1 was something to shout about and we couldn't agree more. Not just leaving things there, but they showed us that 60FPS is where they wanted to aim for (unlike Ubisoft) and with high resolution imagery and 60FPS, Half Life 2 among the other games will simply look awesome. "The Green Box" bundle is only available on SHIELD so don't go expecting Valve to be offering it for other devices.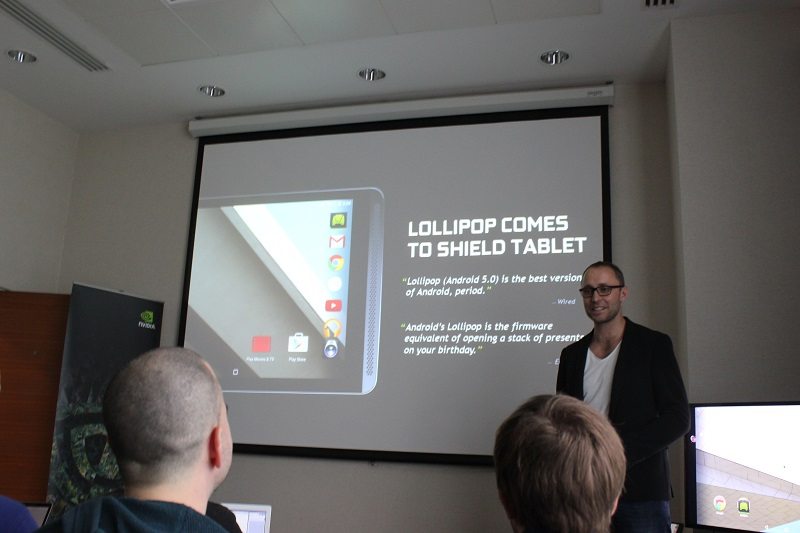 A downside some may say, but I happen to think it's the best way to play on the SHIELD Tablet is that you have to use the controller, which personally adds to the whole experience of gaming (short of using a keyboard and mouse of course). In typical NVIDIA fashion, to redeem the code, it will require the user to enter a code on the portal system.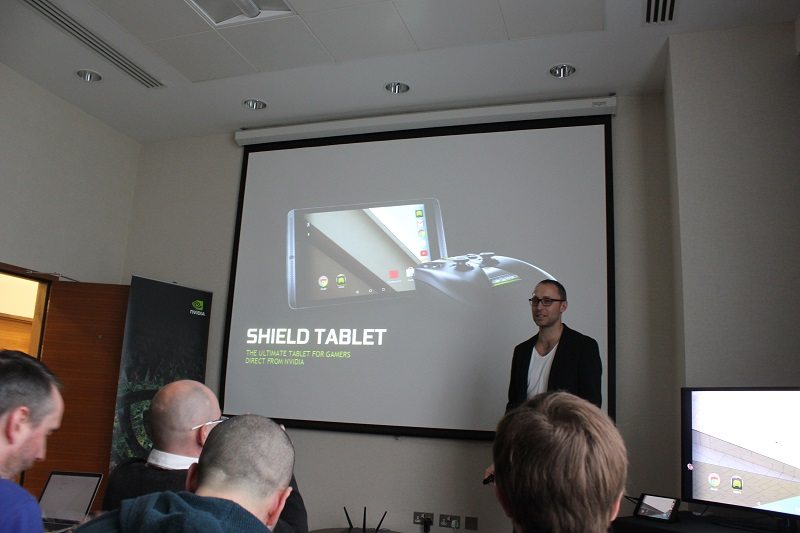 Many questions flew around the room for tech journalists from all over Europe including if War of Thunder would be coming, and the simple answer was yes, and no more was said about that. No date, no rumour, no nothing, so at least NVIDIA are giving us a few more surprises along the way.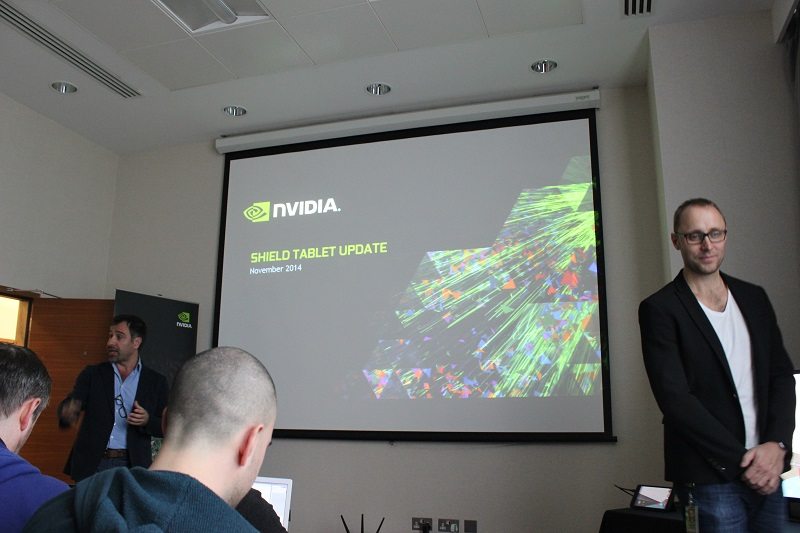 Game streaming
Another big announcement was that GRID is coming to Europe. W00000h0000!
For those who don't know what GRID is, we entice you to check out the full section on the NVIDIA website here. We were lucky enough to try out GRID by using the American servers (I Guess it's down to who you know, not what you know, amiright?). You can find plenty of coverage of what we thought of GRID on the original SHIELD gaming device, but now it's coming to the SHIELD Tablet which is exciting stuff, especially as they are opening it up to further markets than ever before.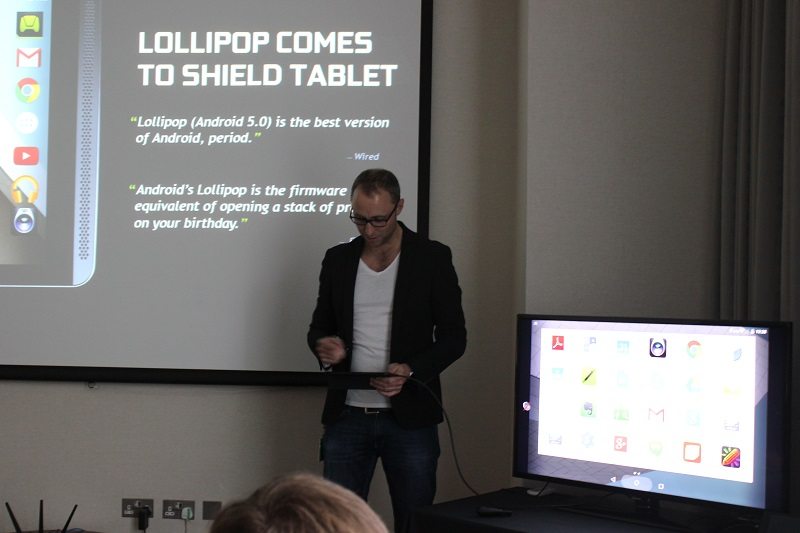 NVIDIA explained GRID to those unaware of it being similar to Netflix, but for games, and of course streaming games doesn't go without its issues as it's actually more complex to stream a game than doing the same task with 4K video content on Netflix. The GRID PREVIEW service will be launching very soon in the UK and the rest of Europe, with one exception. Sorry Germany but you will have to wait a bit longer due to your age restriction laws and some of the game titles having adult content (violence and the like), therefore they are hopeful of launching it there in Q1 of 2015. For those in the UK, November is when the preview service will open with an official full launch in December.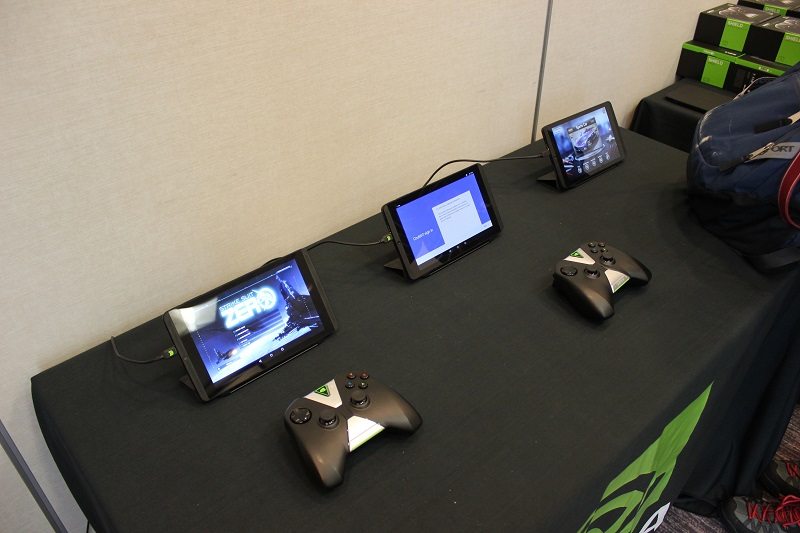 NVIDIA claim that the GRID experience with their uber Dublin based server will give the same experience as playing the conventional way on a PC and many times NVIDIA lifted the table cloth to show us all that no PC was to be found in that room. Instead, it was simple streaming across the internet from the servers in Ireland much like you'd expect Netflix to do.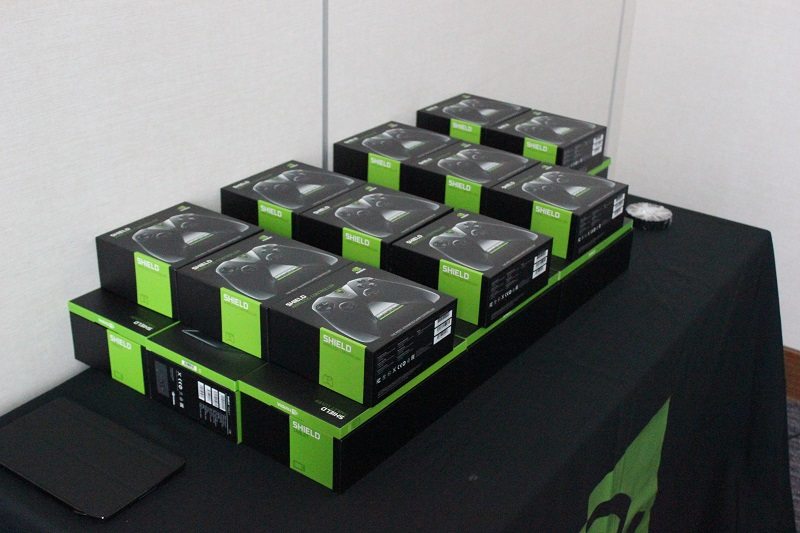 Once the service opens up, you'll be able to simply open up the SHIELD Hub application and be greeted with a list of games in a library style interface. Currently on the preview service, there are around 20+ titles including some AAA titles and sheer blockbusters such as Borderlands 2 and Batman Arkham City, which NVIDIA PR man himself Ben Berroando thought he'd show his dab hand at to show us the lack of lag/latency.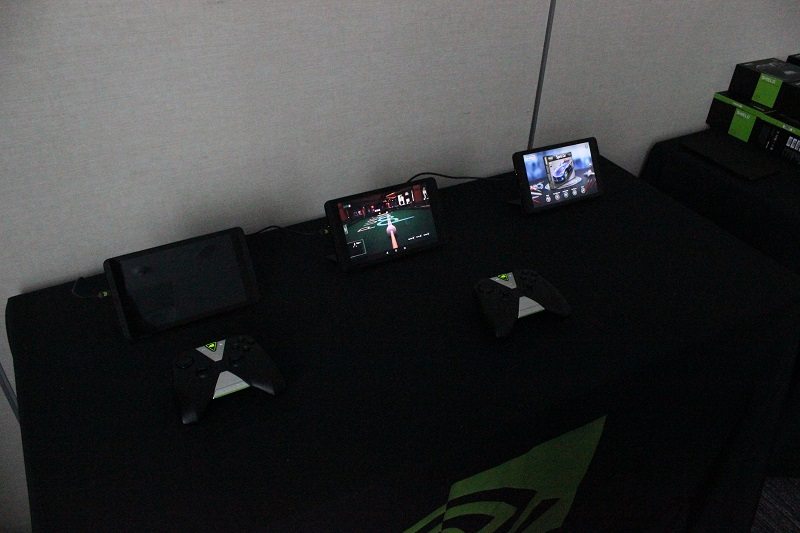 The lag or lack of it comes ultimately down to your internet connection and NVIDIA state that the minimum requirement is a 6mbit connection but recommend 10mbit to give the best possible ping and to reduce the amount of lag if any. In Europe, this shouldn't be too much of an issue, especially as government schemes are rolling out across the continent, even in rural areas.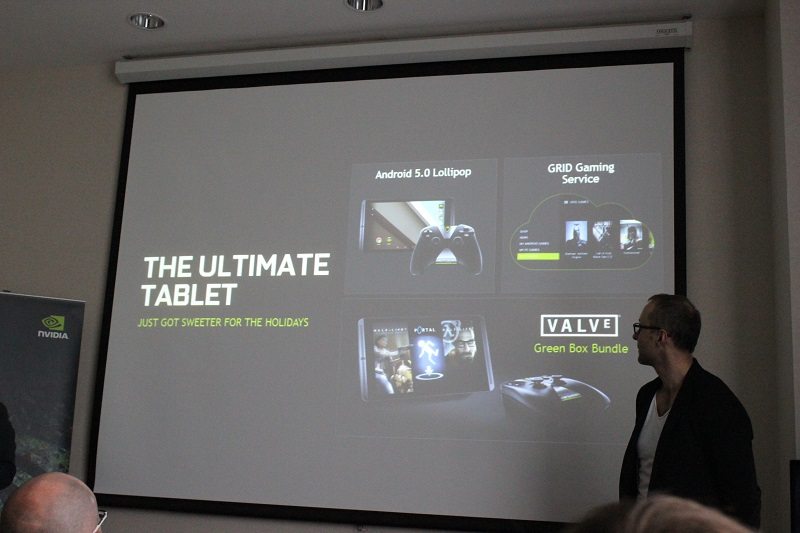 The biggest competitor for NVIDIA right now is the Playstation NOW and with other streaming services like OnLive not gaining popularity, the green team think they have a prime opportunity to show what they can do.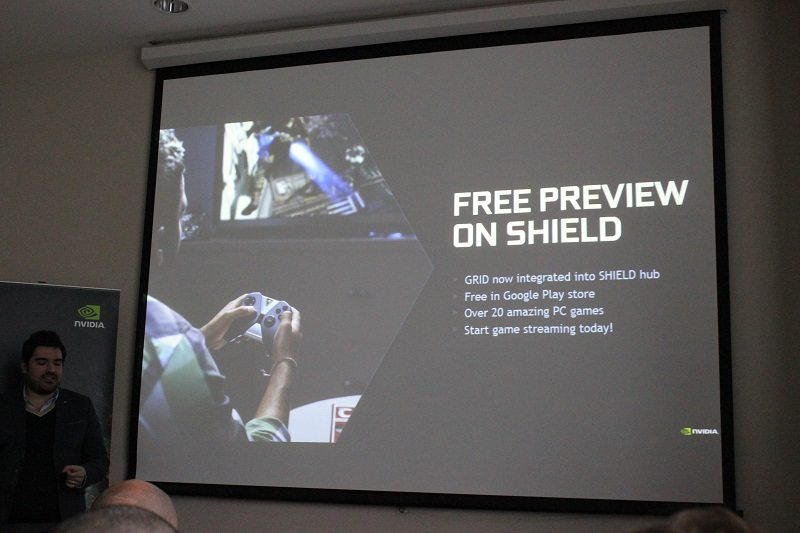 For some exciting news, for the foreseeable future, they want as many users as possible to try this out, and while it's still in a semi-beta stage, it would be unfair to charge people to "try" it out wouldn't it? Of course, and NVIDIA know that, so they are giving away this amazing service absolutely free when the Android Lollipop OTA update hits.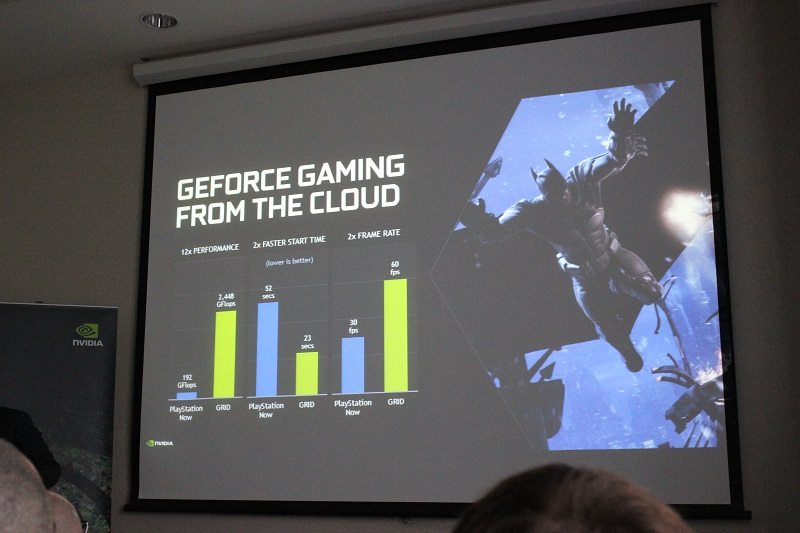 NVIDIA are claiming a 2nd December 2014 launch, but obviously this is possible to change, and shouldn't be considered gospel at this stage, as technically it's out of their control and in the hands of Google.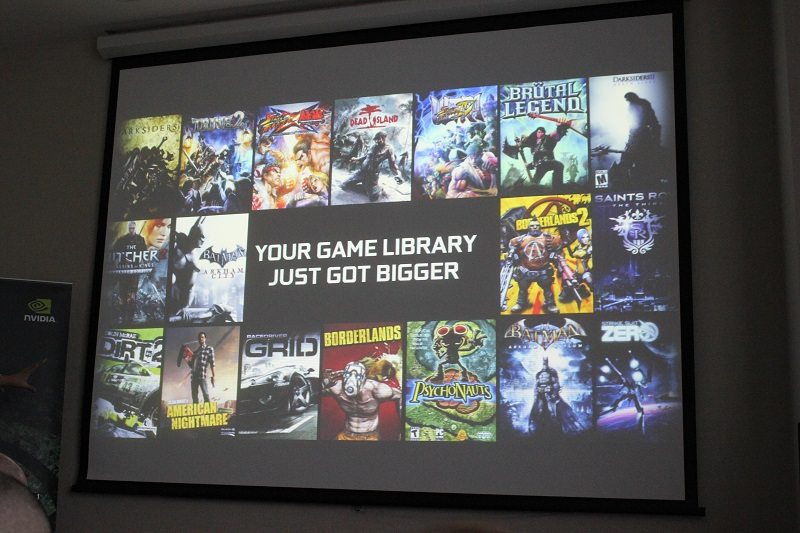 Those of you may have a few questions and don't worry, so did we so lets answer what we think would have been some of the most common questions asked if you, our readers, were at the event.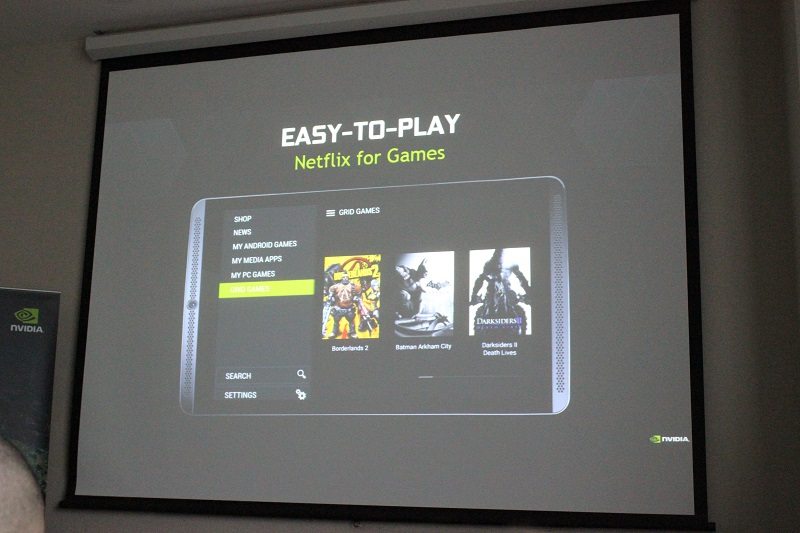 Latency is going to be a big word thrown around with a service like this, and NVIDIA claim that for the ultimate experience, you should have a ping of 16ms or lower, and with the servers being based in Dublin, this shouldn't be an issue, and you can test your latency from within the app.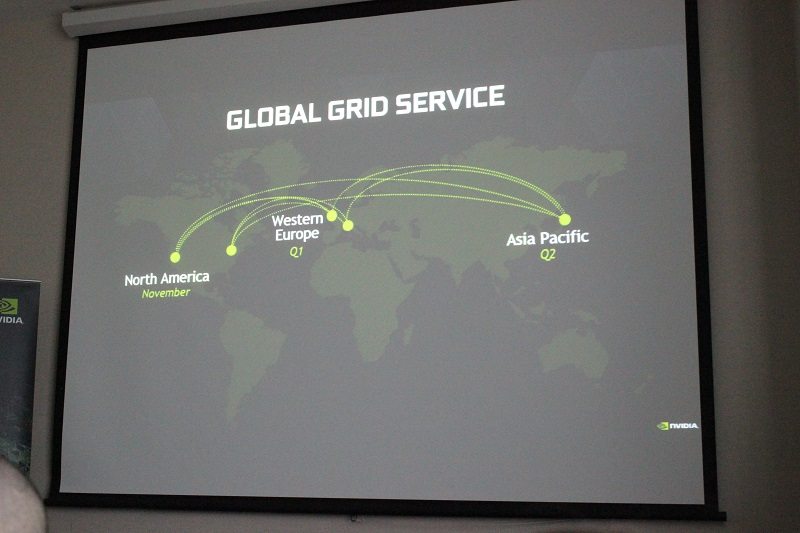 Streaming is one thing, but the actual graphical experience is another, and we have been told that playing a game across the GRID service is equivalent to gaming on a GTX 760 or similar, which in all honesty, is pretty damn impressive.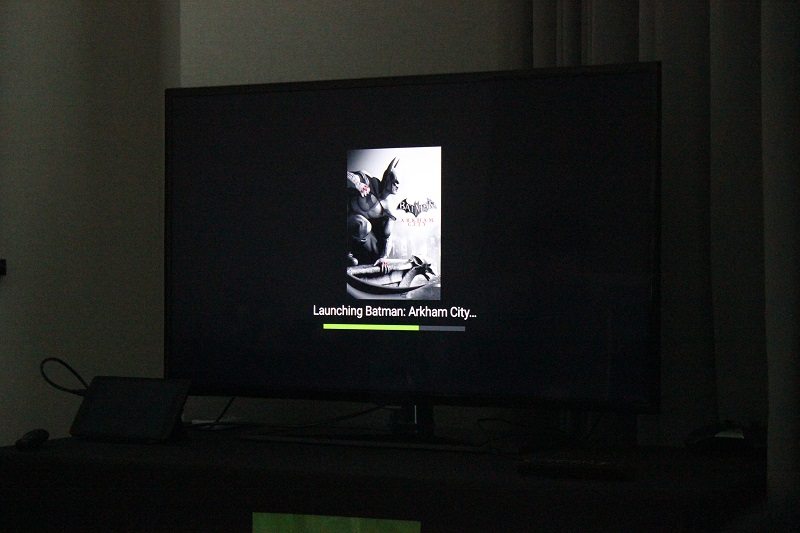 One thing that NVIDIA are working on for the future is multiplayer support, locally and across the cloud, and this in our opinion could be the start of something huge if they can make it happen.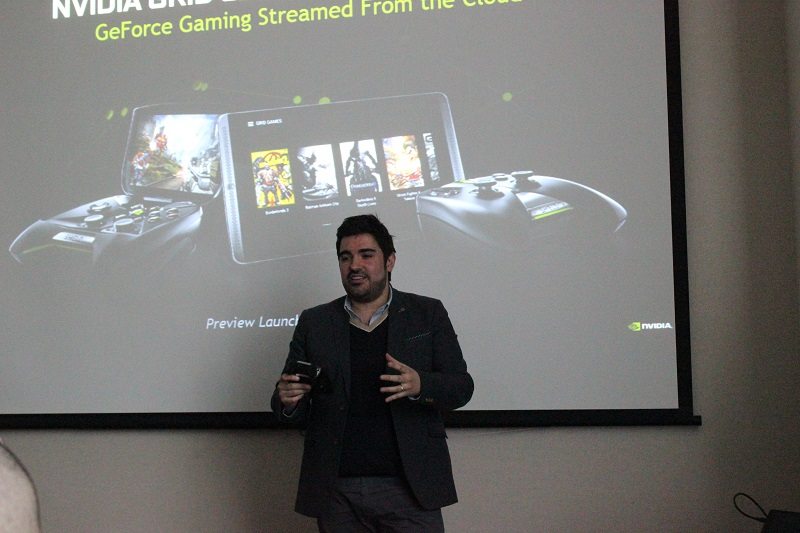 We also asked about other titles and DLC's and were told that DLC's and updates will be auto added as they hit in the future and the likes of Indy titles and crowd-funded games are a possibility in the future too.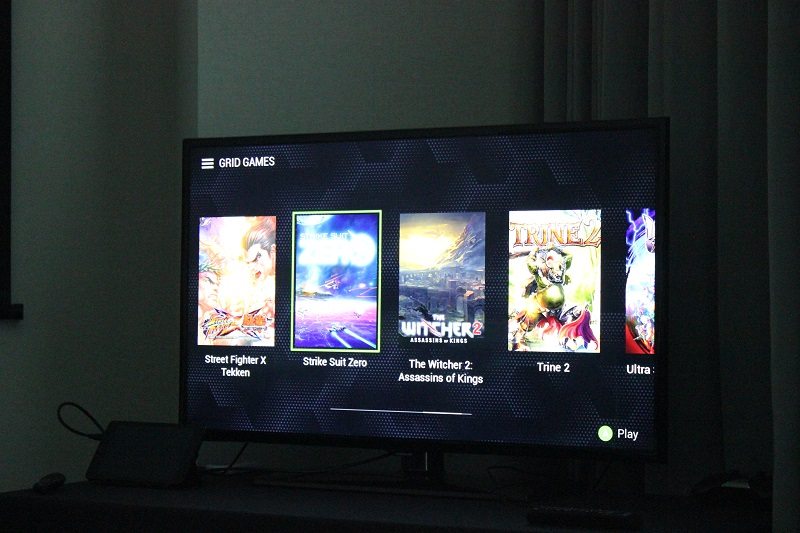 That sums up our coverage of the NVIDIA event, and I've got to say that this is one of the best announcements that NVIDIA have done. Yes they are currently leading the market with their GPU product stack, and for the most part, this is their bread and butter, but when they introduce a new technology to a complete region like they have here, it gets our hearts racing and wanting to try it, and you're in luck as we're frantically testing out the preview service as we speak, so stay tuned for some great articles coming soon based around that.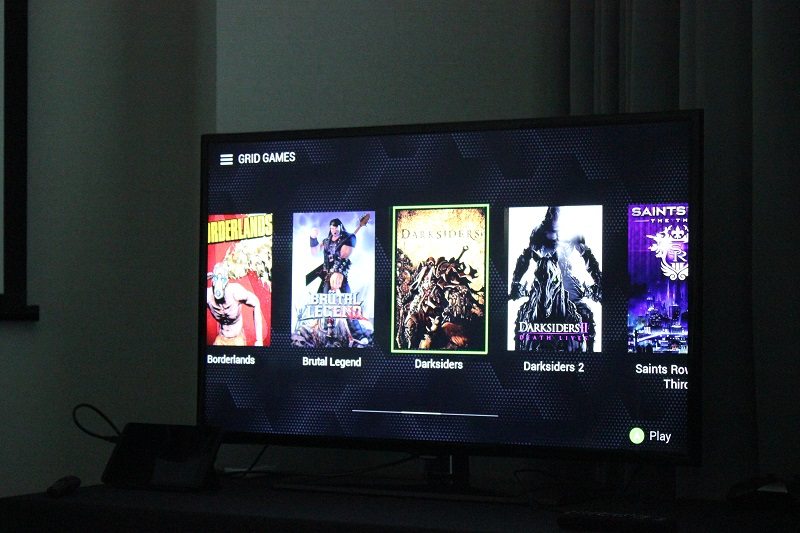 The Grid Gaming Service is effectively a supercomputer in the cloud. All of the hard work such as graphics rendering is processed on high-end hardware at the Nvidia datacentre, then streamed to your device much like a Netflix video.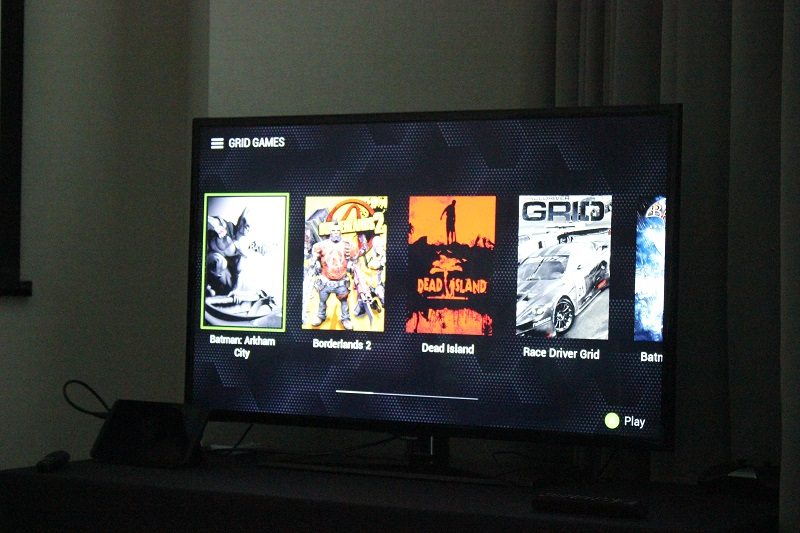 The Nvidia Sheild Hub App will hit the Google Play Store on November 18th. Simply launch the app and select GRID Games Menu and you'll be able to play any of the 20 games that are currently available on the service.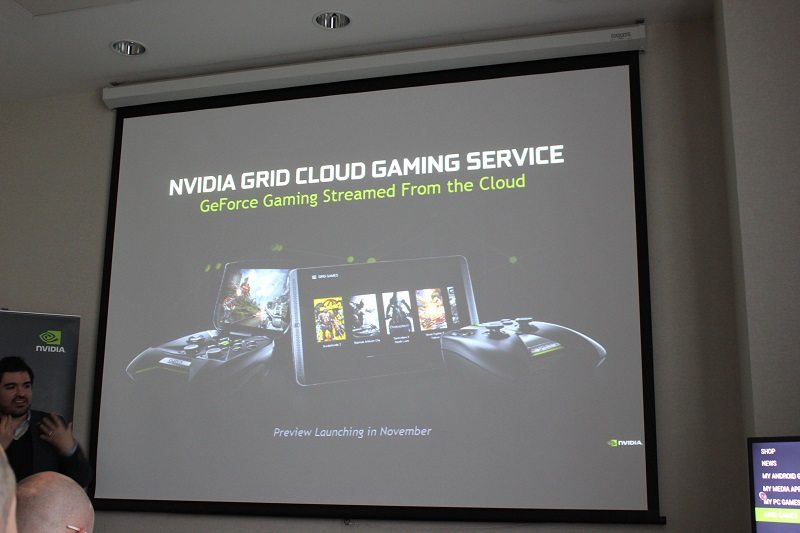 Remember, there is no cost for running this service. GRID Preview will keep the service free of charge until June 30th, 2015.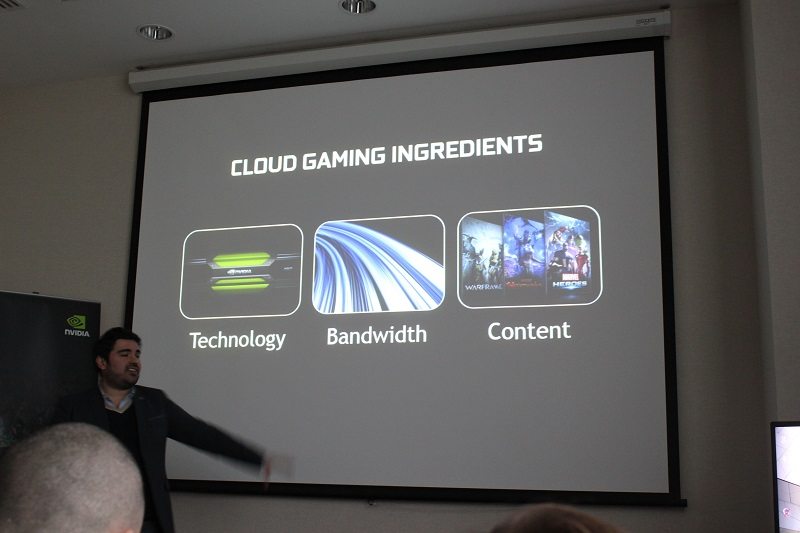 The service is being launched in North America and being expanded to include Western Europe in December, with Asia Pacific following later next year. You'll require at least 10 Mbps internet with a 60ms ping time to the Nvidia servers for optimal performance.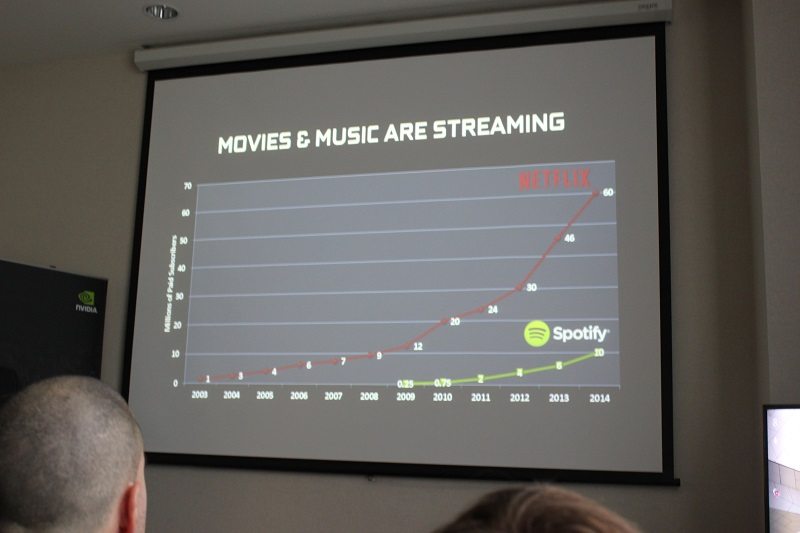 The service has been configured for Shield device owners. If you own or purchase a Shield, you'll be able to download the updated software shortly to access the GRID service.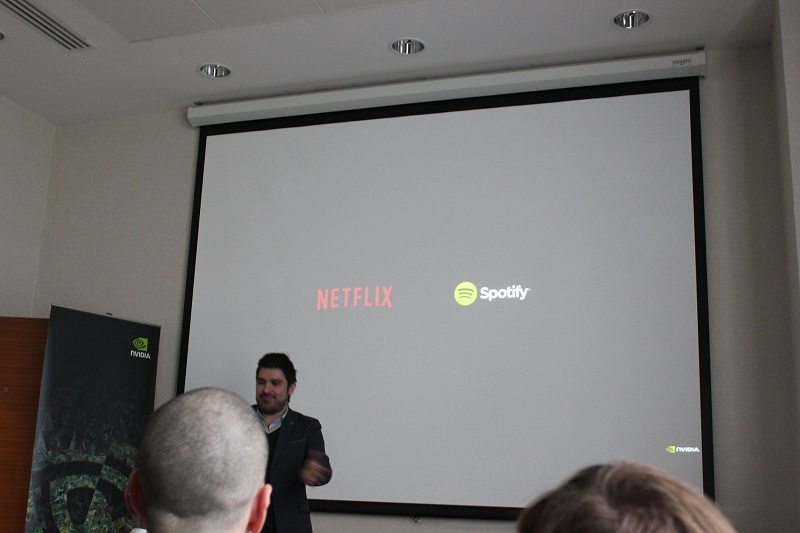 At launch you can expect to find games such as Batman: Arkham City, Borderlands 2 and more available on the service.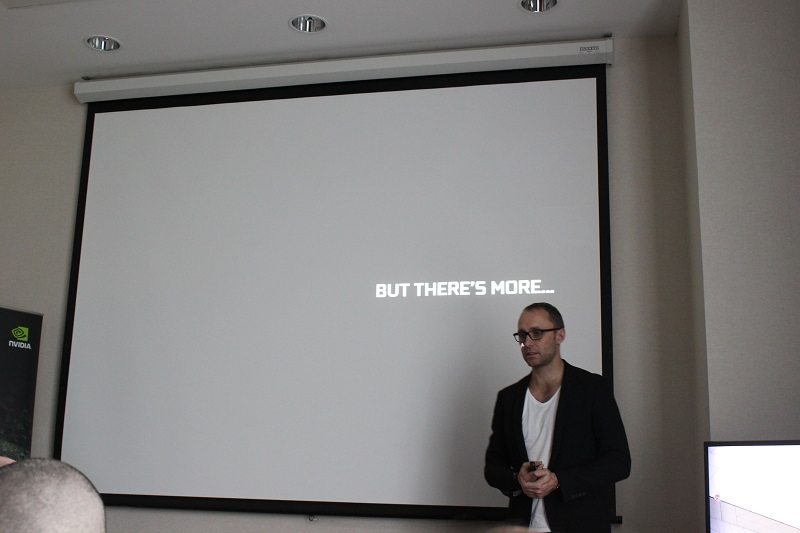 More games such as Brutal Legend and Psychonauts will be launched on the GRID service every week.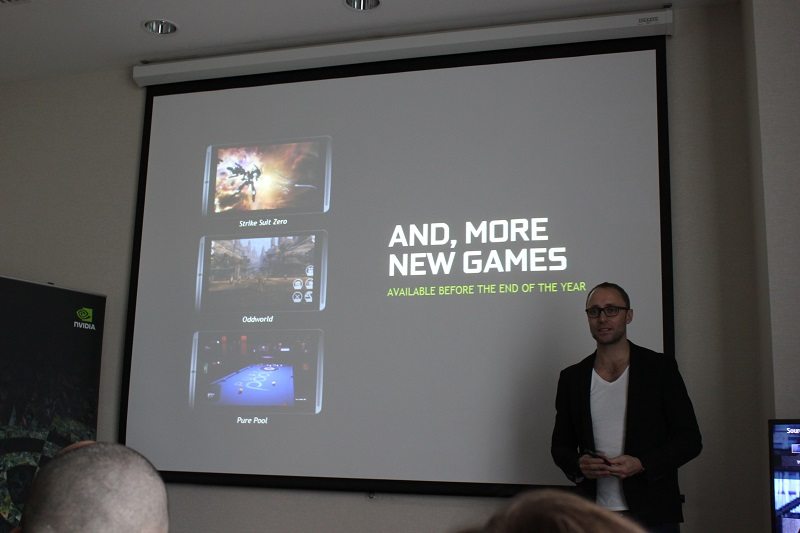 GRID will stream games at 720p resolutions at 60 frames per second; of course this will also depend on the quality of your internet connection.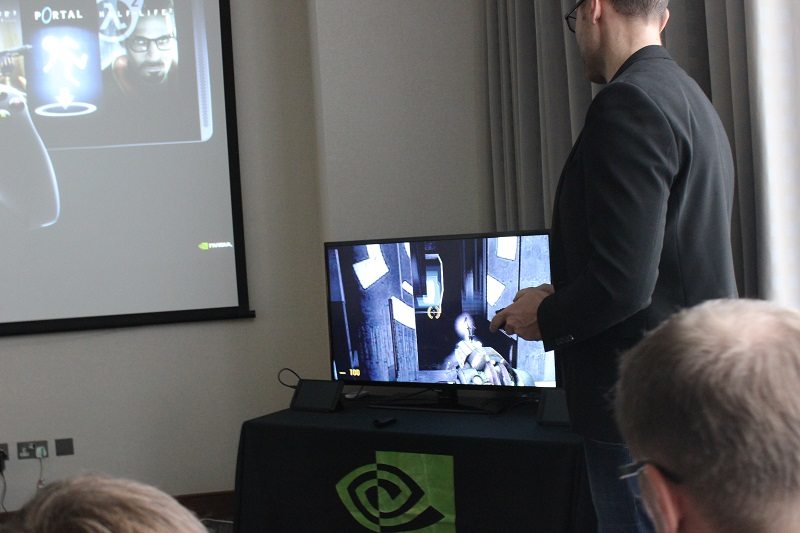 That's everything we know about GRID right now, but we will bring you further updates as soon as we have them.