Nvidia GTX 780 Ti 3GB Graphics Card Review
---
---
---
Ryan Martin / 9 years ago
Introduction
---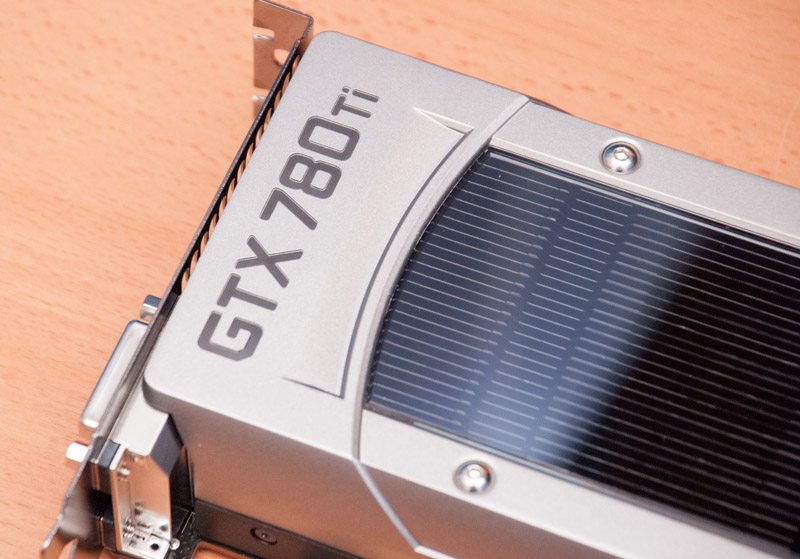 Nvidia's GTX 780 Ti graphics card popped up unexpectedly by Nvidia's normal standards of meticulous planning, very much in a similar way to the arrival of the GTX 650 Ti Boost. The GTX 780 Ti was announced around the buzz of AMD's R9 290X graphics card release, as a direct response, much like the GTX 650 Ti Boost was released at short notice to fend off competition from the HD 7790. The GTX 780 Ti we have here today certainly isn't a modest GPU by any stretch of the imagination with Nvidia boldly claiming the title of "the fastest GPU in the world". Let's be frank though, for a price of $699, compared to the $549 AMD charges for its R9 290X, you'd certainly hope that the GTX 780 Ti was the fastest GPU in the world because you are paying top dollar for it – 27% more by my calculations. Nvidia's GTX 780 Ti is hoping to encapsulate all the latest cutting edge features and technologies from Nvidia including GPU Boost 2.0, G-Sync support, 4K capability, GeForce experience, the GameWorks program, Nvidia ShadowPlay and much more.
First let's start off with the raw specifications and straight away we can see the GTX 780 Ti is set to be a stronger performer than the GTX Titan. It features more of everything with the entire GK110 GPU enabled – yes that's right every single SMX unit on the GK110 die is enabled allowing for the maximum 2880 CUDA cores giving the GTX 780 Ti some crazy performance potential. It also boasts higher clocks than the GTX Titan and so we can expect to see it be a much stronger performer than the GTX Titan, the only reason you'd buy a GTX Titan now is because it is the only consumer grade graphics card that comes with 6GB of VRAM as standard – that said you can pick up 6GB versions of AMD's HD 7970/ R9 280X (like Sapphire's Toxic variant) but of course the HD 7970 has nowhere near the power of the GTX Titan or the GTX 780 Ti. Looking back at speculation we saw earlier this year the GTX 780 Ti is essentially the GTX Titan Ultra that everyone was expecting to see.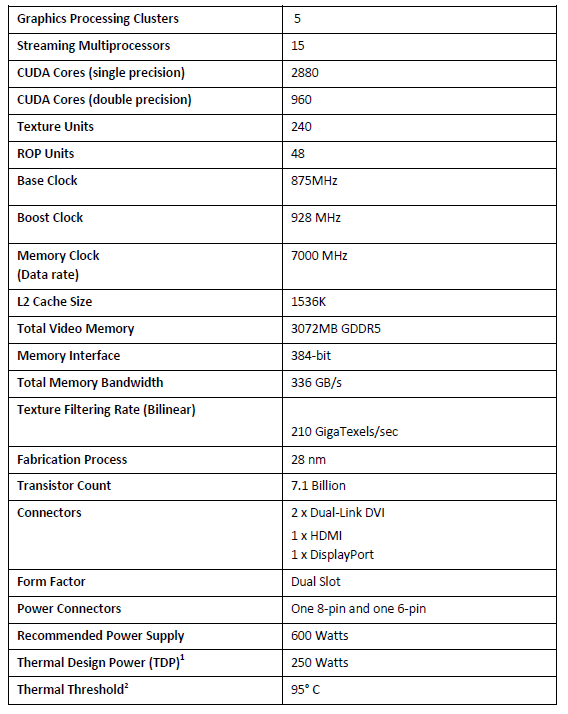 Just to recap those specifications again with a little look in GPU-Z and you can see 2880 shaders, 336 GB/s of memory bandwidth, 48 ROPs, 240 TMUs, 3GB of GDDR5 across a 384 bit memory interface, a 42 GPixel/s fill rate and a 210.2 GTexel/s fill rate.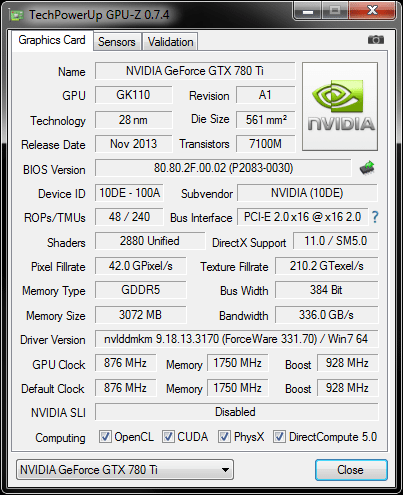 Just in case you needed to see those figures again but with some added "marketing spice", here you can see it all below. Those 2880 CUDA cores equate to 25% more than the GTX 780.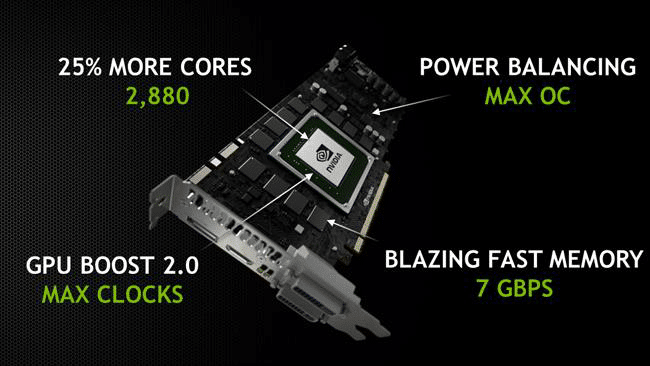 Like AMD's "Gaming Evolved" program Nvidia's answer to that is its "GameWorks" program which includes some top tier titles like Assassin's Creed IV Black Flag and Call of Duty Ghosts.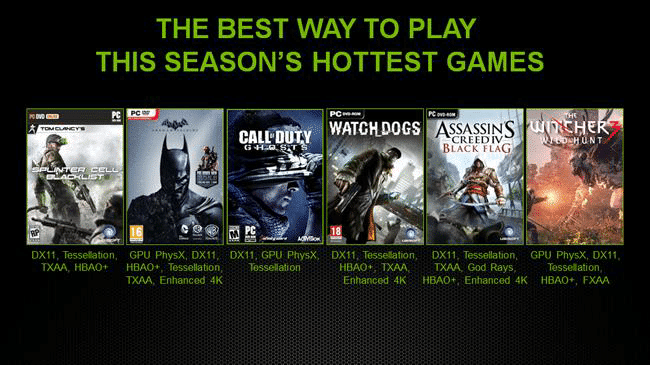 Nvidia is continuing to push its GeForce experience which is being revamped daily as Nvidia's software engineers improve the software with a wider range of hardware settings and new games that automatically optimise for your particular hardware configuration.
Nvidia are also pushing their rather unique Shadow Play feature which uses the built-in H.264 video encoder in the Kepler GPU to record 1080p footage at 60 frames per second.