Nvidia ShadowPlay Gameplay Recording Software Review
---
---
---
Ryan Martin / 10 years ago
Introduction, Overview and Features
---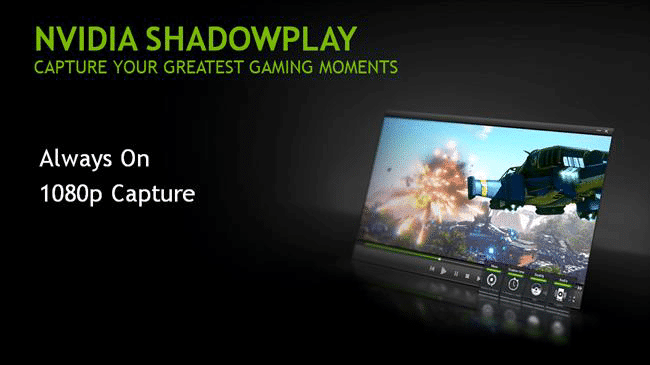 We don't often take a look at software when it comes to graphics cards but Nvidia latest (beta) software is something quite unique. They've attempted to integrate functionality that gamers use a lot, that of recording their in-game footage, and make it not only free for their customers to use but also incredibly easy to use and access. Enter Nvidia ShadowPlay which is Nvidia's (relatively) new beta software that utilises a built in H.264 hardware encoder on the Kepler GPU. ShadowPlay is part of Nvidia's free GeForce Experience software and it is supported on the GTX 650 desktop graphics card or higher.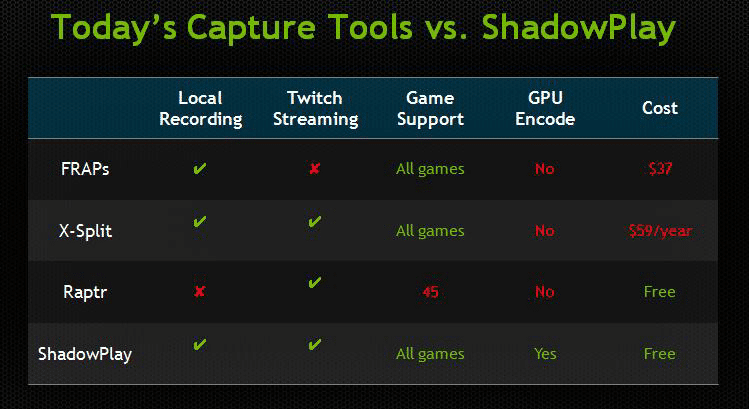 Nvidia's ShadowPlay aims to beat its major rivals by not only offering a fuller suite of features, but also by taking advantage of GPU encoding that is dramatically more efficient than traditional forms of game recording. ShadowPlay supports local recording via GPU encoding, it supports all Direct X 9, 10 and 11 GPUs and is bringing Twitch Streaming support in the near future. Best of all it is "free", of course you have to buy a GTX 650 or better desktop graphics card but once you have that it doesn't cost you a thing.
Features
Powered by Kepler's dedicated hardware H.264 video encoder

Records up to the last 20 minutes of gameplay in Shadow Mode (10 minutes in Windows 7 With the GeForce Experience 1.8 Update you can now do 20 minutes in Windows 7 like in Windows 8)
Records unlimited length video in Manual Mode (Up to 3.8GB in Windows 7 With the GeForce Experience 1.8 Update you can now record unlimited length video like in Windows 8)

Outputs 1080p at up to 50 Mbps

Results in minimal performance impact (less than 10%)

GeForce GTX 650 or higher 

desktop GPU

 required (

notebook GPUs

 are not supported at this time)
As the features suggest the ShadowPlay software is more versatile on Windows 8 than Windows 7, something gamers should consider before brushing off Windows 8, it does offer some advantages. That said on Windows 7 it still allows you to record enough in-game footage to make decent length clips, or live stream continuously.
[youtube]http://www.youtube.com/watch?v=Lyy3ZijLJ0s[/youtube]