NZXT Avatar S Gaming Mouse Review
---
---
---
Luke Hill / 12 years ago

If we asked you to name a target category for NZXT products, peripherals would probably be the last section on your list. Recent diversion into new markets by NZXT has changed things though. They are very quickly becoming a diverse brand looking to match their newer attempts in other product categories with the amazing name they have built themselves mainly through their cases. Today we have one of their latest releases, a mouse, the NZXT Avatar S to be precise.

The Avatar S in one of very few diversions into producing and designing mice for NZXT. It aims to build on the massive success that came with their last outing into this field via the very popular "Avatar". Feature wise, the Avatar S is pretty impressive. A 1600 DPI laser sensor with 400/800/1600 DPI settings is present. Match that with the polling rate of up to 1000Hz, tracking speed of 30 inches per second and acceleration up to 20G and it makes for a mouse that looks to offer awesome gaming performance. The aesthetics of the mouse are sure to attract positive attention with it being available in 2 colours, a very attractive white with sleek black ascents and a professional looking matte black with piano black ascents. Both colours will look amazing on any desk, but today we will be looking at the white version.

So have NZXT done themselves justice with their second entry into the mouse market? Or have they made a mistake with the Avatar S?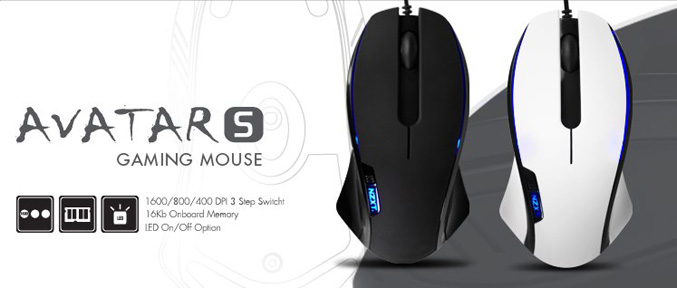 Features

Precision and Flexibility: 1600 DPI laser sensor with 1600/800/400 DPI settings out of the box
Tracking speed of 30 inches per second and acceleration up to 20G
Hardware DPI switch allows for driver-less DPI switch while in game without the hassle of drivers
16Kb Onboard Memory stores 1 profile of macros, dpi settings, and LED settings for gaming on-the-go
Narrow and medium size ideal for users that prefer a thinner and lower profile form
Ambidextrous design ideal for both left and right handed users
LED on/off settings
Teflon feet for effortless gliding on any surface
5 Key programmable mouse
Immense customizability: Ability to modify default DPI settings individually, setup in-game macros, media keys, and X-Y sensitivity options
Polling rate of 1000Hz
Specifications

[TABLE=class: grid, width: 100%]
[TR]
[TD]Max Speed[/TD]
[TD]30 inches per second[/TD]
[/TR]
[TR]
[TD]Max Acceleration[/TD]
[TD]20g[/TD]
[/TR]
[TR]
[TD]Resolution[/TD]
[TD]400-1600 DPI (with 3 step DPI switch)[/TD]
[/TR]
[TR]
[TD]Buttons[/TD]
[TD]5 Buttons[/TD]
[/TR]
[TR]
[TD]Onboard Memory[/TD]
[TD]16Kb[/TD]
[/TR]
[/TABLE]