OCZ Launches RevoDrive 350 PCIe SSD
---
---
---
Chris Hadley / 7 years ago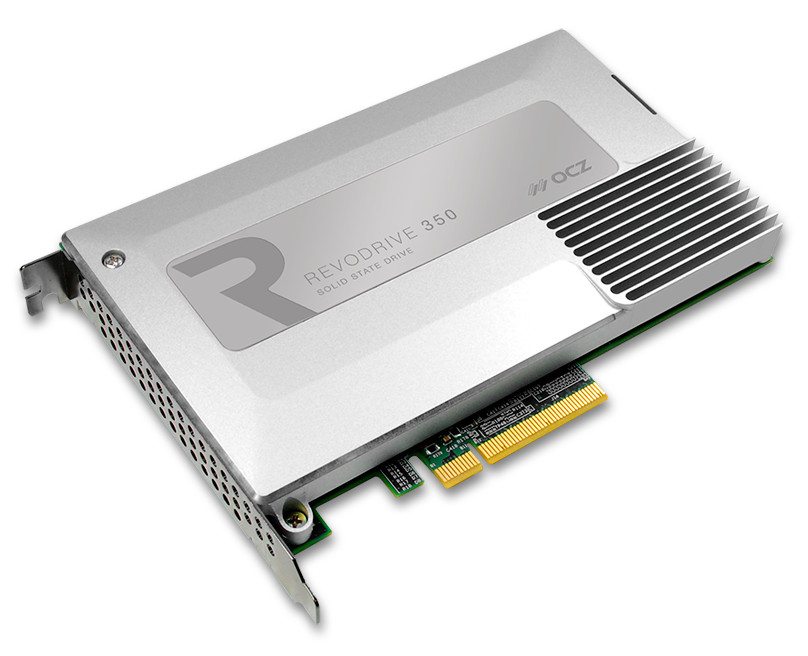 OCZ's RevoDrive line of SSDs have been at the forefront of the enthusiast market for quite some time now and with M.2 drives starting to push past the limits of the SATA specification, OCZ have announced the released of their latest pure PCI Express SSD; the RevoDrive 350.
Built to run through the PCIe Gen 2.0 x8 interface, the 350 offers up to 960GB of raw storage space with sequential speeds of up to 1.8GB/s within reach along with IOPs of up to 140,000 4K random write. To achieve these phenomenal speeds, the 350 play's host to up to four LSI SF-2282 controllers and a spread of Toshiba's 19nm NAND following their acquisition not too long ago.
Unlike previous generations of the RevoDrive and OCZ's other PCI Express based drives, the 350 is built to target a wide-spread of market, ranging from the enthusiast gamer right up to the enterprise market where IOPs and drive longevity is key.
In addition the RevoDrive 350 will only appear as a single drive to the host system rather than multiple drives as seen previously. This is made possible through a new proprietary system known as Virtualised Controller Architecture (VCA) 2.0. In effect this will blend together the multiple controllers to provide greater performance to the system whilst using fewer resources – much like having four cores in a desktop processor.
OCZ's Senior VP Daryl Lang stated; "The new RevoDrive 350 is built using proven technology with the added benefit of utilizing in-house premium Toshiba flash and OCZ's proprietary Virtualized Controller Architecture (VCA) 2.0 to deliver highly efficient performance aggregation while reducing the burden on host resources.  This next generation PCIe SSD is the ideal solution for performance-minded users looking to maximize both bandwidth and density for the complete gamut of gaming, content creation and workstation applications."
With its sleek new design and superior performance figures, the 350 certainly looks the part and on paper it sounds great, we'll just have to wait a little longer to see what the cost will be and when they will be available. We know historically that the RevoDrive has included a strong price tag, but with the price of NAND coming down in addition to being produced in-house, we could potentially see a more desirable price tag when the drive arrives on the shelves.
Source: Press Release