Oscar-Shortlisted Documentary Heads To BitTorrent For Promotion
---
---
---
Peter Donnell / 7 years ago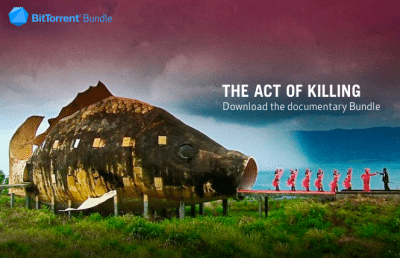 When people here the words "BitTorrent" they typically think of piracy, and for a big proportion of all the news that surrounds the software, most people would be right in their assumptions. However, there are millions of perfectly legal files that get shared on BitTorrent networks, and (some) publishers see it as an open way to reach a very wide audience relatively quickly.
Now Drafthouse Films and the co-directors of the documentary The Act Of Killing will join forces with BitTorrent as part of a BitTorrent Bundle to promote the iTunes release of the director's cut as they want their film to reach a wide audience without the fear of censorship.
The Act of Killing bundle will include:
VICE Presents: Werner Herzog and Errol Morris on The Act of Killing[Video]
Democracy Now! Joshua Oppenheimer Interview [Video]
Essay: Errol Morris on The Act of Killing [PDF]
Essay: Indonesia on the impact of The Act of Killing, TEMPO Magazine [PDF]
The Act of Killing Stills [Photographs]
The Act of Killing Trailer [Video]
"The Act of Killing has an important message," said Drafthouse Films Creative Director Evan Husney in an email. "Our goal is to reach as many people as possible — to preserve this film as a documentary, and as a testament to what happened in Indonesia. BitTorrent Bundle allows us to address a global audience of more than 170 million: to ensure that awareness of the film's message reaches beyond the Internet's censors and firewalls."
It's the first time that BitTorrent have worked with Drafthouse, and it is certainly the first time BitTorrent bundles have been used to promote an Oscar shortlisted film. It's just another step towards the company loosing its piracy image, it worked for Napster (sort of), perhaps the future of BitTorrent really could be a proper content distribution platform.
Thank you Tech Crunch for providing us with this information.
Image courtesy of Tech Crunch.