Overclockers Black Friday Deals Reveal Excellent AMD Offers!
---
---
---
Mike Sanders / 4 years ago

Overclockers Black Friday Deals Reveal Excellent AMD Offers!
While Black Friday may not have officially arrived yet, that certainly doesn't stop many of the major retailers looking to get in on the action early. In this regard, Overclockers has often proven to provide some excellent deals across a wide range of PC components and peripherals.
This years sale is certainly no exception. We have, however, picked out some of the best deals we have found that could possibly tempt you and your wallet!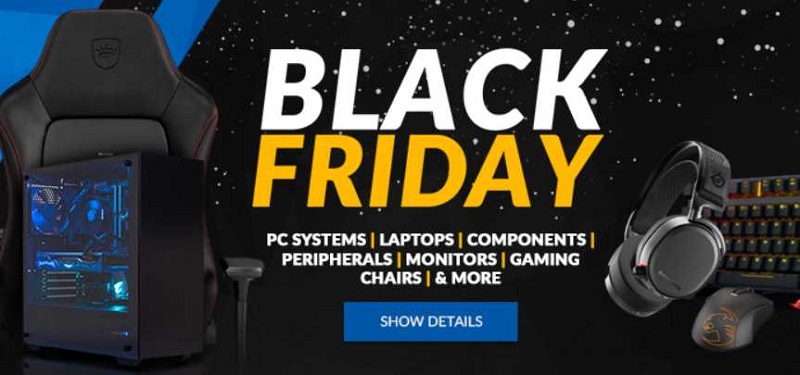 AMD Graphics Cards
Ok, so addressing the elephant in the room with this point, in terms of high-end performance, there are few AMD graphics cards that can truly compete with Nvidia. For those of you who are perhaps looking to get into PC gaming or are after an inexpensive upgrade though, there are some amazingly GPU deals on offer.
With Vega 56/64 cards available for around £340-£450 you are getting perhaps the best that AMD has to offer. On the other end of the spectrum, the RX 570 is available for as little as £169.99-£199.99.
Better still, many of these graphics cards come with the recent AMD gaming bundle. This includes Resident Evil 2 (remake), Devil May Cry 5 and The Division 2. Yes, for around £170 you can get a brand new graphics card and all of these games free!
Without the games, the sale is decent. With them, even I'm tempted to get an RX 570 and I don't even need a GPU at the moment!
We should note that Nvidia sales are also available, for example, a Nvidia 1070ti is currently on sale for less than £400 (which is very good). On the whole, though, AMD has the better deals on offer here!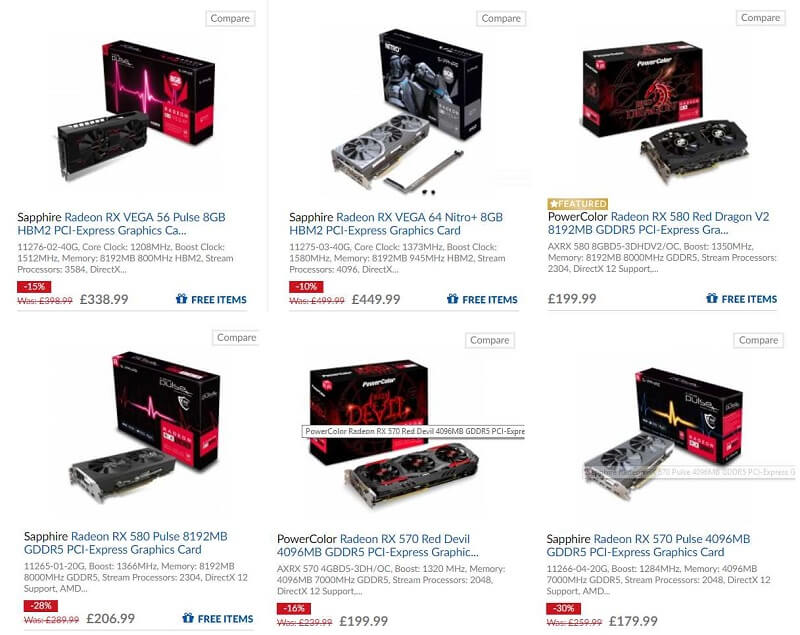 Processors!
Given that the Intel i9-9900k only released a few weeks ago, it's surprising to see it on sale so early and at such a decent discount. For those looking for the fastest gaming processor on the market, getting it for less than £550.00 is certainly not a bad deal. Additionally, if you're a little tighter on the budget, there are some excellent i5 and i7 processors that are still excellent performers.
Are you looking for something a little more frugal? Then the AMD Ryzen 5 2600 is a great option. It has proven itself to be a powerful (and inexpensive) processor. For £149.99, you'd struggle to find more bang for your buck.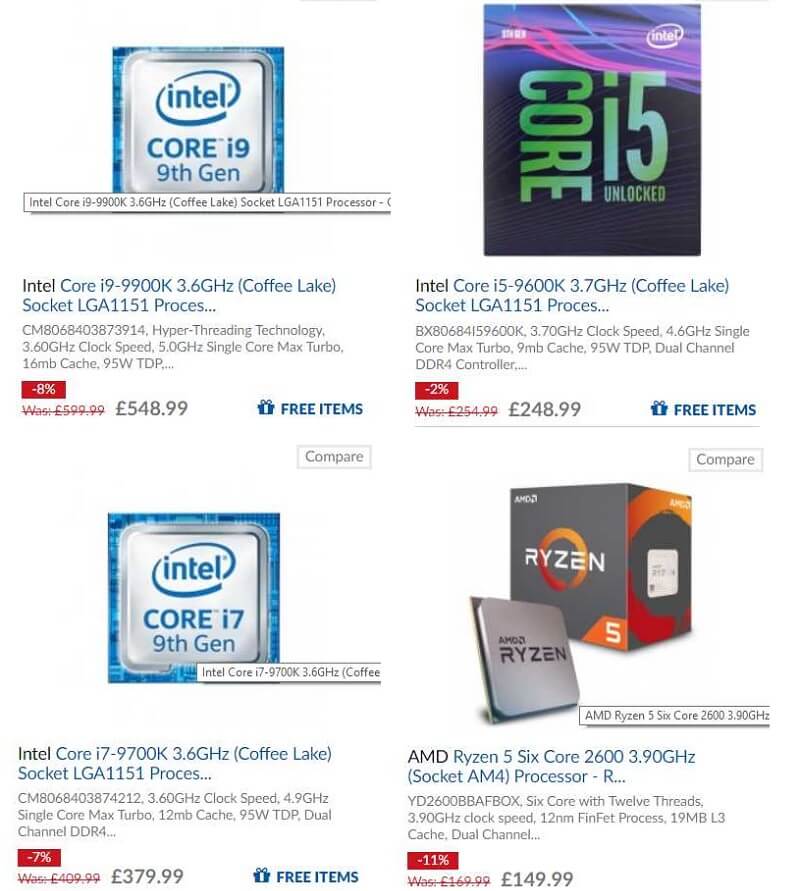 Storage And RAM
If there's one thing patently obvious to any PC enthusiasts over the last 2 years, it's that RAM prices have gotten rather ridiculous. Really ridiculous. Overclockers do, however, have some nice RAM deals. For example, a Vulkan T-Force 16GB kit (3000MHz) for less than £100 is very good. Particularly based on current prices.
In terms of storage, the Samsung 970 EVO is, without a doubt, one of the most highly rated M.2 NVMe drives out there. It might only be a 250GB capacity, but trust us, this will run lighting fast!

Bundle Deals!
Finally, for those of you looking to build a new PC (perhaps for the first time), Overclockers have a fantastic AMD Ryzen based system bundle for sale. Featuring a Ryzen 5 2600 processor, an ASUS motherboard, 8-16GB of RAM and also a free solid state drive, this will provide you with (almost) everything you need in terms of a core PC build. Essentially, all you need to finish a system is a power supply and chassis. They certainly have plenty of good deals on in these regards too.
What Do You Think?
As above, Overclockers never fail to impress us during their Black Friday sales. They have provided a good mix this year of processors and graphics cards. In addition, good deals can be found for many other PC related components and peripherals. In brief, their sale should satisfy almost any need/requirement you have.
If you are interested in checking out these offers (or any others), visit their Black Friday sales page on the link here!
What do you think? Which is your pick of the deals? Planning on buying anything? – Let us know in the comments!