OWC Announces Redesigned Mercury Elite Pro Dual
---
---
---
John Williamson / 6 years ago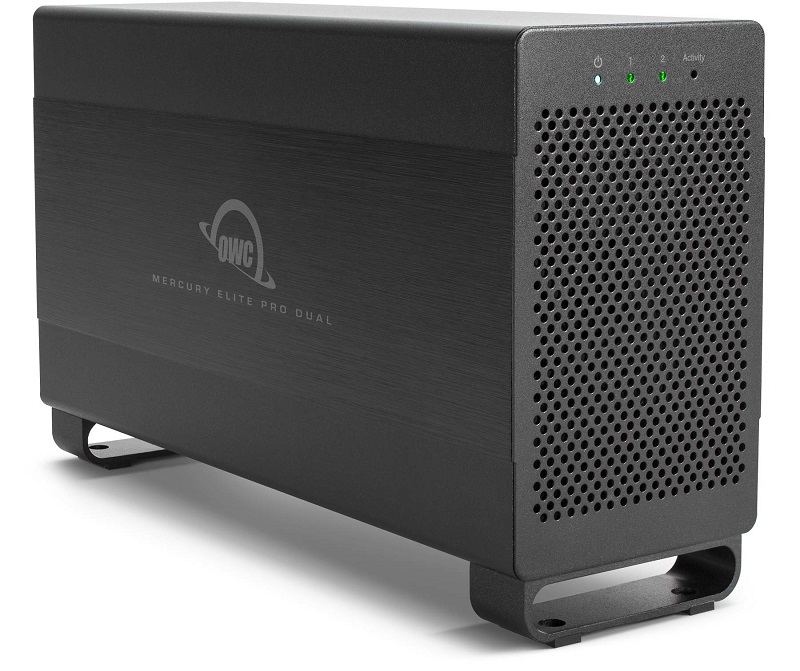 OWC specialises in zero-emissions hardware products and tends to unleash storage options for Mac and PC. Recently, the company unveiled the Memory Elite Pro Dual which is RAID solution pairing together two disk drives to provide exemplary performance. According to OWC, the product offers read speeds up to 474MB/s and comes in capacities up to 20TB. Additionally, you can select between RAID0 and RAID1 modes. The Memory Elite Pro Dual has a reinforced aluminium enclosure with a new quieter fan and advanced airflow design to improve longevity.
Larry O'Connor, CEO of OWC said:
"The Mercury Elite Pro Dual has long been a go-to solution for creative professionals who need flexibility without sacrificing performance,"

"With the addition of Thunderbolt 2 Technology and a new, cooler, quieter design, the Mercury Elite Pro Dual is built to handle demanding workflows, providing peace of mind so you can focus on creating your next masterpiece."
Faster. Quieter. Rugged.
The redesigned Mercury Elite Pro Dual includes a larger, quieter fan and a vented back plane, designed to provide increased airflow and better cooling for the overall health of the unit. The elegant, brushed aluminium enclosure provides rugged protection, designed to withstand demanding environments and persistent travel. Configurable in RAID 0, 1, span, or independent modes via an easy-to-use selector switch, the Mercury Elite Pro Dual is ideal for creative professionals who need fast access to their data with an option for redundancy.
Versatility for Professionals
Two Thunderbolt 2 ports and a USB 3.1 Gen 1 port provide excellent speed and compatibility for connecting to virtually any Mac or PC. The two Thunderbolt 2 ports provide the capability to daisy-chain up to five additional devices including peripherals like additional storage, displays, video devices, and expansion hubs.
Highlights
Redesigned aluminum enclosure for cooler, quieter operation
Thunderbolt 2 and USB 3.1 Gen 1 Connectivity
Read: Up to 474 MB/s
Write: Up to 474 MB/s
Up to 20TB capacity
Dual-drive hardware RAID 0, 1, span, and independent modes
Daisy-chain up to 6 devices
Includes Thunderbolt and USB cables
Three-year OWC Limited Warranty