piXL 24″ LED IPS Dual Monitor Bundle Review
---
---
---
Peter Donnell / 1 year ago
Why choose one monitor for your new workspace when you can have two! While we typically favour the larger gaming monitors here at eTeknix, because they're a lot of fun in so many ways, this new bundle from piXL really caught our attention. It comes with two 24″ IPS Full HD monitors, as well as a double monitor arm as parts of a bundle. However, I should point out that all these parts can be purchased separately. However, while you may be thinking 24″ is too small and Full HD isn't enough, how about I tell you this entire bundle is roughly £200… yeah, that got your attention, didn't it.
2 X piXL 24″ IPS Full HD Frameless Monitors with piXL Double Monitor Arm Bundle
I've worked from home for a long time now, but obviously, a lot more people are only just making the switch. Setting up an efficient workspace can be tricky, especially if space is at a premium. With both these monitors being a reasonable size, they can easily be placed on smaller desks and slimmer workspaces such as a small office cubical, a desk in your bedroom, under the stairs, in the back of a living room, etc. Furthermore, having them on a monitor arm means you free up all that space otherwise taken by the monitor stand. This means you can have more empty coffee cups, a few more notepads, and other junk kicking around. It also means you have room to push your keyboard to the back of the desk when you need writing space too; you get the idea.
As you can see, the monitors are decently equipped, offering an HDMI input, decent brightness levels, an IPS panel with an LED backlight. OK, not bleeding edge tech here, but certainly competent enough that we should see a decent picture and calibration on these.
Features
Model – CM24F32I
Screen Size – 24″
Panel Type – IPS
Resolution – 1920 x 1080 Full HD
Aspect Ratio – 16:9
Response Time – 5ms
Refresh Rate – 60 Hz
Colour Support – 16.7 million
Brightness – 250 cd/m
Backlight – LED
Stand – Tiltable
VESA – Yes 75 x 75 mm
Ports & Connectors – VGA & HDMI
Power – DC 12V 50-60Hz
For in-depth specifications, please visit the official product page here. Please note, Target is a distributor for the UK, and you'll find retail stock and prices by searching for your local hardware retailers.
What piXL Had to Say
"This bundle is an ideal setup for home workers, gamers and students, creating a large visual work area without cluttering your physical work area.

Thanks to its full HD IPS panel, the piXL CM24F32I 24″ monitor provides rich, true-to-life colours, deep blacks and crisp whites at virtually any angle (up to 178 degrees). It features a stylish, zero-frame design and 1920 x 1080 resolution that provides beautiful images, even from a distance.

With the benefits of HDMI, VGA and a 5ms response time, The piXL CM24F32I is unbelievable value for a true IPS screen with all the benefits of much more expensive IPS monitors at a more affordable price, for work, study, content creators and creatives.

The piXL CM24F32I also has a slim profile, only 2cm deep, and features VESA mount holes so you can remove the stand or connect it to monitor arms and wall brackets, freeing up space and keeping your work area tidy."
The Bundle
Oh, look at that, a dual monitor desktop clamp mount. Nice. This is a really nice quality mount. Just picking it up in the box, it's pretty damn heavy, though, so best make sure you've got a desk that can deal with the weight of it, plus the two monitors. There's just one little problem. I do NOT have a desk that can handle it. I have a stupid IKEA desk that looks great, but it's effectively hollow, and this clamp would snap it in half. So, I won't be using the included arm mount in my review. However, Andy will be taking these down to our YouTube studio/office, and we'll get them set up there in the coming weeks for your viewing pleasure.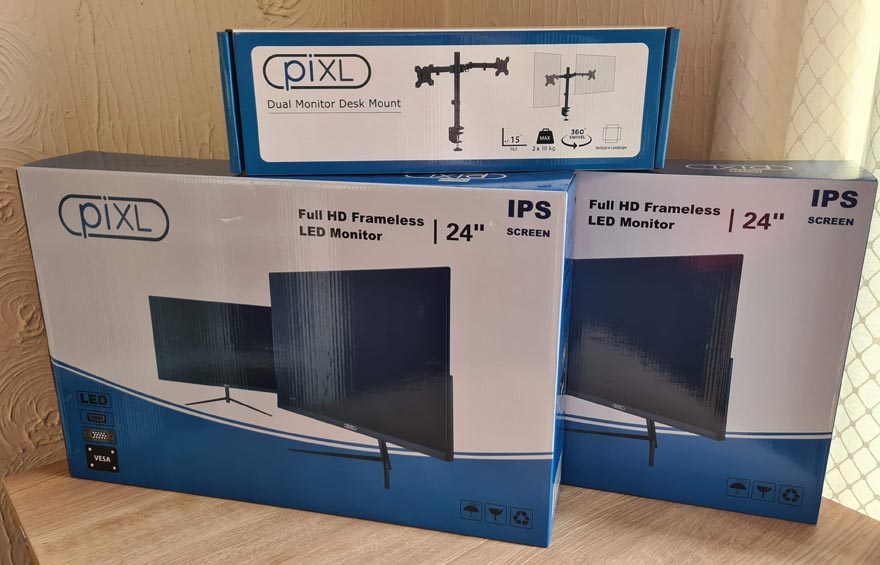 What's in the Box