Plextor M6 PRO 256GB Solid State Drive Review
---
---
---
Bohs Hansen / 8 years ago
Introduction
---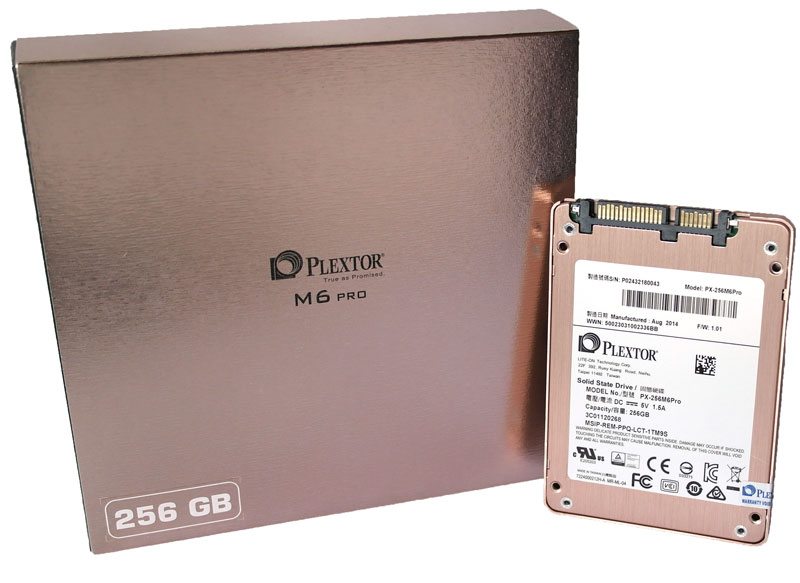 Plextor has been a big name in storage for as long as I can remember. In the past they were the crowned kings of optical drives and these days we see one great performing Solid State Drive (SSD) after another. We've tested several of them lately and today the time has come to the brand new Plextor M6 PRO 256GB SSD.
When you hold this drive in your hands, it becomes clear right away that this isn't your everyday SSD. The golden package is the first giveaway, including the the entire inside of the packaging. Plextor has clearly given it some thought on how to present this drive the best and at the same time pack all the accessories into the tiny box.
And there is a big package on accessories, everything we need. There is the obligatory small manual but also a installation guide for beginners on how to replace an existing hard drive with this new solid state drive. The 3½ inch adapter bracket is included and so are the 8 screws needed for this. We also get a driver and software disk and a small folder for support and VIP registration. Oh, and it even comes with an extra SATA cable to help when transferring files from your old drive. A true all in one package.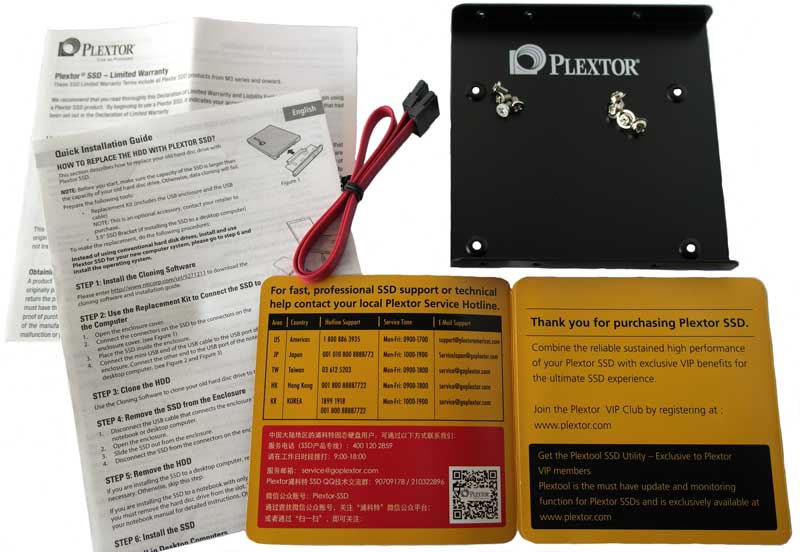 The Plextor M6 pro is using the new generation of Toshiba's A19 nm toogle NAND flash that we've already seen been very reliable in other tests. It is also packed with a lot of DRAM Cache, starting at 256MB for the 128GB drive and an entire 1024MB for the 1TB model. The gracious amount of RAM will surely prevent any bottlenecks between the controller and your data. To combine all this together, Plextor chose the latest Marvell multi-core controller and tinkered some with the firmware to get it all just right for them.
Speed isn't something the M6 PRO is afraid of either and all four drive models are rated for (up to) 545 MB/s read and 490 MB/s write speeds. Random read IOPS are the same for all four models as well at 100k read while write IOPS range from 82K to 88K.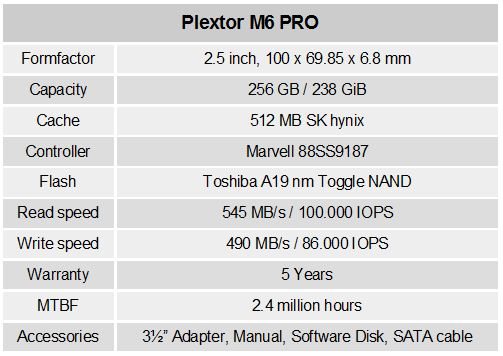 It wouldn't be a true Plextor drive if it didn't come with a row of exclusive technologies to boost the value of the drive even more. The first one is great cause it can safe you some money in the long run with it's DEVSLP mode. This mode allows the drive to go into an "ultra-low power sleep" mode that needs almost no power. Of course this is combined with a rapid wakeup feature so you as user won't notice any difference. Sure, SSD's don't use much power no matter what, but ever penny saved, and so forth.
Plextor TrueProtect is also included, a combination fo both 256.bit AES full-drive encryption and advanced multilayer error checking for full data protection. Next in line of features is the TrueSpeed. This Plextor technology keeps long-term SSD performance at a like-new level even after longer periods of use and when the drive is almost full.
PlexTurbo, the probably most awesome feature here, is a new intelligent caching mechanism Plextor is using on this drive, or rather allows you the option to use. The choice is still yours. By using some of your available system memory and it's caching technologies, it has the potential to speed up the transfers up to 10 times that of the SATA3 bus itself. Of course this feature won't be as useful in every situation, but I can guarantee you it's great. But it doesn't just boost up your performance, it also helps to prevent lost data during power loss and helps extend the life of your SSD.

The included Plextool software is also a great companion to this drive, offering up all the features and information we need in 7 panels. We can see our drive's status, health and SMART details. It also allows us to update the firmware and perform a secure format of the drive. A diagnostic scan is included as well, it will do both a small health scan as well as do a speed test. This is great to get a quick view on the drive's state. The final panel is the really interesting one on this drive, it gives us access to the PlexTurbo feature.
We see, this is a drive that promises a lot but also should have the hardware and features to back it all up. Plextor is just as sure about this and giving 5 years full warranty on it including comprehensive technical support and an international network of dealers and service centres. Each drive has had a full burn-in and usage simulation with the FLEXSTAR testing system to ensure that 100 percent of the drives are reliable and stable.
The M6 PRO is also the first SSD to survive Plextor's new ultra-strict enterprise-grade, zero error standard requiring 40 units to pass 1008 hours of extreme testing. Plextor also has the lowest annual failure rate in the market, and the M6 PRO promises a great 2.4 million hours of flawless work.