Plextor M8PeY 512GB PCIe NVMe SSD Review
---
---
---
Bohs Hansen / 6 years ago
Introduction
---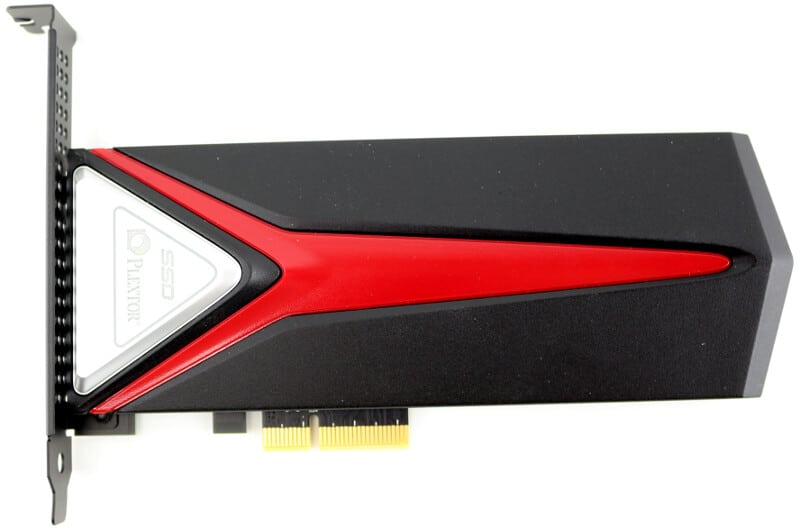 The time where we were limited by the SATA3 bus and its 600Mbps bandwidth limit is gone and history and while M.2 modules are the small and cool way to go, they aren't an option for everyone. This is where PCI-Express add-in cards come into play with their naturally higher compatibility with a wider range of systems. Today I'm taking a closer look at Plextor's latest offering in this sector – the M8PeY PCIe NVMe drive with 512GB capacity.
Plextor designed the M8Pe series of drives with gamers in mind as well as those who just want that extra bit of performance from their system. With a performance rating of up to 270K IOPS at read operations and 150K IOPS write operations along with sequential performance up to 2500MB/s reading and 1400MB/s writing, the drive can easily handle the most intense games that require heavy read and write operations from the drive and it might give you that extra advantage in competitive gaming such as eSports.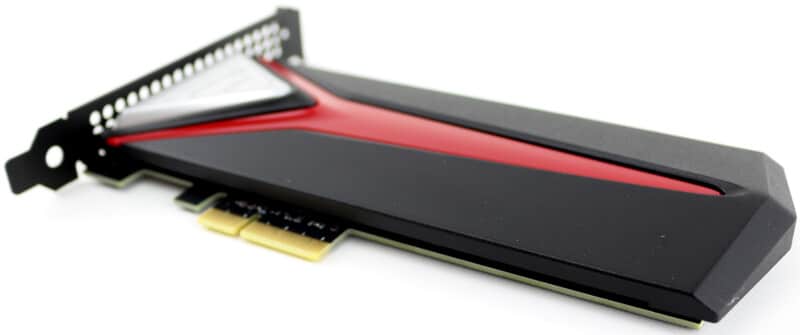 The Plextor M8PeY drives is a half-heigh, half-length (HHHL) drive which means that you easily can fit it into smaller and compact gaming systems as well as the full sized ones. It comes with included shield brackets for both type of setups, so no matter which you have, you are covered. All you need to have available is a PCI-Express x4 port.
It comes equipped with a large heatsink that helps the drive stay cool during the most intense and long gaming sessions and thereby prevent thermal throttling from the drive. After all, you wouldn't want your drive to stall at critical moments, nor will you want performance drops at any other time. The large heatsink doesn't just provide the drive with extra cooling, it also gives it a sleek and awesome look. Granted, design is a matter of taste and you can't satisfy everyone in that regard, but I love what Plextor have done here. It is simplistic but effective and it will give your system some extra style with its sandblasted and black'n'red coloured aluminium housing.

The design is continued all the way through the drive, from the rear shield bracket that's filled with air vents to the PCB which is also black to match the rest of the design. However, the design of Plextor's M8PeY isn't purely for passive purposes. It also features a set of built-in LEDs. The white area on the front of the drive is used as a power light while the red arrowed stripe on the top is used as access light.

But enough talk about all the design aspects, let us talk a bit more about the specifications and hardware. After all, this is a storage drive and not a piece of art. The drive is built with the Marvell 88SS1093 controller and 15nm Toshiba Toggle MLC NAND as well as 512MB LPDDR3 cache (1024MB for the 1TB model).
The performance varies a little depending on the capacity, but all four available sizes of this drive perform great. The 512GB version that I'm reviewing today has a speed rating of 2300MB/s and 1300MB/s sequential and 260K/250K IOPS random. That's a lot more than we're used to from the legacy SATA3 interface and shows what NVMe truly can do.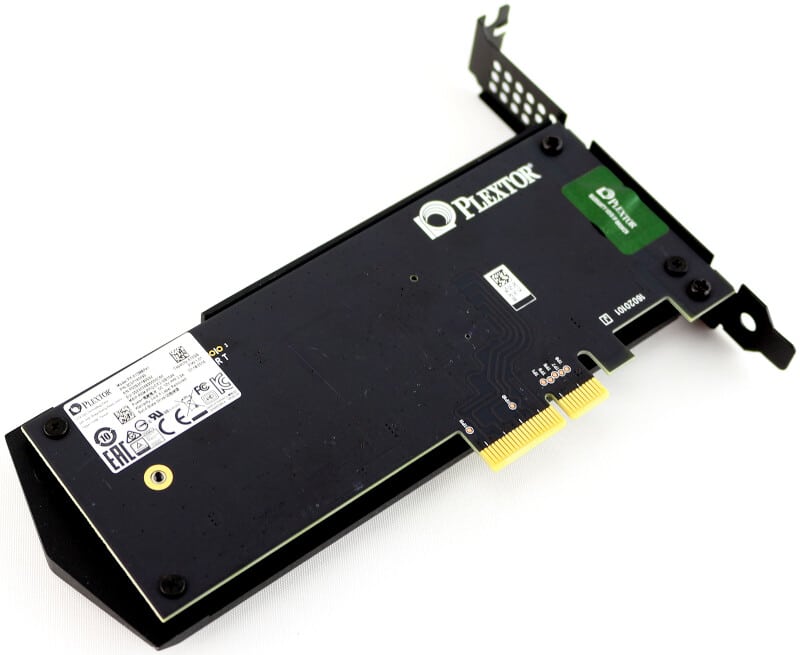 All Plextor SSDs pass rigorous inspections with the most advanced SSD testing equipment in the world; not a single error or fault is allowed (Zero Error) in order to provide users with the highest level of quality and stability. The M8Pe series offers an MTBF of up to 2.4 million hours. It has gone through 100% burn-in, 48 hours sustained read and write test, 4000 times idle tests with sleep and hibernation, 250 times power cycle with cold and warm boot, and a 1008 hours zero-error testing.
Feature wise, it comes with the basics such as TRIM, S.M.A.R.T, IO queue, and NVMe command, but it also comes with some more advanced feature. TrueSpeed technology keeps long-term SSD performance at like-new speeds after periods of use and when the SSD is nearly full. TrueProtect technology is a multi-layered error checking mechanism automatically executed by firmware. By employing the error-correcting capability of ECC, it can correct up to 128 bits of random errors; in conjunction with the Plexor-exclusive real-time debugging mechanism and the self-testing capability of Flash, TrueProtect keeps data access error-free. Last but not least, it also features LDPC technology for data accuracy and reliability.
Feature Highlights
Data Accuracy through LDPC technology
Advanced Endurance with 2.4 million hours MTBF
Lasting Performance with TrueSpeed technology
Heat Resistant
Energy Resistant
Gaming style design
Shock and Vibration proof
Silent operation
Data Integrity through 128-bit ECCs and Robust Data Hold-out Algorithm.
Specifications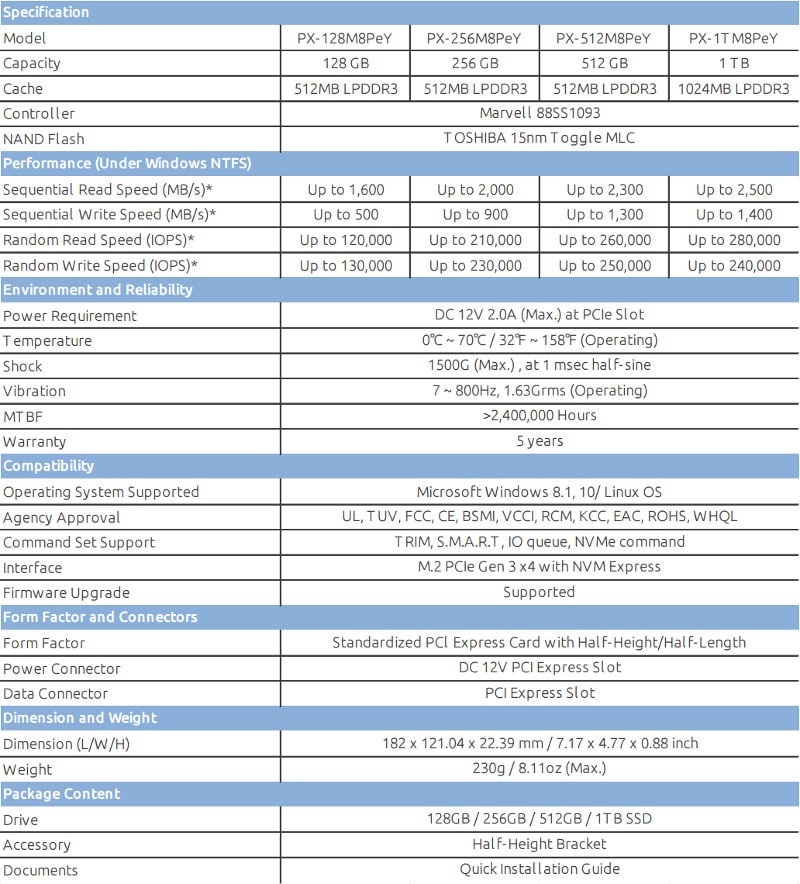 Package and Accessories
The Plextor M8PeY comes in a package that resembles the design of the drive itself and it looks just as good.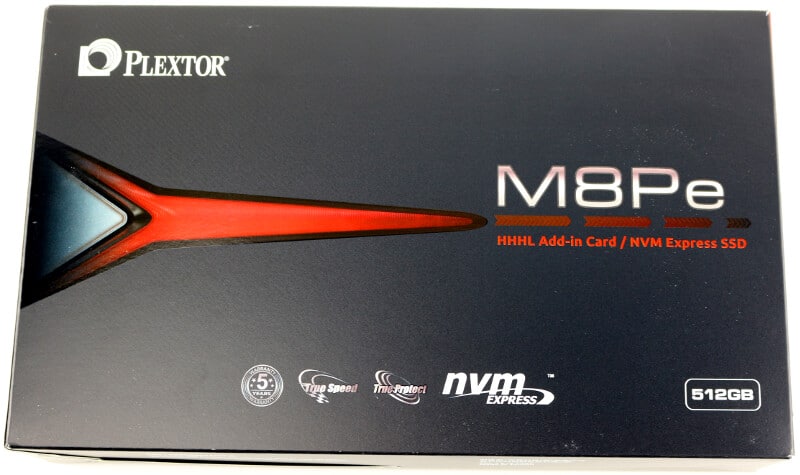 The rear of the box features all the relevant details such as specifications, ratings, and content.
Inside the outer shell is a more simple plain cardboard box that contains all the goodies.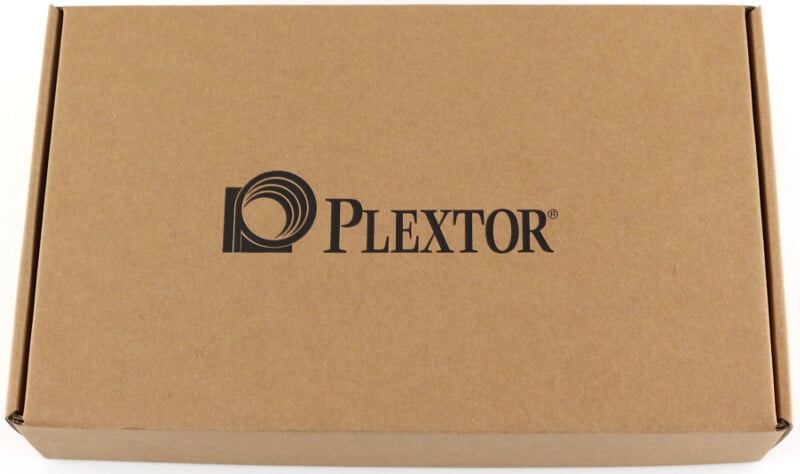 We find the drive itself inside that box, along with a VIP card, a quick installation guide, a low profile replacement bracket for use in SFF systems, and a mounting screw should your case have lost its own.