Powercolor Planning 8GB "Dual Core" R9 290X Devil 13 Graphics Card
---
---
---
Ryan Martin / 7 years ago

Powercolor have recently made it known they are working on their own dual GPU R9 290X graphics card. From what we can see Powercolor are choosing to opt for the "Dual Core R9 290X" moniker instead of the "R9 295X2" moniker, probably because AMD have quite specific requirements of what an R9 295X2 GPU must be like – maybe it requires water cooling as standard? Powercolor's variant gets the Devil 13 treatment which means it will use Powercolor's own special air cooling solution featuring their patented double bladed fans and their Turbo Timer device which ensures the fans spin for a short period of time after the card shuts down to ensure better cooling.

The two fully fledged R9 290X GPUs will be powered by a 15 phase power delivery system based on PowerIRstages, Super Caps and Ferrite Core Chokes. The cooling solution has three double bladed fans blowing down onto a dense aluminium heatsink with 10 heat pipes and a huge triple slot width. Powercolor have added red LED backlighting for the Devil 13 logo as well as a dual BIOS system and four PCIe 8 pin connectors instead of the two PCIe 8 pin connectors used on the AMD R9 295X2 reference design card. Powercolor are also sprucing up the bundle package offering a Razer Ouroboros gaming mouse with every graphics card sold.

From what we can see this Powercolor Dual Core R9 290X Devil 13 graphics card is an air-cooled R9 295X2 with slightly lower clock speeds of 1000MHz instead of 1018MHz – the memory remains untouched. It also has the advantage of having four PCIe 8 pins. Expect pricing to be similar to the R9 295X2 in that $1500 region, especially considering Powercolor bundle a $150 gaming mouse with it.

More details will be released by Powercolor during Computex 2014.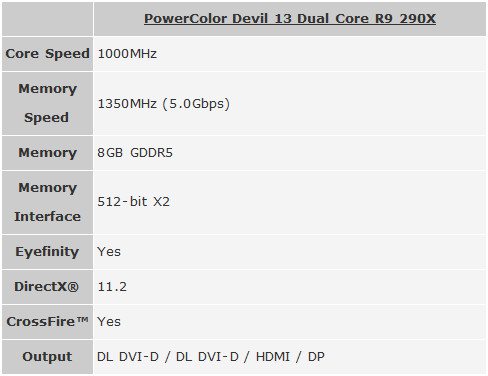 Source: Powercolor
Images courtesy of Powercolor