PowerColor Radeon HD 7730 1GB Graphics Card Review
---
---
---
Ryan Martin / 9 years ago
Introduction
---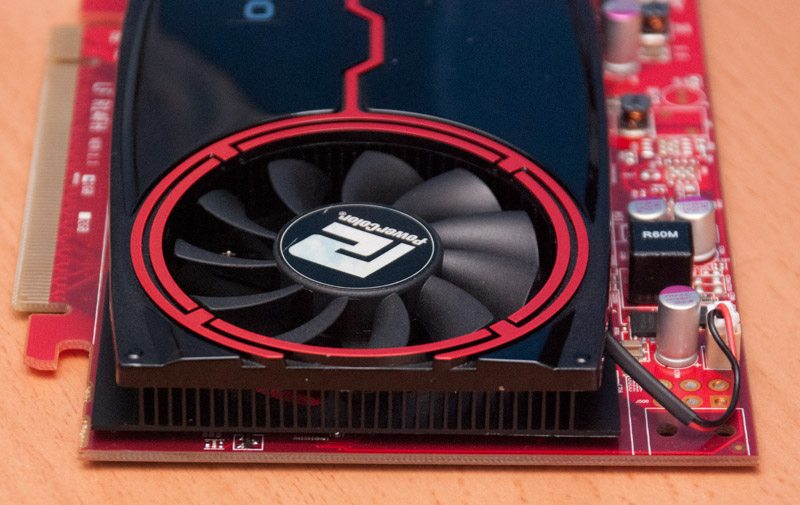 We've been tracking AMD's HD 7730 for quite some time and now it is finally upon us. AMD's HD 7730 GPU is a cut-down version of the HD 7750 GPU and it uses a special Cape Verde LE GPU. This Cape Verde LE GPU is essentially a HD 7750 with two compute units out of eight switched off. This means the HD 7730 has 384 stream processors, 6 compute units, 24 texture units and 16 ROP units. It runs with default clocks of 800MHz on the core and 4.5GHz effective on the VRAM which is available in either 1GB of GDDR5 or 2GB of DDR3, note the 2GB DDR3 model runs at an effective memory speed of 1.8GHz. We have the 1GB GDDR5 model which despite having less frame buffer is much faster than the DDR3 equivalent because of the significantly greater memory bandwidth.
The HD 7730 is interesting because it features 384 GCN cores, much like the highest spec AMD Kaveri APU will feature when it comes out next year. So while this is a HD 7730 review, you should be able to get an idea of Kaveri's GPU performance based on this. Notably of the A10-7800K, if AMD follow the same naming pattern, as the A10-7800K will feature 384 GCN cores. The model we have here today is branded Powercolor but its pretty much as close to a reference design as you're going to get and will be one of the cheapest HD 7730s on the market. The HD 7730 will be priced in between the HD 6670 and the HD 7750. In the longer term it will phase out the ageing HD 6670. This card is totally powered by the motherboard and has a rated TDP of just 45W.
The front of the box points out the key features – GCN, Direct X 11.1, PCIe 3.0 and 1GB of GDDR5.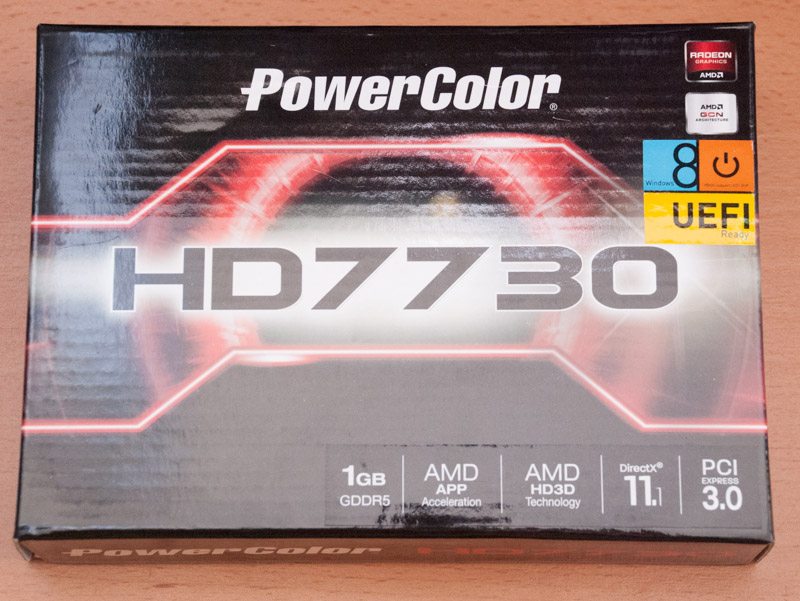 The back goes into a bit more detail and we can see the card uses a 128 bit memory interface.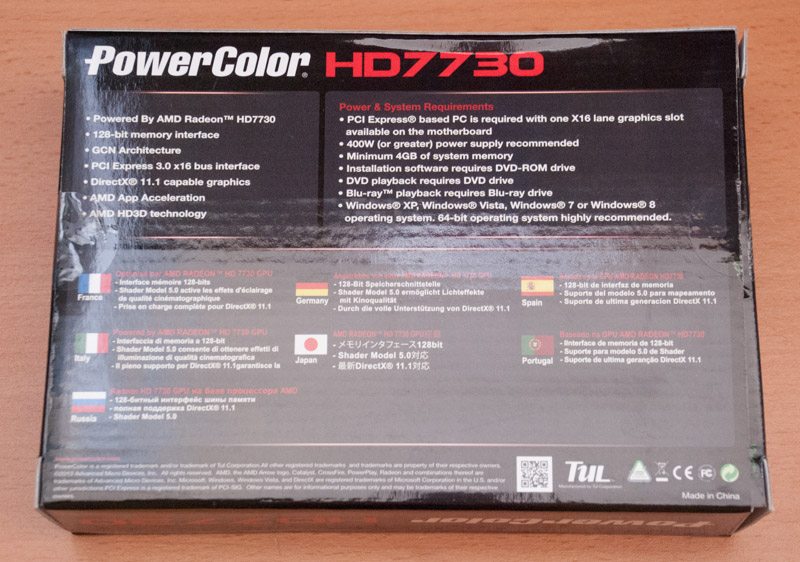 Included with the card is a very basic package, a quick install guide, a driver disc and a DVI to VGA adapter. While many may say DVI to VGA adapters are useless, I disagree at this price-point they are essential as a lot of people may still be using old VGA monitors and this card has no VGA outputs.