PSN Store 'Golden Week Sale' Discounts Over 700 Gaming Titles!
---
---
---
Mike Sanders / 1 year ago

In the grand scheme of things, PC gamers often have the luxury of sales, tempting them to make a few compulsive gaming purchases. If you are, however, a PS4 or PS5 owner (and we suspect more than a few of you are), then you're perhaps going to want to check out the PSN Store as following the launch of the 'Golden Week Sale' over 700 titles are now available to grab with more than a few tasty discounts applied!
PSN Store 'Golden Week Sale'
With over 700 titles getting a notable chunk taken off their price tag, there is, of course, way too many to list off here. To give you a helpful start, however, we have gone through the list and picked out some of the more notable inclusions below:
Kingdom Hearts All-in-One package – £22.49
One Piece Pirate Warriors 3 – £6.39
Soul Calibur 6 Deluxe Edition – £15.99
Tekken 7 Ultimate Edition – £14.99
Bloodborne – £10.39
Undertale – £8.39
The Last Guardian – £14.99
Dynasty Warriors 8 (Older, but still way better than the dumpster fire that was 9) – £11.19
One Piece World Seeker – £13.74
Star Wars Jedi: Fallen Order – £15.99
Assassin's Creed Origins – £10.99
The Witcher 3: Wild Hunt – £4.99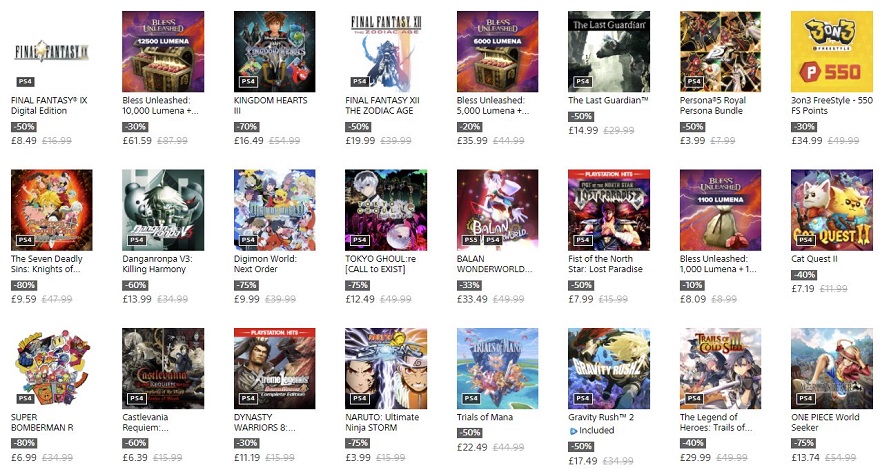 What Do We Think?
While not many of them might be brand spanking new, I think we can all agree that there are definitely some amazing titles available there at some incredibly tempting prices. Therefore, if you want to check out the PSN Store 'Golden Week Sale', be sure to visit it from your PlayStation console menu or visit the official website via the link here!
What do you think? – Let us know in the comments!