PUBG Is the Best Selling PC Game Ever!
---
---
---
Cernescu Andrei / 6 years ago

PlayerUnknown's Battlegrounds sold millions.
Is it a good thing, or a bad thing? Nobody can say, really. What's certain is that Bluehole's battle royale game is currently the top-selling PC game of all time. Yes, it even managed to surpass Minecraft, which held the title of the best selling PC game previously. If you want to get into the numbers, PlayerUnknown's Battlegrounds has sold more than 27.8 million copies worldwide. This data was provided by Steamspy, but we should also take into consideration the 160K units representing the margin of error. Even with this margin, though, PlayerUnknown's Battlegrounds has sold 27.640.000 units.
Will Minecraft catch up?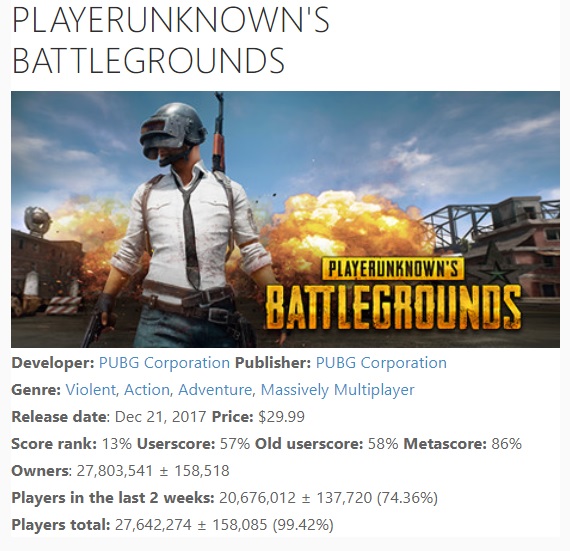 Again, it's hard to say. It would all depend on how successful battle royale games become in the future. It could all be just a bubble, but the game's massive sales seem to suggest otherwise. Minecraft has sold 27.598.163 units worldwide, which puts it 40,000 units behind PlayerUnknown's Battlegrounds. Bluehole's game is certainly not without its flaws, but it seems to be able to provide countless hours of fun nonetheless. Last month, the game managed to surpass 3 million concurrent players, which is definitely impressive even by modern gaming standards.
Have you played PlayerUnknown's Battlegrounds yet, and if so, do you hold it in high regard?