QNAP Announces the TS-453Bmini 4-Bay Vertical NAS
---
---
---
Bohs Hansen / 6 years ago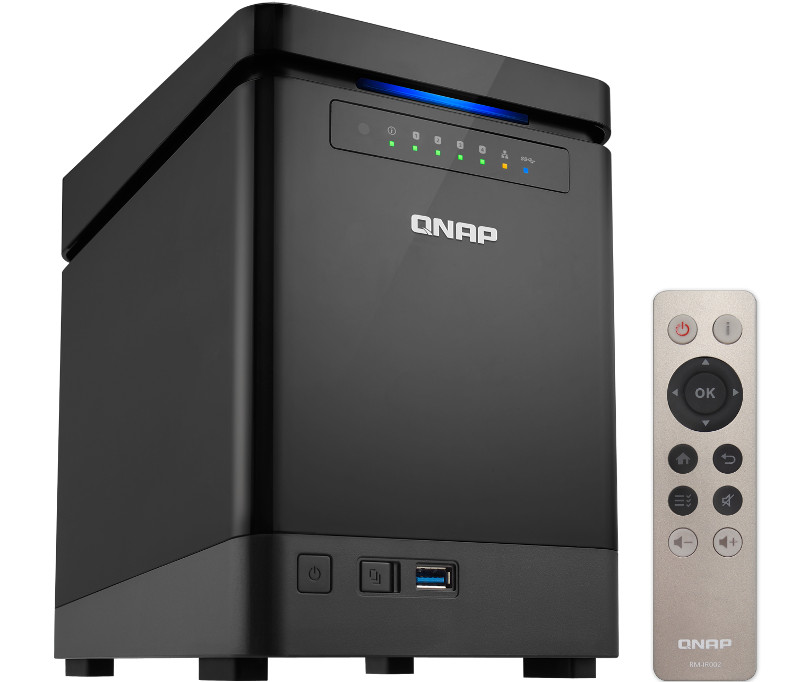 It has been about a year and a half since QNAP introduced their awesome TS-453 Mini with its tiny footprint and now the company is back with a successor to that awesome NAS: The TS-453Bmini. The new NAS is powered by the Intel 14nm J3455 quad-core 1.5GHz processor (burst to 2.3GHz) and it features AES-NI encryption as well as 4K UHD output and transcoding.
"With a 64-bit quad-core processor and the next-generation 64-bit QTS 4.3 NAS operating system, the TS-453Bmini provides performance hardware and key software features within a compact and user-friendly chassis," said Jason Hsu, QNAP Product Manager. "By supporting the open-source Ubuntu platform, it also adds greater value in allowing users to develop various IoT applications and to build a secure private cloud system for IoT storage."
The TS-453Bmini comes in two versions, one with 4GB and one with 8GB DDR3L dual-channel RAM. Users purchasing the small one will also be able to upgrade to 8GB memory, but it will require removal of the pre-installed memory. This sucks for upgrades, but it rocks for those who only need 4GB of RAM. Having two modules pre-installed allows for a dual-channel setup which is highly beneficial when it comes to 4K media handling, among other things.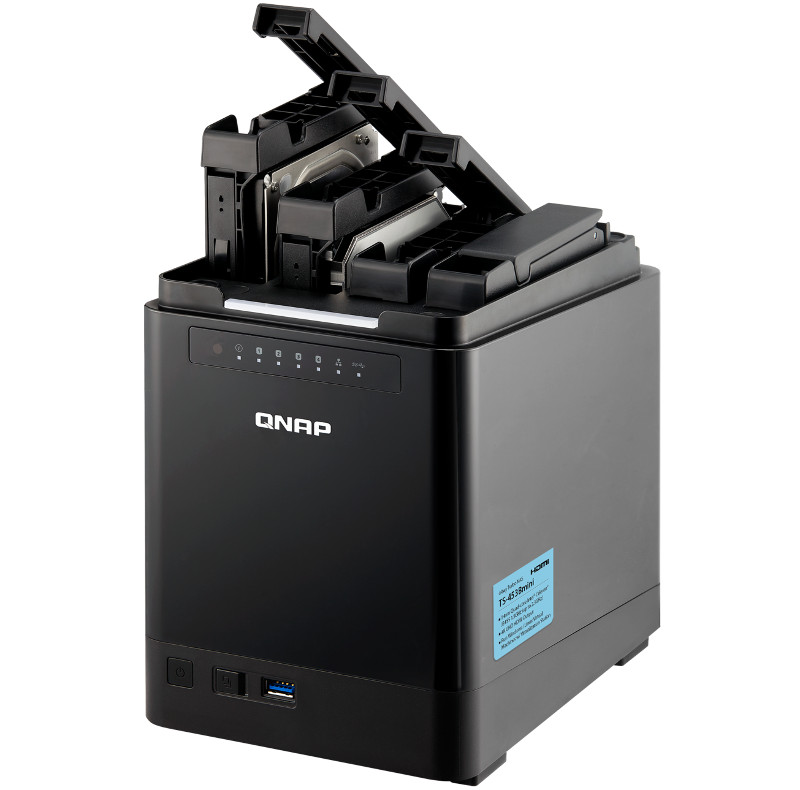 With dual Gigabit LAN ports, the TS-453Bmini delivers up to 225 MB/s read speeds and runs tasks smoothly and quickly under dual network environments. The TS-453Bmini also features Intel AES-NI 256-bit hardware-accelerated encryption for both shared folders and the full NAS volume. Normally, encryption has an impact on the performance, but not so here. It can provide transfer speeds of up to 225 MB/s during encryption and ensure data security without compromising performance. With 4 bays, the NAS easily holds 40TB raw storage capacity which can be expanded to 120TB by using the optional 8-bay UX-800P expansion unit.
The mini series come with some awesome features such as an elegant and compact design, quiet cooling, adjustable LEDs, and a complete tool-less design – even when upgrading the memory. Anyone can do it and that sets it apart from other devices. It runs the latest QTS operating system, QTS 4.3, which is a 64-bit OS. That comes with all the great QNAP features that we know and love, including
Container Station with support for various container applications and for QIoT Containers and IoT applications, Virtualization Station which allows users to run multiple Windows, Linux, UNIX, and Android-based virtual machines, and QmailAgent which can centralise multiple email accounts and simplifies daily email management. And a lot more.
With the HDMI port, users can also use it as a HTPC replacement when connecting a keyboard and mouse too. It's possible to install Ubuntu and use it as if it was a normal PC, with all that this includes. The HDMI port is also great when the NAS is used as a media centre and it is able to deliver 4K content directly to an attached screen.
Key specifications
4GB DDR3L dual-channel RAM (2 x 2GB) or 8GB DDR3L dual-channel RAM (2 x 4GB)
Upgradable to 8GB RAM
Vertical and desktop design
4-bay NAS supporting hot-swappable 3.5″/2.5" SATA HDD or SSD
Intel Celeron J3455 1.5 GHz Quad-core processor (burst to 2.3GHz)
AES-NI hardware-accelerated encryption
2 x Gigabit RJ45 LAN ports
1 x HDMI 4K UHD @30Hz
4 x USB 3.0 ports
1 x USB 2.0 port
Remote Control (RM-IR002) included
The new QNAP TS-453Bmini is available to pre-oBrder already and should be in stock soon. The 4GB RAM model is currently listed for £472.98 while the 8GB RAM model will set you back £732.99. Not a low price, but you also get a high-end premium device that is anything but ordinary.