QNAP Introduces TS-1685 16-Bay Super NAS With PCIe and M.2
---
---
---
Bohs Hansen / 5 years ago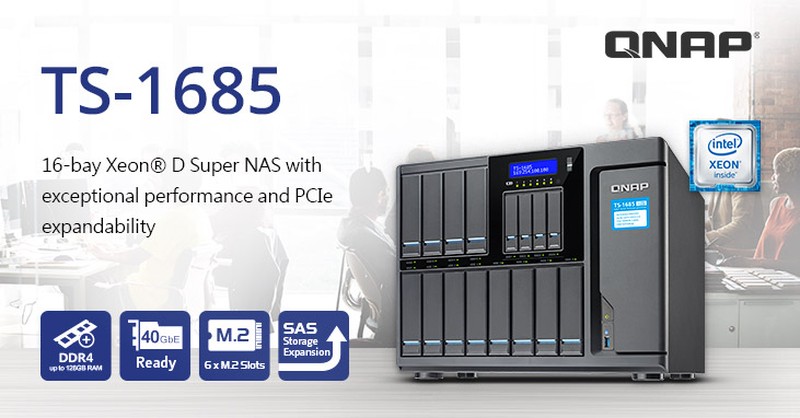 QNAP released what could very well be the most awesome NAS in desktop form factor. Not only is it packed with a powerful Xeon processor, it also comes with up to 128GB DDR4 memory and room for a total of 22 drives. Officially it's only a 16-bay NAS, but it also has room for six M.2 SSDs and further functionality can be added with up to 3 PCIe cards.
The TS-1685 comes in various configurations. The processor is either an Intel Xeon Processor D-1531 with 6-cores and 2.2 GHz or a D-1521 with 4-cores and 2.4 GHz. Memory configurations start at 16GB non-ECC memory and goes up to 128GB ECC DDR4 memory. That's a powerful base for anything. On top of that, you get 12 3.5″ drive bays for your storage drive and four dedicated 2.5″ SSD slots and six SATA M.2 SSD slots for cache acceleration. It also features the new Qtier technology to continuously optimise the storage efficiency. With dual 10GbE configuration and such a great storage setup, the TS-1685 can reach read speeds up to 2339 MB/s.
"The TS-1685 is designed to incorporate both high performance and high capacity," David Tsao, Product Manager of QNAP, adding "Besides SSD caching and PCIe expandability, the NAS can be remarkably integrated into 10GbE/40GbE environments necessary for modern data centers. All these features make the TS-1685 a perfect choice to tackle high-bandwidth applications such as virtualization and massive data backup and recovery."
The TS-1685 supports advanced IT management functions, including the QRM+ centralised management solution for networked devices that helps IT administrators to discover, map, monitor and manage critical networked computing devices (including servers, PCs, and thin clients). QRM+ also supports IPMI 2.0 and a graphical topology diagram. Q'center turns the TS-1685 into a centralised system for managing multiple QNAP NAS at different locations and allows for monitoring system logs, conducting maintenance and firmware updates. It also supports mainstream virtualization environments (including VMware, Citrix, Microsoft Hyper-V, and Windows Server 2012 R2), but it can also directly host multiple virtual machines for Windows, Linux, UNIX, and Android using Virtualization Station and operate near-limitless LXC and Docker-containerised applications using Containers Station.
Besides connecting up to four QNAP expansion enclosures (REXP-1000 Pro) to scale up storage capacity even further, the TS-1685 can also be expanded by using VJBOD (Virtual JBOD) that allows the unused storage capacity of other QNAP NAS to be mounted as local disks for shares, applications, or even creating another LUN.
Key Specifications

12 x 2.5″/3.5″ HDD/SSD slots
4 x 2.5″ SSD slots
6 x M.2 SATA 6Gb/s SSD slots (with built-in M.2 cooling modules, M.2 SSD is optional purchase)
compartmentalized smart cooling
2 x 10GBASE-T ports
4 x Gigabit ports
2 x PCIe Gen3 (x8) slots
1 x PCIe Gen2 (x4) slots
3 x USB 3.0 ports
1 x speaker
1 x 3.5mm audio output