QNAP Launches TS-431X Entry-level Business NAS with 10GbE
---
---
---
Bohs Hansen / 6 years ago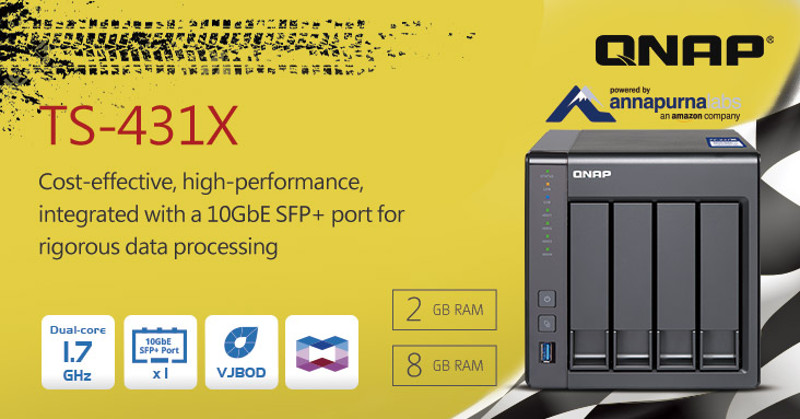 QNAP announced a new NAS and this one is aimed at the entry-level business market. The new NAS is called the TS-431X and it is a cost effective 4-bay NAS with a dual-core processor, upgradable memory, and built-in 10GbE SFP+ port. Businesses can take full advantage of the best features via this dual-core NAS and enjoy features such as containerised virtualization, centralised email management, a private-cloud-based note-taking tool, and Virtual JBOD volumes.
Inside the TS-431X is a dual-core AnnapurnaLabs Alpine AL-212 1.7 GHz processor and either 2GB or 8GB DDR3 memory. The smaller memory model is also upgradable to 8GB, so you don't need to make up your mind right away and instead upgrade when the need arises. Thanks to the built-in hardware-accelerated encryption the TS-431X can deliver a read speed of up to 312 MB/s with AES 256-bit volume-based data encryption and a read speed up to 956 MB/s without encryption and running via 10GbE.
"Designed to solve more complex and demanding applications in today's IT environments, the TS-431X is well suited for organisations that have budget constraints but require high bandwidth to tackle inefficiencies." said Dan Lin, Product Manager of QNAP.
Feature-wise, you'll find everything from the Container Station that integrates LXC and Docker lightweight virtualization technologies and enable unlimited containerized applications. It also offers the innovative QIoT Containers to store Internet of Things (IoT) data. This can help organisations to boost IoT-based microservices and modernise legacy applications to drive more business opportunities. The TS-431X is still an all-in-one NAS supporting not only essential cross-platform file sharing, backup, restoration, and security, but also exclusive productivity apps. QmailAgent allows users to centrally manage multiple email accounts from popular email services and IMAP servers; Notes Station provides an online note-taking tool enabling collaborative writing; Qsync enables cross-devices file synchronisation and team folders sync; The powerful Qsirch full-text search engine helps quickly find files on the NAS. The TS-431X also supports VPN server and VPN client, IP surveillance system, and VJBOD (Virtual JBOD) to expand the storage capacity of other QNAP NAS.
Key Specifications
AnnapurnaLabs Alpine AL-212 1.7 GHz dual-core processor
Hardware-accelerated encryption engine
8GB and 2GB DDR3 Models (upgradable to 8GB)
Hot-swappable 2.5″/3.5″ SATA 6Gbps HDD or SSD
1 x 10 Gigabit SFP+ port
2 x Gigabit RJ45 ports
3 x USB 3.0 port
Kensington security slot
Whether you are looking for a backup and restoration location, a private cloud, or higher bandwidth for rigorous data processing, the 10GbE-ready TS-431X could be a NAS and the low price will make it perfect for small and midsize businesses. Availability is now, so expect it to show up at your favourite online shops soon.