QNAP Releases the Beta Version of QTS 4.3
---
---
---
Bohs Hansen / 5 years ago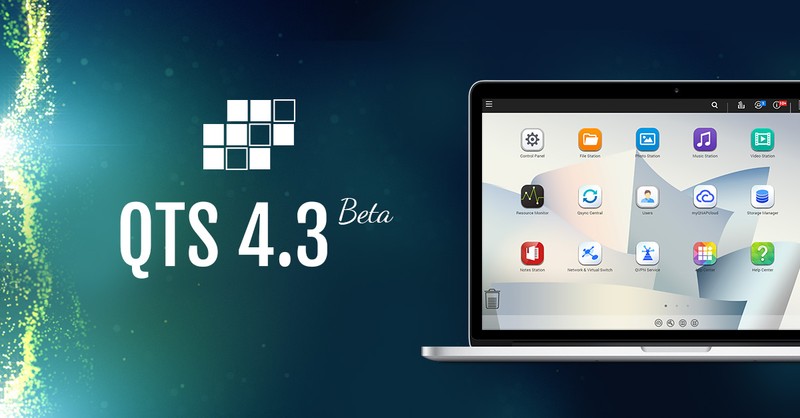 Every now and then we get a new operating system upgrade for our NAS devices and this time it is QNAP's turn to release their latest version, although it's only in the beta stage so far. Still, it allows us to take the newest features and functions for a test drive and at this point there shouldn't be many bugs left in it.
The new beta release of QTS 4.3 has been enhanced with intelligent, efficient, and automated services. With a streamlined user interface and abundant highly-anticipated applications, QTS 4.3 provides a great NAS experience and leads the way for both improved business productivity and greater home entertainment.
"QTS 4.3 was designed around the concept of 'intelligence' and adds numerous competitive features to provide business and individual users with intelligent and efficient functionality," said Meiji Chang, General Manager of QNAP, adding "QTS 4.3 also delivers outstanding performance to provide business advantages, simplify management, empower productive collaboration, and for complete multimedia entertainment."
The new QTS 4.3 beta comes with quite a few changes and the highlights are listed below. Besides those, QNAP also added tons of fixes and adjustments to provide the best overall experience. Most QNAP NAS models (current models) can upgrade to the new version, allowing you to try out the new Qtier 2.0, Enhanced virtual switch, Qfiling, or remote connection in the file station – just to name a few.
Key new apps and features in QTS 4.3:
Visual and insightful resource monitoring: The re-engineered Resource Monitor becomes a dedicated app, featuring useful graphs and additional metrics to provide better functionality for analyzing and managing resource utilization
Intelligent Qtier™ 2.0: QNAP's Qtier Technology empowers QNAP NAS with auto-tiering that helps continuously optimize storage efficiency across SSD, SAS drives, and NL-SAS / SATA drives. Qtier 2.0 also learns from NAS usage, analyzes system performance and peak usage hours to determine the best time and optimum transfer speeds for auto tiering.
Maximized network accessibility with Network & Virtual Switch: In addition to NAS and virtual machines sharing the same LAN port, one of the significant enhancements for Network & Virtual Switch is the support for data transfer between VMs and containers. It also adds functions including the T2E Converter (bridges Thunderbolt™ and Ethernet networks) and the Thunderbolt virtual switch NAT service that allows Thunderbolt devices to connect to all physical adapters via QNAP Thunderbolt NAS.
Time Machine backup over SMB: QTS 4.3 supports seamless functionality with the latest MacOS Sierra for SMB network file sharing protocols for extensive backup scenarios.
Simplified file organization with Qfiling: Qfiling makes organizing files automatic and efficient. It categorizes files, performs based on schedules, and works on local/remote NAS and across external storage devices. After setting up, the filing process is performed automatically.
File Station adds remote connections: Users can directly browse and transfer files between their QNAP NAS and public cloud services, and mount shared folders from a remote NAS to a local NAS using FTP and CIFS/SMB. In addition to Google Drive™, Dropbox®, Microsoft® OneDrive®, Box®, Yandex® Disk and Amazon® Drive, QTS 4.3 adds support for Microsoft® OneDrive® for Business and HiDrive®.
Refined multimedia experience: In addition to all of the multimedia-focused apps having a revamped user interface, Photo Station now supports exFAT and allows disabling right-click copy; Music Station adds a new Spotlight mode and supports smart playlists; Video Station allows for tagging scenes, switching audio tracks, and downloading supplementary data from online databases such as TMDb. QTS 4.3 also provides multi-zone multimedia controls for these diverse apps. Download Station now features an integrated BT search engine, supports third-party plug-ins to expand Download Station's functionality, and more.
More apps and utilities to boost productivity: QmailAgent helps to centrally manage multiple email accounts from a single interface, backs up emails in QNAP NAS, and features "SmartShare" links to send attachments without worrying about file sizes. Qcontactz helps to centrally manage a growing contacts list from multiple devices and platforms, supports importing contacts from Google® accounts and CSV or vCard 3.0 files, and is integrated with QmailAgent. QButton allows users to customize the actions of buttons on their QNAP NAS remote control. Qsync is enhanced with a new team folder structure and auto-recovery functionality that greatly improves stability and synchronization speed. More useful apps and utilities are available from the QTS App Center.
You can read up on the full changes on the official QTS 4.3 mini-site.